IMAGES: Artists of Houston Ballet. Jerome Robbins' West Side Story Suite.
Photography by Amitava Sarkar. Houston Ballet. 2016.
---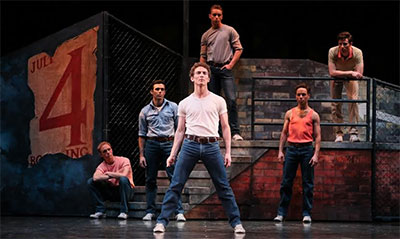 Jerome Robbins famously told American songwriter Irving Berlin, "Give me something to dance about and I'll dance it." One of the strongest waves of veneration for Robbins lies within West Side Story, a Broadway musical turned Academy Award-winning film turned condensed ballet suite. It's a timeless tale of innocence, love, and rivalry set in the Upper West Side of Manhattan, loosely based on William Shakespeare's classic story of woe, Romeo and Juliet. This year's Winter Mixed Rep at Houston Ballet helps connect Jerome Robbins' legendary choreography to contemporary ballet by featuring West Side Story Suite next to Jiří Kylián's Wings of Wax and Wayne McGregor's Dyad 1929.
In 1918 Jerome Robbins was born Jerome Wilson Rabinowitz in New York City to Russian-Jewish immigrant parents. He was later raised in New Jersey where his parents ran a corset factory for Vaudeville performers while his older sister trained to become a dancer. Later in life after dropping out of New York University and leaving his costly chemistry major behind, Robbins began to dance full-time around the city taking classes in ballet, modern, various world dance styles, and composition. Soon after joining the corps of Ballet Theatre (renamed American Ballet Theater), he choreographed his first ballet, Fancy Free, in 1944. In total Robbins created 56 ballets during his lifetime. Houston Ballet four other Robbins' works in its repertoire: In the Night, The Concert, Afternoon of a Faun, and Fancy Free. Along with his enormous repertoire, Robbins' life-long devotion to helping sustain American artists and the arts remains a part of his legacy.
After the Broadway premiere in 1957 and the film in 1961, West Side Story became particularly renowned for its spirited characters and music. But it also epitomized Robbins as an audacious American choreographer. The main driving force behind his choreographic career was his desire to artistically represent American subjects, characters, and music alongside traditional European and Russian ballet and commercial musicals of the time. Committee member of the Robbins Rights Trust and répétiteur Jean-Pierre Frohlich recalls that "Peter Martins, like George Balanchine, was in awe of Robbins. He quickly became the epitome of American choreography with his musicals."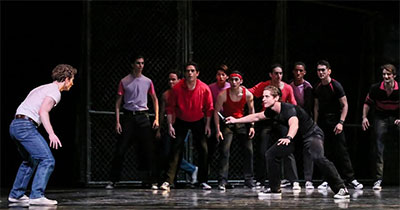 For nearly 15 years Martins, artistic director of New York City Ballet, begged Robbins to recreate West Side Story for City Ballet. In between those years Jerome Robbins' Broadway premiered in 1989 with popular dance selections from West Side Story;this became a blueprint for West Side Story Suite in 1995. During his two weeks staging at Houston Ballet, Frohlich was astonished by the entire company; "They were all committed to getting everything Robbins created for this ballet right."
Lifted from the Broadway musical, West Side Story Suite is a retrospective ballet emphasizing seven of the major stage sections and condensed into 34 minutes. It includes "Prologue," "Something's Coming," "Dance at the Gym," "Cool," "America," "Rumble," and "Somewhere Ballet," the latter being an extended variation to display the softer classicism of ballet dancers. It has become the ultimate triple-threat for dancers of the few major American ballet companies allowed to stage it (to-date, this list only includes New York City Ballet, San Francisco Ballet, Miami City Ballet, Pacific Northwest Ballet, and, now, Houston Ballet).
In West Side Story Suite Robbins recreated popular characters that are aware of their differences, especially their cultural and ethnic heritage. In a New York Times interview from the 1995 premiere Robbins mentioned, "It's about our experience here in New York, really a plea for a little more understanding between the variety of people who live here." The Puerto Rican Sharks and New York-native Jets—which replaced the feuding Capulets and Montagues from Romeo and Juliet—are willing to risk life and limb for their gang's pride and legacy. Notably, Robbins told his original cast of Sharks and Jets to stay in character as rivals, even after rehearsals. A specific tension between the gangs has to be palpable on stage in order for the pair of star-crossed modern lovers, Maria and Tony, to react accordingly.
A rigorous ballet like West Side Story Suite requires an equal amount of bravado from the men and the women of various ranks. The cast must convincingly transform—through singing, acting, and dancing—from adults living in the 21st century to brawling teenagers from the mid-1950s. It offers the rare opportunity for open casting to all company members, from principal to apprentice. Frohlich notes, "Balanchine often told Robbins to go for it with casting, because Robbins knew exactly how to pick the right dancers for his ballets." By keeping this practice alive, surprising talents sprang up from all over Houston Ballet, like corps members Kaleigh Courts and Alyssa Springer.
Cast as Maria, Courts mentions, "One of my favorite parts was looking at all of the ways that Maria has been portrayed over the years and really trying to incorporate that into the way that I'm going to depict her." With previous training in musical theater, Springer is also excited to depict Anita on stage. "We've added singing and speaking to our collective talent with this ballet, which I believe has helped each one of us grow as performers and strengthened the company as a whole," she says. Moreover, the generous advice from two Robbins répétiteurs helped expand their learning experience. "It was also a special treat to work closely with Jean-Pierre Frohlich and former City Ballet principal, Jenifer Ringer. The insight she was able to offer from her firsthand experience was invaluable," notes Springer.
West Side Story Suite continues to pay direct homage to Jerome Robbins' lasting love affair with representing the human spirit through movement. Vocal coach Joan Barber, who rehearsed with the company for one week, was astonished by the flourishing talents from the entire cast. "This piece continues to grow with each incarnation," she notes, "and the Houston Ballet is going to be the strongest singing ensemble for West Side Story Suite yet."
—JESSICA MARIA MacFARLANE
Reprinted from Playbill.