Kelly Myernick as Gamzatti in Houston Ballet's production of La Bayadere.
Photo by Amitava Sarkar.
---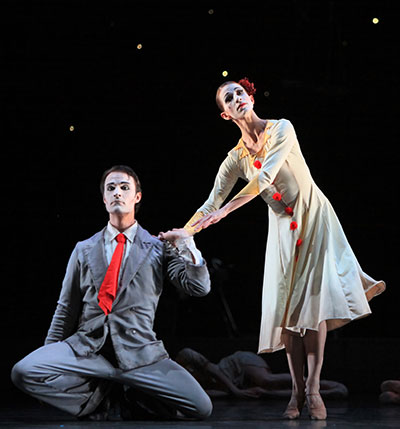 Kelly Myernick Retires from Houston Ballet
Kelly Myernick is already well into her second career, being a mother to her adorable baby, Edie, and teaching ballet all over the city. "They say you will know when it's time," muses Myernick, while swinging Edie on the porch of  her cozy Heights bungalow, which she shares with her husband, Kyle Kubin. "And it was time. I feel fulfilled in the broad range of roles I have done. I'm ready for something else."
The well-loved former Houston Ballet first soloist will be honored during the annual Jubilee of Dance on Dec. 5, where she will dance the mother solo from Christopher Bruce's brilliant ballet, Hush, a role created especially for her, and in many ways defined her career as a dancer who could do just about anything.
During her 14-year career with Houston Ballet, Myernick developed into a dancer's dancer, in that her popularity extended beyond the ballet world. For me, her dancing in Hush was one of the most memorable experiences on a Houston Ballet stage ever.
She had a strong relationship with the legendary British choreographer. In addition to Hush, she also performed in Bruce's Ghost Dances and Rooster. "I was lucky to have such meaty roles early on in my career," says Myernick.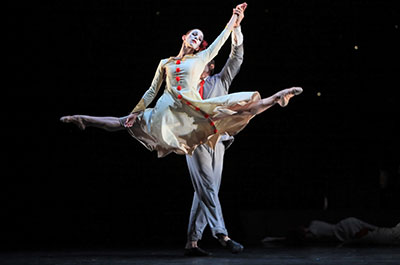 Nicholas Leschke, who played the father in Hush, recalls working with her during the creation process. "Kelly's artistry was vital in the realization of the mother character in Christopher Bruce's world premiere of Hush in 2006," says Leschke. "Though she was only 24, she possessed a maturity that facilitated the creation of our quirky wandering clan of hobos. Like any family, with the passing of time, we all mellowed and grew with each other's characters while performing the piece around the world. Hush will always hold a special place in my heart."
Myernick was a part of a handful of dancers remaining from Ben Stevenson's reign. "I've seen a ton of transition, but the core values remained the same," she says. "And, the school has grown phenomenally."
Her time with Welch goes way back as well. She was selected to dance in Stanton Welch's Bruiser in 2000 when she was still an apprentice and he was a visiting choreographer. Her skill set, even as a teenager, made an impact on the rising choreographer. "Of course, I remember her in Bruiser," Welch recalls."Shealso covered Kate in Madame Butterfly. She had to learn it very quickly. It was a mature role for a young dancer. She really stood out."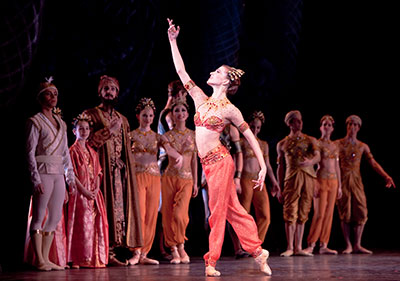 Welch also created the role of Gamzatti in La Bayadere on Myernick, one of the most significant roles of her career. "Kelly was a perfect fit for Gamzatti, in that she combines sensuality and strength," he says. "The character calls for exotic beauty and power. That really summarizes her."
The ballerina has her own reasons for cherishing one of the greatest bad girl roles in the classical ballet canon. "What I love about Gamzatti is that, unlike so many classical female characters, she is not waifish or fragile," Myernick told me in Pointe Magazine. "She is commanding, sensual and proud."
She got to play another strong woman as Myrtha, queen of the Willis, in both versions of Giselle. "I tend to get the independent roles," quips Myernick.
Myernick's height and stage presence proved an asset in contemporary roles. "It was always a surprise to me that I ended up doing so much contemporary work, it wasn't my background at all," she says. "It suited me, because I have that angular and athletic nature." Welch agrees. "She has the great range, with such power. She didn't always love being called 'athletic.' But she really grew to love that side of herself." A standout in William Forsythe's In the middle, somewhat elevated, Jiří Kylián's Falling Angels and Nacho Duato's Jardi Tancat, she excelled in roles that called for full out moxie. "I love Nacho's vocabulary; it feels so good on your body, so soulful and earthy," adds Myernick.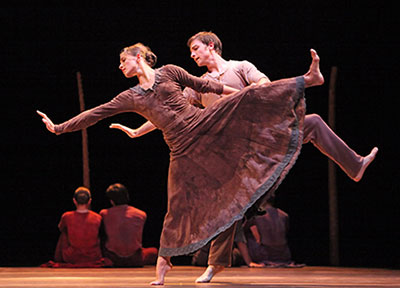 I have my own Myernick moment, and it happened far from Texas shores. During Ballet Across America in 2010, I watched Myernick hold the Kennedy Center audience spellbound during the silent solo during Welch's poignant and lyrical ballet, Falling. No one, myself included, seemed to be breathing. During those few minutes, she galvanized our entire attention.
Curiously enough, her very last dance on a Houston Ballet stage in 2013 was also a first for her. She danced Hanna in The Merry Widow, her first lead role in a full length storyballet. And, she was pregnant with Edie at the time.
Today, the ballerina has worked out a life for herself, which involves exploring her role as a teacher and freelance dancer while staying devoted to her family. She recently performed in a new work by Jane Weiner of Hope Stone at Asia Society Texas Center. She's experimenting with teaching in the Academy and in the outreach program. She adds, "I'm so impressed with the program, it's been so inspiring. I grew up there, so I am so proud to be come back and be part of it."
—NANCY WOZNY