Houston Chamber Choir celebrates its momentous 20th anniversary season.
---
Robert Simpson sums up what keeps him going: "I'm always excited about whatever is over the next hill," says the Houston Chamber Choir's founder and artistic director. The handiest example is the group's next concert. It features Mexican choral music — a field that Simpson was barely acquainted with when he started planning.
"I sometimes get myself into these situations," he says with a smile. "I think, 'It would be fun if we did this.' Then I turn around and think, 'Yeah, but you don't know a thing, Simpson. What are you doing?'" Guidance from Mexican musicians put him on track.
"There are very few concerts the chamber choir gives that I'm not conducting a great deal of it for my first time," Simpson says. "We go back to the Mozart Requiem and pieces that everybody loves. But I'm really excited about looking at fresh territory." And so is the choir, he adds: "We are omnivores."
"Mexicantos" on March 5 is the group's first concert devoted to the country, but Simpson and company aren't exactly novices at Latin American music. In 2013, Venezuelan guest conductor Maria Guinand led a zesty performance of works from Central and South America — initiating the choir into styles that are second nature to her.
Simpson doesn't hesitate to share the spotlight with musicians who can broaden his choir. Last season, the group spotlighted Baltic composers — source of much soulful new music — guided by British conductor Paul Hillier, who literally wrote the book on Estonia's Arvo Pärt. In 2006, it brought in jazz master Dave Brubeck to perform alongside it in some of his sacred works.
All this goes back to Simpson's reason for marshalling professional singers and founding the choir in 1995. Trained musicians can get an unfamiliar work into their minds and voices more quickly than amateurs, Simpson says, so their energy can go into grasping its style and spirit. That's why the choir has been able to cover so much ground over the past 20 years — from Renaissance masses to Frank Sinatra hits to Morton Feldman's Rothko Chapel, inspired by the Houston landmark. Choir members sometimes contribute special skills: "Mexicantos" will include parts of an 18th-century Requiem rediscovered by tenor Benjamin Geier, a doctoral student in choral conducting at Indiana University.
The Requiem is the work of Ignacio Jerusalem y Stella, who studied the violin in his native Italy, began his career in Spain and moved to Mexico City in 1742. Hired to play in a theater, he then became the music director of the city's cathedral, where his Requiem lay forgotten until Geier came along.
"It's a beautiful piece," Simpson says. "If you were just handed the (unlabelled) score or listened to it … you would think it came from 18th-century Vienna. It has a little Haydn. It has Mozart. It's very much in that classical style."
The works in the concert's second half are rooted in Mexico. "There is a lot that's good about showing appreciation for Mexico and its culture right now," Simpson says. "I don't get involved in politics. But I think we have something special to offer at this moment."
In La Petenera, based on a folksong describing a siren-like spirit luring men to their doom, Carlos Sanchez-Gutierrez asks the choir to mimic the strumming of a guitar. José Miguel Delgado Azorín's Nomes grows from a poem by his grandfather, who moved from Spain to Mexico as a boy. The choir conjures up bird songs and other sounds of long-ago times and places.
"He has asked us to sound like the jingle of a tambourine and the thud of a drum," Simpson says. "It's very rich in sound. But all of this is to make his grandfather's childhood memories come to life."
The choir will jazz up the end of its season with a world premiere by bassist and composer Christian McBride, who will bring along his group to help unveil the work May 22. As Simpson considered who he should commission, he wanted to aim higher than "jazz light," he says, and he thinks the four-time Grammy winner will deliver. "What I love about him is, he is incredibly fresh. He and the people he performs with … are incredibly gifted in making things sound inevitable."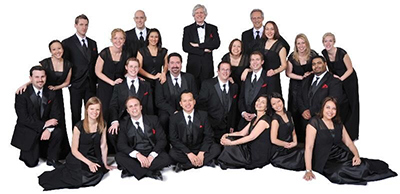 Hosting McBride and his new work lets the choir end its 20th-anniversary season "with something that says, 'Ta-daaaah!'" Simpson says. But the season already gained a festive note thanks to The American Prize, a group that honors the performing arts nationwide. The Connecticut nonprofit in December awarded the choir first place among professional ensembles, and Simpson took first place among pro groups' directors.
"It's a very sweet thing to receive that kind of acknowledgment," Simpson says. "And to have both me and the choir win the same year was very nice."
—STEVEN BROWN