There's no place like Houston for cinephiles when the Houston Cinema Arts Society opens its 15th annual film festival with a "Bring It On Home" theme. As film-lovers have come to expect, this year's Houston Cinema Arts Festival (running Nov. 9-19) will spotlight some award-winning classics, while introducing the city to up and coming filmmakers' work that audiences are not likely to see anywhere else.

Yet the homeward focus for this year's fest also leads to a lineup centered on the idea of home, logistically, metaphorically and historically. The festival showcases lots of Texas filmmakers and Texas-set films. But it also brings the festival back to its unique roots as Houston Cinema Arts Society from its founding has celebrated both the art of cinema and cinema centered around the arts and artists.
"I think what we're trying to say is: Let's bring it on home. Let's take a look back, look at what we're doing. Let's identify who we are and what we're doing for Houston with this festival," explains HCAF programmer Jazmyne Moreno.
"You'll notice there's a lot of Texas, but there's also a lot of the arts. The festival's focus has also been on connecting through the arts, and that is very present this year."

Moreno says one of the reasons she chose the film
Lost Soulz
to open the fest is because it epitomizes that bring-it-on-home idea as it's set in Texas while also telling the fictional story of a young artist. Directed by Austin-based writer and filmmaker Katherine Propper,
Lost Soulz
follows an aspiring rapper on an emotional road trip through Texas as he travels to LA. There's even a stop in Marfa along the way.
Propper will also hold a masterclass session on taking a short film into a feature, something she accomplished with Soulz.
Another Texas-set narrative film Moreno champions is Family Portrait about an enigmatic family trying to get together for a portrait at the beginning of COVID shutdowns. Describing it as having a kind of Waiting For Godot tone, Moreno says the film is about the art that doesn't happen.
The documentary, Unearthed, from composer Kendrick Scott merges the arts, tragic Texas history with another great tradition of the festival, partnering with arts organizations and showcasing live performances as part of the screenings. A production from Houston's interdisciplinary performing arts organization DACAMERA, Unearth just had its world premiere in May. The work weaves together film, music and poetry to give a musical lament for the recently discovered remains of 95 Black people from the post-Civil War era, buried in unmarked graves in Sugar Land, Texas.
For an uplifting true Texas arts story, the documentary
Going Varsity in Mariachi
chronicles one underdog south-Texas high school's challenges and triumphs in the competitive world of high school Mariachi. The screening at the Museum of Fine Arts, Houston will feature a live performance by Mariachi Luna Llena.
Home stands, or in this case dances, as another highlight in the lineup of art films and live performances that also embraces that homey theme. Co-presented by Frame Dance with accompanied performance by Core Dance at the DeLUXE Theater, this film and performance event begins with the experimental short film Home, directed by filmmaker Adam Larsen and choreographer Sue Schroeder. After the screening, the audience will move into the DeLuxe Gallery for an immersive dance piece. Moreno muses that it will feel like "all of the images on screen coming to life."
The festival will also include a subcategory Moreno instituted last year with an eye on directors with "Radical Visions." These films reinterpret the form and break genres. Moreno says to look and definitely listen for 32 Sounds as an example of an art focus and radical vision overlap. The immersive documentary explores how sounds shape our world and will be screened at Rooftop Cinema Club Uptown so audiences can utilize Rooftop's headphone sound system.
"This film is an event and an experience. I think in terms of Radical Visions these are all experiences. They're films you remember after they are over. They're films that you sink into," describes Moreno.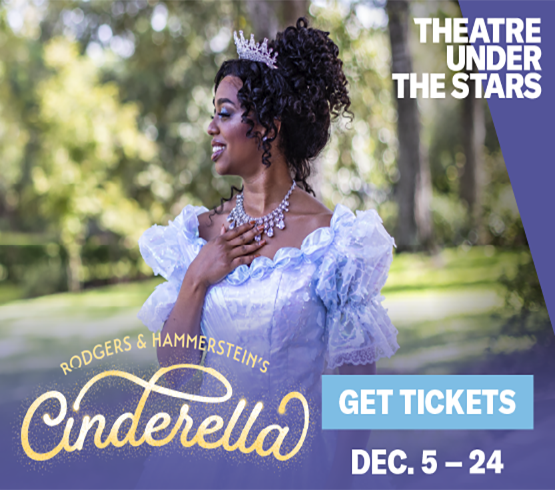 Also in keeping with the Cinema Art's old and new traditions, the lineup includes two short film festivals within the festival, CineSpace and Borders | No Borders. In its ninth year and partnered with NASA, CineSpace presents short films from around the world that use real NASA footage to tell their stories. Borders | No Borders collects some of the most innovative short films from emerging filmmakers in Texas, states bordering Texas and Mexico.
Of course the festival will celebrate some well-known contemporary classics, like Wes Anderson's Houston-set Rushmore! having its 25th anniversary this year. But Moreno notes that some limitations this year, like the SAG-AFTRA and writers' strikes, have made for a festival showcasing some smaller films, but she sees this as a positive that allows Houstonians to discover films that would likely not have local screenings without the festival.
"As a programmer, those are the films I love and spotlight consistently."

And this year, the scheduling might make it easier to see them all. After feedback from previous audiences, HCAS made a concentrated effort to have multiple screenings of some films and to avoid scheduling too many films at the same time at different venues. With some planning ahead, there's a chance that festival-goers can see every film in the fest.
"We wanted to give people that time and opportunity to see everything and also to give them a bit of space in between films."
—TARRA GAINES