Matthew Bourbon Lets "Internal Disputes" Play Out in Paint
---
IMAGE: (Detail from) Matthew Bourbon, viagra buy A Part of Us, 2012. Acrylic on canvas. Courtesy of the artist.
---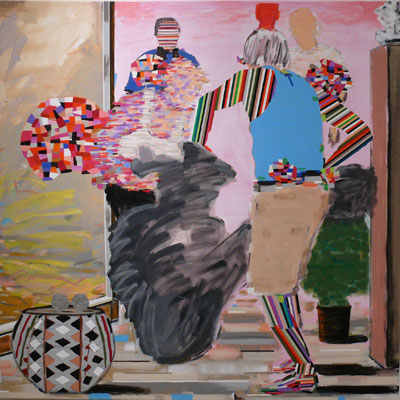 The Dallas Museum of Art recently awarded Texas Biennial participant Matthew Bourbon the Otis and Velma Davis Dozier Travel Grant. Bourbon a painter, critic and associate professor of art at the University of North Texas in Denton, will use it in the spring to conduct research for his painting practice in Tokyo and Kyoto. Bourbon's work in TX 13 remains on view through Nov. 9 at San Antonio's Blue Star Contemporary Art Museum; he spoke with Dallas artist Benjamin Terry about why he paints.
A+C:  What are typical concerns you have?
Matthew Bourbon:  My concerns are not steady. Sometimes a phrase or title will elicit a painting. Occasionally I move in one direction and end in someplace entirely unpredicted. At the start of my process I draw images directly onto canvas until some friction occurs. It is a collage-like process, where I move painted components in and out of the frame of the painting until I am intrigued. Invariably I am responding to my source material, and my initial reaction to film stills, advertising photographs, etc., drives this early activity.
This procedure of sifting through the abundance of imagery that bombards us and then recapitulating my relationship to my adopted images is important to me. In some sense this becomes a social or political activity. I don't think my work is overtly political or topical in the normal way people associate with political art, but my interaction with and transformation of found imagery is a kind of taking possession, or at least explaining to myself what all these sources can mean to me.
A+C:  You often put paintings within paintings to allow yourself the freedom to paint something different. Do you ever feel like you're stuck working in a specific aesthetic, or do you ever have the urge to make a divergent body of work?
MB:  Yes, on both counts. I do have desires to do different things in my work, and the painting-within-a-painting approach feeds this desire. I also like the idea of setting up different values or competing constituencies within the constrained format of a painting. Since all artworks are arguments for their own existence and importance, in some small way mine argue to the world, but they also have an internal dispute about what a painting is or should be.
Maybe it reveals my wide-ranging appetites, but it also exposes a skepticism I have of singular ways of making art. It is a minor critique of my own insistence on retaining certain things within my paintings — like the human figure, for instance. Recently I have started letting words creep into my paintings; it feels bracing to be expansive about what can exist within the frame of painting and also unnerving. It is certainly easier to drop balls flying in the air when one juggles eight, instead of three, but it is also more exciting.
A+C:  Given new media, why paint? Why continue to explore abstraction?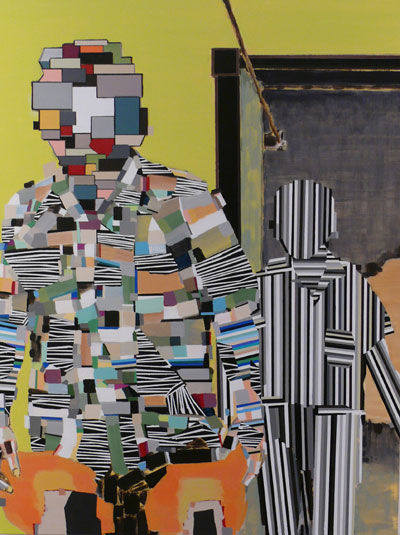 MB:  I have heard this question before and it honestly cracks me up. It presupposes some kind of hierarchy of value in mediums or genres, which I think is anachronistic and wrong-headed.
If my interest were in new media, or gouache, or porcelain, than that is what I would be doing. Yes, there is a shorter history to new media, so one is less burdened by the long arc of history. In this sense it is easier to make one's mark in this territory.
But, if I reflect on my own interests, then I do have to admit I have a dedication to painting. I value the slowness of painting as an experience. Paintings are active as they envision worlds, ideas and patterns, yet they are completely immobile. It is this combination that makes them powerful.
The stillness, silence and physicality of painting places us in our bodies very differently than photography, new media or sculpture. Photographs are flat, materially uninflected and ubiquitous in our lives. Paintings, however, are intimately crafted, and the human residue of their making links them from artist to viewer in a unique manner. This may suggest romanticism, but I do believe that the corporeal skin of painting is visceral, even in works seeking to eliminate the "hand" of the artist.
New media, by comparison, is familiar to how we function today — with everyone looking at screens every two seconds. Sculpture is akin to how we always move through the world —bumping into objects in space. Painting, however, is unusual—dare I say special?— because it involves looking and experiencing in a fashion that feels distinctive. This unusual and conflicted presence is in part why I am a painter. Painting seems human and alien at the same time.
—BENJAMIN TERRY