How does craft tell stories differently than other visual arts media? I posed this question to Texas-raised, Los Angeles-based artist and curator Andres Payan Estrada, juror for CraftTexas 2022, the biennial juried exhibition presented by Houston Center for Contemporary Craft (HCCC), now in its 11th edition. "We always highlight the material, how it's made, and the labor behind it," says Estrada, "but most importantly we aim to highlight the individual who is making it."

Individual narratives and histories are embedded through and through in this conceptually expansive yet thematically cohesive exhibition, on view Oct. 1, 2022 through Jan. 28, 2023 at HCCC. 40 pieces by 27 artists, selected from a pool of more than 250 applicants, enter into nuanced conversations with each other and with the viewer, connecting through explorations of identity, social history, and communal experiences, while pushing the boundaries of contemporary craft. "Artists are dismantling the perception of what a craft object is," observes Estrada. "It's often thought of as either solely living in the domestic or something being painstakingly created by hand. A lot of these artists are taking these preconceptions and blowing them up."
Estrada believes the strong throughline of identity-related works in the exhibition reflects the push toward visibility of people of color, people from the queer community, and women artists. These voices are potent in their intent and focus. "Why is there such a strong selection of these artists?" Estrada answers himself, "All these artists have always been there. All these ideas have always been there. It's that we are taking the opportunity to champion them, fostering these conversations and these practices." As he engaged deeply with the works of these artists through the jury process, ideas began to connect and look like the myriad stars at night forming constellations.
One piece that draws the eye and sets the tone is Olaniyi Rasheed Akindiya's OSU MEJILA ATI ODUN KAN or 12 MOON IS ONE COMPLETE CALENDAR YEAR, a large-scale, circular, mixed-media tapestry installation employing a variety of craft techniques and a plethora of materials (colored paper, beads, epoxy resin, fiber, paint, shells, tassels). Beyond the challenges of material and technique, the work shows deep connections to the African diaspora, as well as alluding to the Aztec calendar and the indigenous, circular way of thinking of time. With an almost shamanistic aura, this richly layered, aesthetically beautiful piece is also a discourse on identity, culture, history, and the universality of time and space, life and death.

­­­
Alejandra Carrillo-Estrada's conceptually-driven
Forbidden Fruit
is one of the works in this exhibition that challenges the viewer's perception and contains a multitude of questions in seemingly simple objects. Three dried-up fruits, a mango, an orange, and an avocado, shriveled and hardened, have been made into brooches with steel backings. 24-karat gold-leafed lines runs through each, harkening to the Japanese art of
kintsugi
where broken pottery is mended by filling the areas of breakage with powdered gold, giving it renewed value. Common as these fruits are, they are forbidden to enter the U.S. through the U.S./Mexico border. Undertones of identity and border politics come into play. Estrada poses, "What if you are wearing the brooch and you cross the bridge with it? Is it just a brooch? Is it still a fruit?" And thinking of the fruit as a placeholder, even more questions: "who gets to come into a country and through what means? Is it coming in to be consumed? Is it coming in to be part of something?"
Guadalupe Navarro's Viaje and Brandon Tho Harris's Me Vietnam oi, Chúng Con Van Còn đây or Oh Mother Vietnam, We Are Still Here are both poignant narratives that explore the painful complexities within the issues of immigration. Navarro's lantern-shaped metal work, with cut-out silhouettes of snake, spider, teddy bear, rosary, crucifix, saguaro, doll, pinpoint to objects that immigrants might carry with them, or encounter, or leave behind on their arduous journeys. Harris has reconstructed an 8-ft boat from wood and the fiberglass siding of a capsized Vietnamese shrimper boat found along the Gulf, incorporating woven pieces created with Vietnamese flags. Harris's family fled its homeland on a refugee boat much like this one during the Vietnam War. Inside the boat, family ephemera are strewn, alluding to the true story of having to conceal identities in order to start a new life in the U.S. The boat is a powerful conflation of personal identity, family history, and community histories.
Angela Corson's Trappings and Erin Cunningham's Refined both speak to the politics of adornment and the performance of femininity, provoking conversations about gender identity and gender performativity. Corson has created an elegant and delicate couture dress entirely from metal components. Cunningham's intricate lace patterns are imprinted on rusting iron.
Ian Gerson's fiber pieces
Threshold, Collaboration,
and
In Every Direction
are woven from rope and other discarded materials found in Galveston Bay and the Ship Channel. There's a connection here to the artist's lived trans experience within the language of the woven tapestry, as well as concern for the fragility of the environment. From afar these pieces read as vibrant abstract impressions; from up close, as unresolved and constantly shifting threads that nevertheless hold together.
Juan Escobedo's Unofficial, unauthorized Reebok collaboration x J. ESC, a pair of cardboard covered Reebok sneakers, is "a little bit low brow, a little bit rasquache," according to Estrada. Particular to the Chicano art movement, rasquache is an attitude and an aesthetic, referring to customizing crude materials or objects to make them one's own. Escobedo projects his own identity into the work, confronting issues of race and class.
Roberto Jackson Harrington and Nela Garzon's works are in conversation with each other. These two artists have reimagined everyday consumer goods, taking function out of the equation. Harrington assembles quirky characters from a variety of cheap goods and parts. Garzon refashions a toy laptop and a donut maker to look like indigenous artifacts. False narratives and skewed perceptions are in play here.
If there is an outlier in this exhibition, it may be Kamila Szczesna's I am. "Whenever I'm putting together exhibitions, there's always a cohesiveness, but there are also some pieces that hopefully break from that cohesiveness and can take you into a different space of thought," says Estrada. "I quickly fell in love with this piece, as a visual piece, as a conceptual piece." It's a small work made of hair and tulle. The artist uses wig-making technique to sew hair onto the tulle. The precise and methodical process of wig-making, the idea of the hair as a traditional feminine, the allusion to the darker realm of the sacrificial artifact—all these elements work together to make this piece strange and beautiful.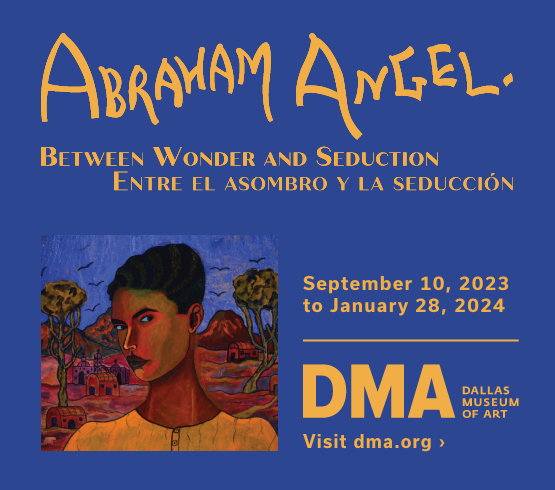 Estrada believes that one of the values of an exhibition like this is the way different things can resonate with different viewers. What resonated with me are three pieces that spoke to my sensibility, identity and personal history. Shang-Yi Hua's
Hollow
is a small sculpture made of tree bark. The artist's hand, removed from a thin layer of another type of bark, leaves an impression in front of the more solid tree bark. It's a quiet piece whispering our connection to nature, a disembodied hand touching a tree, a poetic, Zen-like gesture.
Qing Liu's series Chinese Herbal Medicines looks like abstract watercolors on mulberry paper. The natural pigments in the medicines leave their traces on the paper when soaked. In Estrada's expanded view of thinking of craft, these medicines are recontextualized into a craft practice, used as material but also as a reference to identity and personal history. I immediately thought of my Mom, who still prefers going to the traditional Chinese medicinal shops in Houston's Chinatown to treat her illnesses. I see the old gentleman with his brass weights and old-fashioned scale, opening drawers filled with magical herbs, grabbing handfuls of this and that to fill a prescription, and tying each portion up in neat little newspaper-wrapped packages. The resulting brew is dark, bitter, and potent with healing energy.
I also felt a keen connection with Abi Ogle's Southern Hospitality: Casserole Dish Holder. Ogle has lined a silver casserole dish holder with wild oats collected from the land in Houston. There are layers here to deconstruct about Southern identity and its darker social narrative. To me, recalling my coming-of-age years in a small town in Mississippi, an unlikely immigrant from Beijing, China, those casseroles served at Sunday suppers are a tender remembrance and part of my identity as well.
"What are the histories and narratives that all the things around us carry and what does that mean for us?" That's a question Estrada hopes viewers will slow down and think more expansively about when encountering this exhibition. "I hope through the convening of all these different voices and individuals and histories that make up the communities in Texas, we are able to highlight the diversity in the voices and experiences that exist here."
—SHERRY CHENG