Bryan Peck from Karen Stokes Dance
Photo by Lynn Lane.
---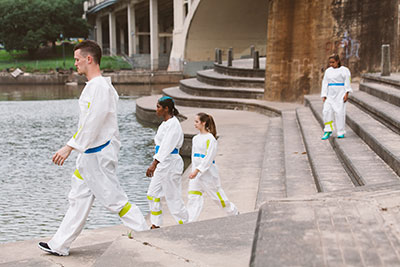 Karen Stokes Dance, in collaboration with University of Houston Interdisciplinary students, recently premiered Backstage at Allen's Landing, which is part of a larger initiative called DEEP: Seaspace.
Backstage at Allen's Landing consisted of nine art and performance installations reflecting on landscape, history, architecture, and habitat of Allen's Landing, a historic site named for Houston founders Augustus Chapman Allen and John Kirby Allen.  A + C TX editor in chief Nancy Wozny visited with Karen Stokes about the project and the deep mysteries of this historic site.
Why Allen's Landing?
Because it is epic. This site is truly incredible. The White Oak side of Allen's Landing in particular is complex and layered. The convergence of bridges, transit, buildings, water, history, and the evidence of humanity in all its glory and obscurity spoke deeply to me.
Gives us the details of this site.
Old stone work, rusted pump wheels built into crumbling walls, rolling cement stairways with posts, vines meandering down bricks, cylindrical storage container. Bridges: bike, train, cars. Willow Street Pump Station (amazing building with even more amazing history) perched on a green hill with a dangerous crumbling stairway next to a mechanical building. M&M building (history, history, history) and the original port of Houston. The beautiful natural confluence of two historic bayous; ducks, snakes, and butterflies; a jail; a lovely promenade of trees across from Allen's Landing next to the jail; trash and evidence of humanity, remains of homeless camps, and actual homeless people. I could go on and on.
So it seems there's a convergence of people and place.
Yes. Nature, history, habitat, social issues, and architecture collide in a small area that is relatively unknown in Houston. This site is fascinating on multiple levels and I fell in love with it. Backstage at Allen's Landing, produced by KSD with creative collaborations by students from the University of Houston, gave me time to "unpack" this site. The goal was to integrate performers and installations at the site as an interruption, a way to get people to stop, look, listen, and absorb this location. The material within the performances and installations was generated by the site itself, with the idea that nothing is created that is not related to the site.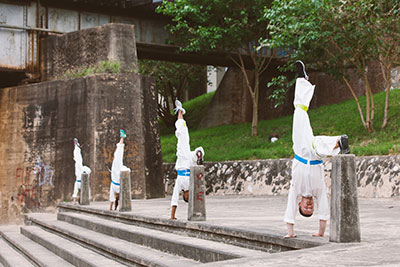 Where are you in the DEEP: Seaspace Initiative?
This is the second project in the "DEEP: Seaspace" Initiative ("Channel/1836" was the first). It is the first of three projects planned at the site turning basin of White Oak and Buffalo Bayous – one in October in the White Oak area of Backstage, and then on Buffalo Bayou for the Grand Re-Opening of Allen's Landing. Hope I can "induct" some more folks into my not so secret bayou fan club.
I might have been spot on when I named you a choreographer of "place" over a decade ago. You may be the choreographer of Houston.
I consider that a huge compliment – thank you. Twenty years ago, I created a trilogy on Eastern Europe that ranged from the Dada movement between the world wars to the 1989 fall of the Berlin Wall. I have enjoyed figuring out how to combine history with the abstract form of contemporary dance over the years. Part of my interest is the research opportunity. I love pulling books from the stacks at UH or Rice libraries and making discoveries. My husband often calls me "Houston proud," but when you read about the pioneers of Houston—how this city was built—it is difficult not to be filled with admiration for what has been accomplished.
It is an amazing city with a history that few of us really know or understand. I especially appreciate the work you did on the Ship Channel as well.
I am not a "Polly Anna" on this topic – there are many dark facts in Houston history as well, but mostly I am blown away by the sheer human determination behind the building of a city. Working on the Ship Channel project last year opened a whole new area of Houston to me (East Houston and the channel are incredible places – and would love to go back and work more on it). The DEEP site projects represent my first delving into history, while working within the actual site itself.  I begin to wonder, can a project like this ever be completed? Or will I keep finding more things in Houston that I want to explore? All I know is that right now I'm in deep (pun intended)!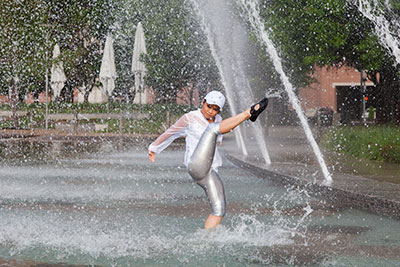 Drench  is up next on June 5-6 at Discovery Green, another site-specific work. Can you tell us about the piece?
As luck would have it, Discovery Green contacted me this spring about doing a project there in conjunction with Chanson d'Eau, a Belgium group performance that does a piece in water. While it is not officially part of DEEP, it does line up surprisingly well with my current site works with bodies of water. Drench has an environmental thread to it, and the added bonus challenge of actually working in water.
People might not know that you worked with Stephan Koplowitz, a leader in site-specific work. You are by no means new to this way of working. Since so many Houston dance artists are interested in creating this kind of work, I wonder if you could share a bit of wisdom about approaching a site with a dance mind.
Yes, I learned a lot from working with Steve. That being said, I have not wanted to work as the lead investigator within a site until recently. Mostly because I have been so interested in exploring the contained vessel of a proscenium arch theater. Recently, two things have happened for me to make me want to take site on. One is my developing interest in dance and film. Film has engaged me with sites in ways that have made me want to do more. The second is my interest in engaging audiences with sites in Houston that I find fascinating. One book that I think is particularly interesting is Site Performance by Mike Pearson. His writing is densely packed with excellent research and theory. There are a number of different kinds of approaches to in site work. Some artists simply transport work they made for the stage into new environments. Some are deeply interested in architecture or history – and work primarily from that lens. Some artists are interested on commenting on the environment. Others want to engage a community within a site. I am interested in the incorporation of all these elements in some fashion to create a work that is truly site specific—as Steve would note—a work that is completely embedded in the architecture, environment, history, and meaning within a site.
—NANCY WOZNY