Even after Marian Anderson won international acclaim as a singer, she felt the sting of racial discrimination. She fought back with unique weapons: her deep river of a contralto voice and her unshakably dignified bearing.
Anderson attained iconic status in 1939. After the Daughters of the American Revolution refused, because she was black, to let her perform in the group's Washington auditorium, Anderson won Federal permission to sing instead from the steps of the Lincoln Memorial. Seventy-five thousand people heard her in person, and millions more listened on radio.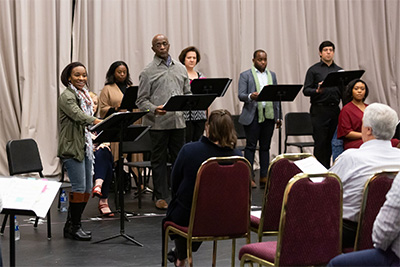 Condensed into a few sentences, such epoch-making events shrink into mere history tidbits. What can bring them to life onstage?
Composer Damien Sneed and former Houston poet laureate Deborah D.E.E.P. Mouton confronted that riddle when they set to work on Marian's Song, a Houston Grand Opera commission that premieres March 5. The creative duo's answer: Show Anderson and her achievements resonating in today's world.
One strand of the hourlong chamber opera follows the challenges and triumphs of Anderson's life as a singer. A complementary storyline centers on a present-day college student who, inspired by Anderson's saga, makes a pilgrimage to the artist's onetime home as it's threatened by the wrecking ball. The fictional Nevaeh, a student at historically black Howard University, lets the audience view Anderson's saga through "modern-day ears and eyes, so that there can be a level of connectivity and relatability," Sneed says.
Sneed, a real-life Howard graduate, learned about Anderson during his childhood in Augusta, Ga. "At my home church," he recalls, "we had to do black-history speeches as young people. So I knew about her." Now that he's an adult, "what I love about her is her silent resilience," Sneed adds. "She didn't bark a lot. But she still fought–(by) standing her ground."
Sneed enriches his score for the new opera by weaving in excerpts of music Anderson herself performed. Spirituals such as "Crucifixion," which Anderson sang at the Lincoln Memorial, spotlight a genre that was scarcely associated with the concert stage until she embraced it. "Casta Diva" from Bellini's opera Norma belongs to a role that Anderson couldn't have sung onstage–it floats too far above contralto territory–but transplanted into her own range, the aria showcased her sheer finesse. Sneed discovered Anderson's recording of it on a disc of rarities.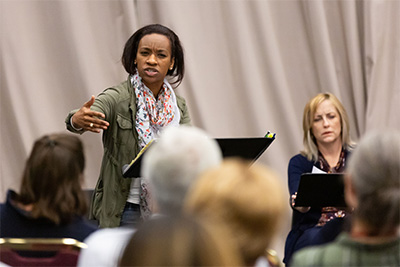 "I was blown away," he says. "I had no idea that she sang 'Casta Diva.' … That's why I included that. She could sing anything."
Heightening the contrast between the two main characters, Marian's Song casts Nevaeh as a speaking role–drawing on librettist Mouton's own experience as a co-founder of Houston VIP Poetry Slam. Nevaeh expresses herself sometimes in prose, sometimes in flights of rhyme.
"Deborah is a phenomenal poet and spoken-word artist," Sneed says. "That's what brought forth that idea." Putting a speaking voice alongside singing voices has been "a learning experience" for Sneed.
"It has never been done this way, the way Deborah has done it, which is very ingenious," he explains. "Having the spoken word take place while there's singing going on is a very delicate, intricate thing to do. … I've loved the challenge."
If there's such a thing as a typical opera composer, Sneed doesn't fit the mold. The late soprano Jessye Norman was a mentor of his, and he has a doctorate in conducting from the University of Southern California. But Sneed also has served as pianist, organist, conductor or choir director for performers ranging from pop legends Aretha Franklin and Stevie Wonder to jazz musician Wynton Marsalis, as well as an array of gospel artists.
Sneed's musical range comes to the fore Feb. 9, when Society for the Performing Arts presents his touring concert "We Shall Overcome: A Celebration of Dr. Martin Luther King Jr." Now traveling across North America, the show–spearheaded by Sneed–marshals five singers and an instrumental group to salute King through excerpts of his speeches and music that illustrates his world.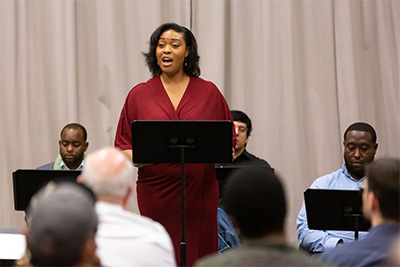 "You know, Aretha's favorite genre was opera," Sneed says. He adds that Marsalis, whom he counts as another mentor, won Grammy awards in both classical music and jazz. "I've had people before me who have walked the tightrope in multiple genres at the same time, and done them all well. So it's the only thing I know."
Sneed picked up his wide-ranging tastes as a youth. "My father was exposing me to (Philadelphia Orchestra conductor) Eugene Ormandy and opera and folk music and rock-'n'roll and heavy metal and R&B," Sneed recalls. "Maybe four nights a week, we'd listen to two or three records each night. We'd talk about them, and I'd look up information about the artists in the encyclopedia."
"I understand that my path may be the one less traveled," Sneed says. "But I have to be what I'm called to be."
-STEVEN BROWN