Donald Oenslager, Scene design for Philip's Study in Don Carlo, 1968. Watercolor, ink, and collage on paper.
Collection of the McNay Art Museum, Gift of Robert L. B. Tobin, TL1999.217 Opera by Giuseppe Verdi.
Produced at HemisFair, San Antonio, 1968.
---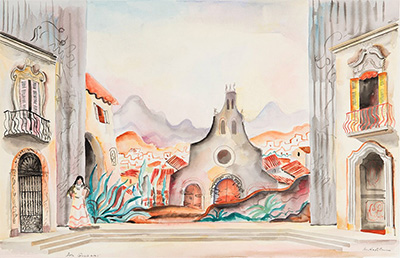 For one night, San Antonio just may have been the United States' operatic capital. The HemisFair '68 world exposition opened with the first U.S. staging of Giuseppe Verdi's full-length Don Carlos, including the rich but long-neglected first scene. Verdi's Spanish Inquisition drama unfolded before dignitaries ranging from Lady Bird Johnson, then the nation's first lady, to Harold C. Schonberg, then the New York Times' chief classical-music critic.
"San Antonio is to be congratulated on its enterprise," Schonberg wrote. After describing the impact the big-name cast gave Verdi's score, Schonberg declared that "Don Carlos received as good a performance…as it is going to get anywhere in the world today." The review ended with a shout-out to the production's sponsors,  "Mrs. Edgar Tobin, Robert L.B. Tobin and the Tobin Foundation. They should be exceedingly pleased with the results."
That April, 1968 performance not only marks a red-letter date in San Antonio's musical history, but links two springtime exhibitions at the city's McNay Art Museum. In Spain to San Antonio: Hispanic Culture Onstage, a rendering of a Don Carlos set helps show how theatrical designers have envisioned the nation whose New World foray still colors San Antonio and Texas. HemisFair '68: San Antonio's World's Fair doesn't spotlight Don Carlos directly. But the show sheds new light on the gestation of the festival that brought Verdi's epic to town.
The theatrical visions displayed in Spain to San Antonio range from the austere realism that designer Donald Oenslager brought to Don Carlos, depicting 16th-century Spain, to the color-saturated fantasy that Hungarian-born Marcel Vertès dreamed up for a 1936 London revue called Transatlantic Rhythm. In Vertès' rendering, villagers canoodle amid a surreal landscape of lurid green earth, purplish sky and towering cacti.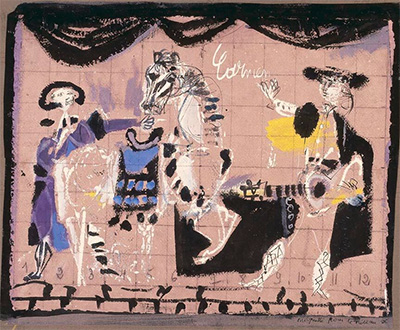 Those images and much of the rest of Spain to San Antonio come from the McNay's Tobin Collection of Theatre Arts, founded by the same Robert L.B. Tobin saluted at the end of that Don Carlos review. To help flesh out the show, New York's Metropolitan Opera and Lyric Opera of Chicago have loaned costumes for Mozart's Don Giovanni, Bizet's Carmen and other Spanish-themed tales.
The galleries sport their own scenic elements. A fountain and flowers help one room evoke a courtyard. Another gallery offers benches and wear-them-yourself toreador hats to transport visitors into Carmen's bullring.
"We want you to feel like you're walking into a different world rather than going into a museum gallery," curator Jody Blake says. She also wants visitors to see the parallels between that world and San Antonio.
At the show's entrance, super-sized photos of the Alamo and a church in Seville, Spain, stand side by side. The first gallery evokes the long-ago royalty, nobility and clergy who propelled Spain's drive into the New World. Designer Oenslager conjures up their palaces' somber dignity through his dark-hued watercolor rendering of King Philip II's study in HemisFair's Don Carlos.
That image, devoid of people, exudes stillness. But others explode with life. "The costume designs are wonderful, in that they don't just show clothing. They give you a sense of the character," Blake says. "Often, you know exactly what's happening in the scene, because elements of the decor are included. You have the tavern ladies and tavern men in (the ballet) Don Quixote. The men are hoisting up glasses, and the women are flipping up the outer layer of their skirts getting ready to dance. They're very narrative and very descriptive."
Some designs don't even need characters in them to be vibrant. An outdoor plaza by Nicolai Remisoff looks like revelers could rush in any moment. The setting boasts colorful banners, cafe tables ready for guests and a lush orange half-moon reflecting off distant hills.
The smaller HemisFair exhibition, opening May 3, will aim more directly at this year's anniversaries: the 50th of the exposition and 300th of San Antonio's founding. The show will feature mainly drawings, photographs, souvenirs and other items donated by the group that planned and built Hemisfair. The materials now belong to UT San Antonio Libraries Special Collections.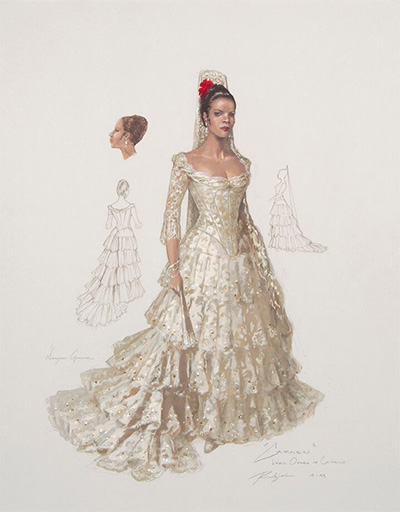 "There have been many anniversary shows on HemisFair," McNay archivist Heather Ferguson says. "We wanted to do something a little different—to show some things most people haven't seen."
So the exhibition will look in part at the fair's design, and viewers will see how some of the visions changed. An early site plan illustrates an idea for building several towers around the fairgrounds, rather than just the single Tower of the Americas that actually went up. Other drawings preserve designers' concepts for restaurants to go into historic homes preserved on the site.
The show will display HemisFair souvenirs, such as a bottle of Jim Beam whiskey shaped like the Tower of the Americas. Drawings and photographs will show the uniforms for guides and other HemisFair personnel. "They've very 1960s," Ferguson says.
HemisFair's quandaries and controversies will also get a look. Before HemisFair could go up, families had to be moved—sometimes against their will—and historic buildings torn down. Photos and correspondence will remember the Toudouze family, who lobbied to stay put but ultimately were carried out by sheriff's deputies.
In a third McNay show—Cities on Parade: 300 Years of European Festival Books, running through June 10—a video monitor plays a Hemisfair documentary produced in the 1990s by San Antonio's public television station. Visitors who walk up at the right time will see Lady Bird reminiscing about the marathon Don Carlos performance, which started at 6 p.m. and lasted until 1 a.m. Luckily, the evening included a break after Act 1 so the entire audience could fuel up with a buffet dinner.
"That was an intermission lasting an hour and a half," the New York Times' review reported. "Then, between each of the other four acts, drinks were on the house. This is one way to make an audience feel no pain, and it could very well be that a good segment of the audience drank up the full price of admission… A man needs some spiritual as well as spiritual nourishment for such a seven-hour endurance contest."
—STEVEN BROWN