Mike Daisey
Photos by Ursa Waz, courtesy of AT&T Performing Arts Center.
---
Mike Daisey Monologues in Dallas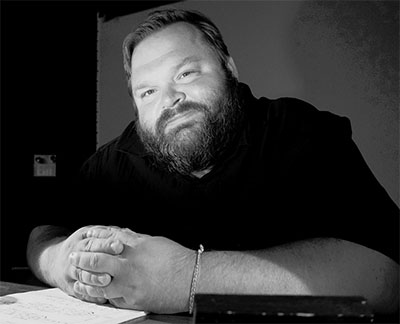 Famous and infamous monologist Mike Daisey has many stories to tell and those tellings are performances. The question of what it is to be a performing artist vs. what it is to create a piece of art came up several times in my recent talk with the performer before his trip to Dallas for a four-show stint, Mike Daisey: The Great Tragedies, as part of AT&T Performing Arts Center's Off Broadway On Flora Season, Feb. 26-28. Across the world, whenever he's performing one of his monologues, he stands or sits onstage alone with only a desk between him and the audience. He uses no script, with only his notes and research-fueled subconscious to guide him.
In our talk, he said he's generally never looked to those onstage storytellers such as Spaulding Grey, or even way back to Mark Twain, for guidance on what it means to perform a monologue. Modeling himself after his artistic forbears isn't necessary because "the idea of telling stories orally is hardwired into human consciousness." He believes it is "integral to how we see the world."
From How Theater Failed America to Dreaming of Rob Ford to Fucking Fucking Fucking Ayn Rand  to The Agony and the Ecstasy of Steve Jobs—the monologue that got him into so much trouble when it was broadcast on This American Life as a completely nonfiction piece of journalism—Daisey is a performer who seems ready to talk of the entire breadth of human experience. Perhaps, then, it's not too surprising that with his latest works, the ones he's bringing to the AT&T Performing Arts Center, he turns to Shakespeare, who, four hundred years after his death, still helps us define what it is to be human.
The Great Tragedies will sequentially focus on Romeo and Juliet, Hamlet, MacBeth and, finally, Lear. Daisey believes these four plays correspond to the tragedies of the four ages of any human, but he also sees them as "tied to the seasons and tied to the elements." Romeo and Juliet is youth, spring and fire. Hamlet moves into the summer of adulthood, and Daisey believes it is most aligned with air, the air to speak all those "words, words, words" and the air which has been "traditionally associated" with the intellect.
"I definitely think of the four, Hamlet is the most self-referential and self-aware to the point that much of the plot revolves around Hamlet's stasis, where he's unable to take action, where he's only able to neurotically spin and analyze the situation which he finds himself enmeshed," Daisey explained.
MacBeth, which Daisey, trained as a Shakespearean actor, would only refer to as the "Scottish play," is middle-aged ambition, the decay of autumn and "the water of the swamps from which the witches rise and the blood that marks so much of that play."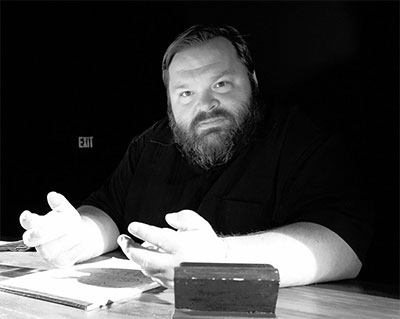 Finally, Lear is winter, old age and the earth, "the land that Lear divides among his daughters, and it's also the grave." But these performances will certainly not be two hour literature lectures; instead, as he described: "Each of the four is a combination of talking through that particular tragedy combined with incidences, motifs and stories from my own life woven against the larger canvas of that particular work."
Not only will each of these performances be different from the last, each will be different from when he originally debuted them at the California Shakespeare Theatre last year. Daisey stressed the importance of his subconscious so that the same monologue is never rendered the same way. The labor of creation is never executed exactly the same way each time.
"The interesting thing about being a performing artist is that your work is your labor," he explains, making the distinction. "You're inextricably bound to the work. Authors don't have that. You work very hard on your book, and I've written books, and you work very hard on them, but then they leave you. "
Daisey has now moved into giving some of those performances more permanency by making podcasts of some shows, including the 29-part series All the Faces of the Moon, recorded live at the Public Theater in New York. While he knows some fans enjoy the intimacy of listening to his shows at home, he appears rather ambivalent with the whole process because the monologue is now a thing out on its own, separated from his labor. Still, he thinks he'll continue to put out the occasional podcast because he has become intrigued with these "time-delayed" performances. Yet in the end, Daisey will always go back to that inseparable connection between creator and work created by performance. He concludes, "I can't be separated from the labor of making it, if I choose to do it live."
—TARRA GAINES