Milford Graves Full Mantis screens on June 16 as part of the MFAH's Jazz on Film Series.
Photo courtesy of the filmmaker.
---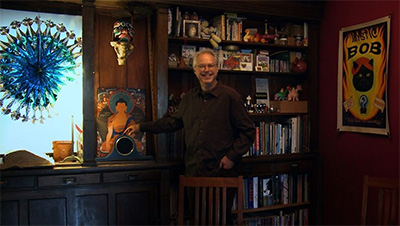 It's summer so the MFAH's Jazz on Film series, curated by Peter Lucas, returns for its sixth year.   Like years before, we have a mixture of the old and new, documentary and narrative, high budget and small budget, and classic and not-so-classic. One of the most interesting things to watch over time is the new documentaries, and how they "compete" with the old, trying to figure out what makes a good jazz documentary, because it's not all linked to the production budget. Lucas says, "the biggest changes in documentary filmmaking over the past 60 years are that they're easier to make and there's a lot more interest. So, especially in the past decade or so, there've been a whole lot of what you'd call 'traditional bio documentaries' that are simpler, informative overviews and not often compelling filmmaking. I actually do appreciate those, too. But there are also a number of great jazz documentaries being made, too–those that have an approach to the experience that's created in concert with the subject matter."
Milford Graves Full Mantis (June 16) is a meditation that makes the most of limited resources.  It begins with a long, slow zoom out from a mirror into the home of drummer Milford Graves. His cozy wooden room is covered with visual art, ancient symbols, and books from every age and genre; he is drumming. Nobody speaks until the 10 minute mark. It's filmed on a single stationary camera, and directors Jake Meginsky and Neil Young directed, filmed, and edited the footage themselves (with help from a smaller post-production crew).
The film captures Graves speaking, playing, and doing martial arts at his home, in the garden, with his books, in his lab (where he records EKG cardiograms and has them transcribed to music), and at his dojo. The interview scene in his garden spends as much camera time on him as it does extended shots of his plants blowing in the wind. He bends over and eats a leaf from his spinach tree. "That's good," he says.
By combining archival footage – concerts, home videos of martial arts, and interviews – with narration and music by Graves, Meginsky and Young make the most out of limited monetary resources and create meditative vignettes, revealing his being in a non-linear way. Without all the details, we get a solid portrait of him.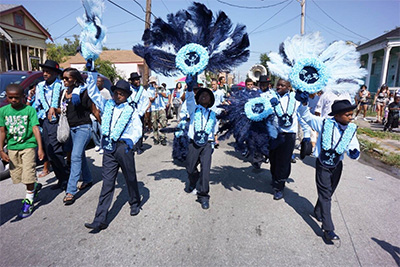 He is an eclectic philosopher, an alchemist aligned with ancient Greek and Chinese thought. Nature is the model for order and harmony, art aspires to the condition of that harmony; nature is the vessel through which the energies of the cosmos are grasped and received, and drumming is his vessel through which he receives those energies.
The reference to Mantis is this: he was having trouble getting someone Chinese to teach him the ancient chinese martial art of the Praying Mantis, so he had an idea: go straight to the source. He bought live Praying Mantises, observed them, and learned to be a Mantis on his own. And so he was the full Mantis.
Bill Frisell is elusive, and nobody finds him more elusive than Bill Frisell. In Bill Frisell: A Portrait (June 15), directed by Emma Franz, the guitarist and composer speaks in half thoughts, plays half phrases of tunes, tries and manages to remember melodies he might have played 20 years ago. Frisell sifts through guitar after guitar and scrap after scrap of music, free associating with the memories and images they draw up. He says he wishes he could just buy one guitar like Jim Hall does, and just play that, but then he goes into the closet and picks up this one telecaster and, "oh man, this one is… just… so…" He works within a system of associations, not tethered and happy to be not tethered.
Like him or his projects, or some of his projects or not, Frisell has made his mark on a generation of guitarists. For better or worse, he made it cool and okay for jazz people to play country. His tone is immediately recognizable, and the echoes of that tone can be heard in so many guitarists. Try to play folk music on telecaster without sounding a little bit like Frisell. It's hard! His projects are so varied as to let you have your own "preferred Frisell," but the film captures him in his best groups: his drum, sax, and guitar trio with Joe Lovano and Paul Motian; his capital B-Bill Frisell trio that always has Kenny Wollesen (almost as essential to a Bill Frisell album as Bill Frisell); his duo with Jim Hall – Frisell studied with Hall in the 70's – which was obviously filmed before Hall passed (RIP)(and RIP Paul Motian as well). The film shows Frisell's unique ability to adapt and remain himself.
Late in Samba & Jazz (June 9), a group of singers sings in Portuguese, "Samba and Jazz are brothers born from blackness." Samba & Jazz, directed by Brazilian photographer Jefferson Mello, is a tale, told in parallel, of two arts that unfold on separate trajectories from a concrete center: the proliferation of authentic African rhythms in the Americas. Cutting back and forth between interviews with musicians of Rio and New Orleans and lively footage of Carnival and Mardi Gras, the parallels are left to stand for themselves. Samba & Jazz eschews talkings heads and historical arc, and instead focuses on the perspectives of artists embedded in the traditions.
What come across is not just the common dissemination and evolution of African rhythms into contemporary music but the commitment to community as basis of music shared by the Samba and New Orleans jazz traditions.
Focusing primarily on just a few musicians in each community, the perspectives are somewhat limited but that's a strength as much as a weakness. We get a sense of what it means to be a working musician as a part of a community and find your life's meaning in that, whether you're a New Orleans school teacher who has spent his life devoted to playing traditional New Orleans music, or a firefighter who lives for the success of his Samba school..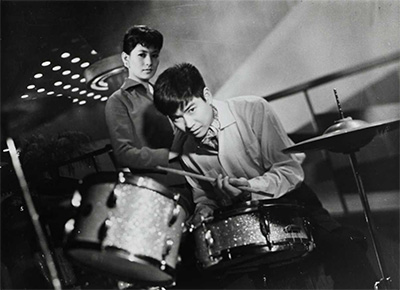 The Stormy Man (a.k.a. The Man Who Started a Storm) (June 23) was a huge hit in Japan in the 1950s. Singer and actor Yujiro Ishihara plays Shoichi Kokubu, a "rough" drummer who just needs the right situation. The film, directed by Umetsugu Inoue known for directing musicals, tells the story of the rogue outsider versus the world. His character is troubled and swings guitars at people, but gets a gig in the band in town and begins to practice. He moves in with the band's manager,  Miya, the film's female component of the love story, who makes him practice all day to become the best. Funny enough, his drumming is good the whole time; there is a suspension of disbelief that he is getting better because the drumming on the soundtrack is always really good. He's a rebel, but at the heart of his rebelliousness is emotional pain like everyone else's. Like similar stories, he rises to the top by the end of the second act. Miya and Shoichi fall in love and then bad things happen to tear them apart. The majority of the film drifts through cliches but the final act is surprising in its resolution and pathos. The ending has heart and the music is real hip swing. Two other films by Umetsugu Inoue, The Winner and The Eagle and the Hawk screen later in June.
Also showing is Les Liaisons dangereuses (Dangerous Liaisons), (June 10) a 1959 Roger Vadim adaptation of the 1782 novel. Previously thought lost sessions for the soundtrack, by Thelonious Monk, were re-released last year to rave reviews on double CD. It's Monk in his creative prime. The soundtrack is the best part of the movie.  Peter Yates's 968 American classic Bullitt (June 24), starring Steve McQueen is known for its car chase scene, but features a jazz-ish score by prolific film composer Lalo Schifrin.
-JOSEPH WOZNY