Chasing Trane screens on June 24 & 25 at the MFAH as part of Jazz on Film.
Photo courtesy of the MFAH.
---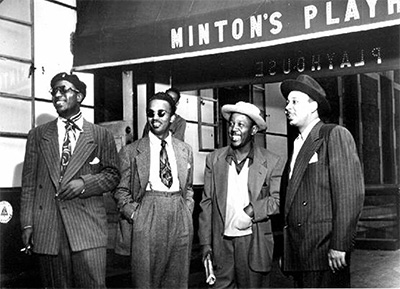 In a year, a very small number of "jazz films" can or will be released — there's just (unfortunately) not that many to be made. So, during Jazz on Film, a yearly festival curated by Peter Lucas, now in its fifth year, there are some repetitions from previous years.  There's nothing bad about this. It's just a frame that has certain effects. Previous posts that cover some of the films repeated can be read here, here, and here.
It's good to re-read and re-watch anything in general — you probably learn more doing that than trying to be up to date on all that stuff that's coming out and being discussed on the internet — but the value of re-reading (re-viewing) a thing is the fact that you've read other things since and you're hopefully reading and watching other things right now. You already do this without choosing to, so why not be aware of the value of this activity pursued consciously and intentionally? By sitting through multiple films, things are seen side by side in a structured, informed manner, which is the point of a series or festival; it's curated the way it is for a reason. You can't help but see everything new against what's come before, and what's come before against everything new, and what you haven't even seen yet against both and your idea of it itself.
For example, Thelonious Monk: Straight, No Chaser (June 4) has been shown before, and it's good and so still good, but standing next to the newer John Coltrane documentary, Chasing Trane (June 24, 25), it shows us how different documentaries look 30 years later, for better and for worse. The new one doesn't make the old one look old, but to me the old one makes the new one look strange! Not bad, strange. What shows more, 20 minutes of the artist up close and personal at one arbitrary moment in a long and irreducible career or a finely crafted and impeccably researched story constructed out of interviews and photographs that attempts from the outside to cover the whole career, without any direct access to the artist?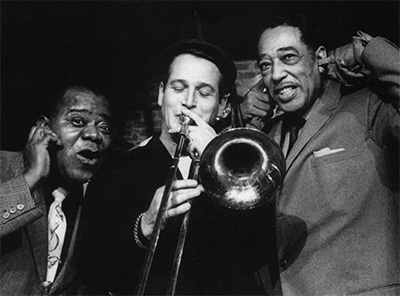 If a film about jazz is a film first and foremost, each film gets to frame its definition of what "Jazz" is. In the films presented, I think the typical range of these relations and representations are present. Each one renders "Jazz" as an idea into a singular whole historical feeling. In that sense, it is worthwhile to watch them all, as if anyone needs to be told that, which I think they do. So, in Jazz on Film, there many different manifestations of what "Jazz" is, and many different On's, In's, and And's between it and "Film."
Paris Blues (June 16) is very jazz-in-film. It's a Hollywood pitch, an idea, approved by executives, an attempt to make jazz into a symbol and set piece – to enjoy it while reducing it in order for it to be enjoyed, which is the weird, necessary contradiction in all these films, how we must reduce it in order to consume it. It has good jazz in it. It is interesting as a relic from a time when a relationship between mainstream film and jazz existed, a relationship that no longer exists, and will never exist again. I cannot experience or understand what it would be like for this to be a part of popular culture, but it was at some point.
Elevator to the Gallows (June 11) is very jazz-and-film. It has a special status because of the overwhelmingly unanimous cultural consensus: it's good art, a classic, it's Criterion Collection. Its soundtrack, its unique gestalt of what jazz means, Miles Davis' music, is an unusually large part of what the public thinks of when they think of jazz, if they do think of jazz. Kind of Blue is the only jazz album you could always buy at Target. Miles Davis defined cool, he haunts the film, bringing it into a state of the pure essence of cool-ness. Because Jazz has passed, nothing is ever going to be that cool again. Davis seems eternal, his ghost is always the ghost of the time when he made this particular music. The soundtrack and film are inseparable from each other, although it could be argued that that is the case for other films, but in this one it is even more the case, because it's definitive and what is definitive defines what definitive means, and so it becomes the standard against which other films-with-jazz-soundtracks can be judged, largely unconsciously, until we stop to write articles about it. This is all just to say it's very, very good. Very, very cool.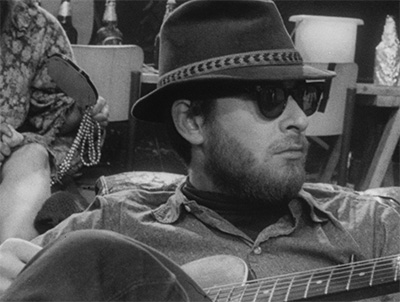 And for the sake of more categories, let's split things up more. Jazz-on-film is a document type of documentary, like parts of the Monk film and the Les Blank movie, it's an encounter with the thing itself. And then we have films-on-jazz, which is more of a constructed thing, like Chasing Train. It's a bit more serious, calculated, it has scaffolding. This of course loses some of the essence of the artist, which you get in the unrefined access to the artist in films like Straight no Chaser, but it also offers you a narrative and historical perspective you can't get without that refined and carefully constructed structure. Finally, what is Who's Crazy? Ephemera?
Who's Crazy? is "crazy." Nobody in specific is crazy, but it is literally a recently unearthed artifact of a time in history — a wilder time — when beat poets thought they had anything to do with jazz because they smoked weed, listened to good records, and typed words real fast. Ornette Coleman's soundtrack is the star of the show; it really discloses the joyful and playful drive in Ornette's playing: the groove, the island, the R&B, and the nursery rhymes. This joyful moment is something I think gets glossed over when talking about Ornette. Who's Crazy? is so very 60's — somebody got all their friends high and filmed them for a few days while they followed a loose script of being escaped psychiatric patients, which sounds amusing and quite fun to make, and watching it is quite fun and amusing.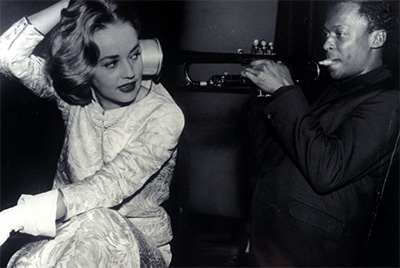 Chasing Trane begins with a wormhole sequence, shooting through the celestial space Coltrane found a meaningful, spiritual experience in. Stars gather into constellations of him holding a saxophone. Much like the Kirk documentary from last year, there is a constant presence of "graphics." Photograph after photograph, 3D timelines, animations, and illustrations cut and fade in and out as quickly as cuts in an action film. The amount of materials gathered seems insane. There's just so many more technological options for telling a story on the screen. You don't need footage any more. The breadth of interviews is pretty phenomenal. I can't think of a good jazz documentary that gathers so many interesting players and perspectives. The interviews are of course all about Coltrane, but they cover so much of what it was like to be and play in that world and time. It's Film-on-Jazz for sure. His words are read by Denzel Washington, so you never actually see or hear him speaking. Everyone speaks except him, there's silence all around him.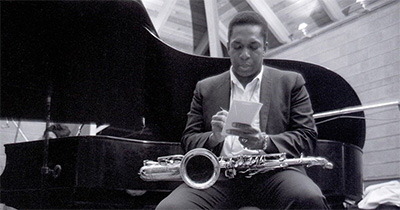 Jazz on Film also features: I Want to Live! (June 3), a successful Hollywood film from the 50's; Sound of Redemption: The Frank Morgan Story (June 10) a new documentary chronicling the often-overlooked alto player Frank Morgan, followed by a post-screening conversation with Jazz on Film curator Peter Lucas and Angela Morgan ; and Les Blank's short, Dizzy Gillespie, will precede the showings of Thelonious Monk: Straight, No Chaser.
—JOSEPH WOZNY