In Kinetic's collaborative model, each of the 16 musicians in the conductorless string ensemble brings his or her creative voice to the table, to the rehearsal space, and to the concert stage. "The collaborative model is definitely very important to Kinetic," affirms Founder and Artistic Director Natalie Lin Douglas. "In more recent seasons we've been exploring having different musicians curate concerts, taking turns showcasing the music that they feel is meaningful and should be performed. That's another expression of our collaborative nature."

The result of that expression is a season of thoughtful and impactful programming. Each of the four productions—three mainstage concerts at the MATCH and a chamber music concert at Asia Society Texas Center—explores a particular theme with fresh perspective, incisive clarity, and the force of personal conviction.
The season opens with The Wilderness Anthology (Oct. 9, 2022), curated by Lin Douglas. The title comes from composer Patrick Harlin's work of the same name, which he has described as "a preservation of sonic landscapes." In addition to composing, Harlin is also an interdisciplinary researcher in soundscape ecology. He believes that soundscapes, often overlooked in the field of environmental sustainability, are a critical element of an ecosystem and a key indicator of biodiversity. His field recordings in the remote Book Cliffs region in Utah and parts of the Amazon rainforest in Peru highlight the changing soundscapes of these imperiled regions. The biophony of living organisms, geophony of wind and water, and the anthrophony of man-made noise are all part of the sonic landscape. "Those soundscapes are the basis of this piece," explains Lin Douglas. "I thought that was a really cool component and something Kinetic has never done before. So it's something to stretch us."
Originally written for string quartet and pre-recorded audio, Harlin will be arranging the seven-movement piece for Kinetic's full ensemble for this iteration's premiere performance. Sounds from the concert stage parallel sounds from the natural world, mirroring the complexity of our relationship to nature.
All the pieces on the season opener are inspired by nature. Kinetic commissioned Paul Novak's a string quartet is like a flock of birds in 2020. It was premiered virtually during the pandemic at the Live Oak Friends Meeting House. The work will be given its first live public performance at this concert. Structured as nine interlocking movements, Novak's work reflects on the idea of disparate parts coming together. Meditations alternate with rhythmic dances. Throughout the piece, players overlap, diverge, circle, and find each other, much like birds in flight.

­­­
The season opener also introduces audiences to Kinetic's first ever composer-in-residence, Korean-American composer Nicky Sohn. She is writing three new works for the ensemble this season. Based on her personal experience during the Great Texas Freeze of 2021,
What Happens If Pipes Burst?
recounts events that happened during that devastating week and the emotional toll it wrought on those impacted by the freeze and the extended power outages.
"I've never experienced anything like that before," recalls Sohn. "I thought a lot about the energy level I was feeling in each moment." The dense and extremely fast-moving harmonic language reflects her constant feelings of anxiety, frustration, and anger. The somber slow section is dedicated to her fish Jolene, who froze to death when Sohn was unable to keep the water in her aquarium warm. The piece ends with an explosion as the pipes burst.
Climate change is one of the issues with which Sohn is deeply engaged. She has been part of the climate crisis cohort Composing Earth through the Gabriela Lena Frank Academy of Music. "Gabriela always talks about how musicians and artists have to be on the forefront of delivering messages because our messages carry further than we can imagine," says Sohn of her mentor. Sohn's music is personal. Her ideas and beliefs come through naturally through her unique compositional language. "For me music is all about storytelling. The stories that I tell have to come from me. I have to believe it. I have to experience it. I have to know it."
Kinetic will make its Asia Society Texas Center debut with a chamber music program curated by violinist Samuel Park. Musical Inspirations and Identity: France and Korea (Feb. 3, 2023) will explore the intersection of Korean and French musical identity. The concert is part of a series the Asia Society will be presenting in conjunction with Houston Symphony's Songs of the Earth Festival, exploring conversations between composers in Europe and Asia in classical music during the 20th and 21st centuries.
Kinetic's program will feature French composer Maurice Ravel's String Quartet in F Major, a staple of the chamber music repertoire. Composed in 1903, it was written at a time when Europeans were fascinated by the exoticism of the Far East, even as Europe was expanding its imperialist agenda in the region. The remaining pieces on the program feature Korean-American composers who have developed their own unique voices within the genre. "Asian musicians have gained substantial representation and ownership in the classical musical world in our time," observes Lin Douglas. "We knew we wanted to feature Sohn, our composer-in-residence. The program grew around that."
Sohn's piece is a string arrangement of a deeply personal and intimate piece she wrote for violin and piano entitled A Lullaby for those Fast Asleep. "I haven't been able to go home for a long time because of the pandemic," explains Sohn. "I've been very homesick." She looked to her roots, songs she used to sing and listen to growing up in Korea. Embedded in the piece is a Korean lullaby called "The Baby on an Island." It tells the story of a baby left all alone at night while his mother picks oysters by the shore. In place of his mother's voice, the ocean sings the baby to sleep.
Jungyoon Wie's A Popular Tune draws from her Korean heritage, while Earl Kim finds inspiration from French Symbolist poetry and the Impressionist aesthetic in his piece Three Poems in French for Soprano and String Quartet. Kim wanted to enter into the "exotic and passionate realm" of the French Symbolists and Impressionists. He was intrigued by it, just as Ravel was intrigued and inspired by the expressive language of the Far East a century before.
The centerpiece of Her Story (March 3, 2023), curated by violinist Mary Grace Johnson, is the premiere of Sohn's violin concerto of the same title. The multi-disciplinary piece, featuring Johnson as soloist, choreography by Kayla Collymore for three female dancers, and the full Kinetic ensemble, is a tour de force of storytelling. Johnson, Collymore, and Sohn met with three graduates from the Women's Home in Houston, a rehabilitation and support center for women overcoming addiction, and gathered stories of their journeys.
"These women have gone through the program and they are living such inspiring lives right now," says Sohn. "Being able to tell these powerful stories has been so meaningful to me as a female composer." A woman-centric work created by three women, Her Story is the product of a collaborative dream team. Sohn worked closely with Johnson and Collymore in the conception and development of the piece. She loves the organic growth that happens in a collaborative setting and was especially drawn to Collymore's choreography. "Kayla's work really spoke to me," says Sohn. "It's very, very intimate and powerful."
Works by Anna Clyne and Gabriela Lena Frank, who both happen to be important mentors for Sohn, round out the program. "Looking back at my music education, I really did not have a mentor who looked like me," remembers Sohn. "I was always the only girl, only non-white person in the room, and that made me feel out of place." It wasn't until she met Frank that she truly believed she had a musical voice and something to say.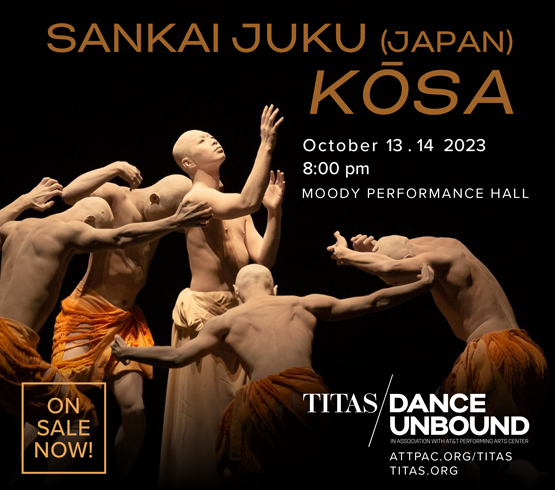 The season finale (May 26, 2023)
Beyond the Sanctuary Walls,
curated jointly by Lin Douglas and violinist Giancarlo Latta, features the world premiere of composer Theo Chandler's five-movement work of the same title for soprano, solo bass, and string orchestra. Soprano Alexandra Smither and bassist Charles Paul will be the soloists. Chandler describes the piece as a secular cantata. "To put it simplistically, it's a love story," says Lin Douglas. Chandler explores the duality of two types of movements: the love songs of Movements I, III, and V as the sanctuary, alternating with the anxiety-laden Movements II and IV, which evoke the realm of fear outside the sanctuary.
The idea of the love story is carried on in the rest of the program. Latta, who has previously arranged works for Kinetic to brilliant effect, will be arranging select lieder by Clara Schumann for the ensemble. Tchaikovsky's Serenade for Strings, always an audience favorite, will be a showcase for the ensemble's agile virtuosity and vibrant sound.
Kinetic musicians are now building music careers all over the country. They play in professional string quartets based in New York City and Minneapolis. They are members of professional orchestras and music professors at conservatories and universities. "I think that's good because we bring our experiences with us," says Lin Douglas, who is now an assistant professor at MIT's Music and Theater Arts Section. "Whether or not we live in Houston doesn't matter too much because when we come together is when we rehearse and collaborate. It's like a big reunion, and it's super intense."
—SHERRY CHENG