A Conversation with Conspirare's Craig Hella Johnson
---
IMAGE:   Conspirare.  Photo by Karen Sachar.
---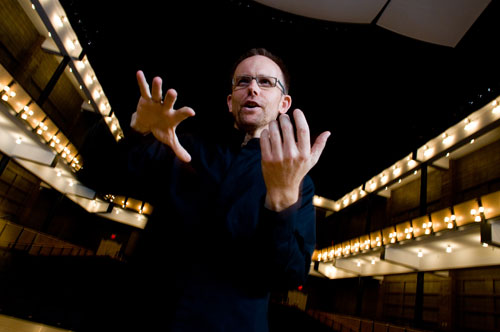 The Austin-based chorus known as Conspirare is quite simply one of the best vocal ensembles of its kind in the country.   Founded in 1991 by Craig Hella Johnson as the New Texas Festival, the ensemble has grown from an annual summer festival to a year-round enterprise, which includes a symphonic choir and two youth choruses. With recordings distributed worldwide by Harmonia Mundi, Conspirare has amassed a total of five Grammy nominations, including one for the now defunct category of "Best Classical Album." Additionally, the company of voices has been awarded an Edison Award—the Dutch equivalent of a Grammy. During the month of December, the chorus will offer a series of holiday concerts in Austin, San Antonio and Victoria. They will also be touring with the program called "Path of Miracles" in January, with stops in San Antonio and Houston in addition to performances at their hometown.
A + C music writer Chris Johnson sat down with founder and artistic director Craig Hella Johnson—named 2013 Texas State Musician of the Year by the Texas Commission on the Arts—to discuss the development of Conspirare from a one-off festival to a world-class ensemble.
A+C:  Tell me about the genesis of Conspirare.
Initially, I founded a music festival called the New Texas Festival, and at the center of this festival would be a professional chamber choir. The idea was similar to what we do now and we called it a celebration of vocal arts. Eventually, when the choir started to move to a year-round calendar of performances, the festival went away and our full season became the focus. The idea was always that this would be a wonderful ensemble of singers comprised of the most talented artists from around the country.
A+C:  Tell me about the name Conspirare.
It literally means to "breathe with", or "breathe together". As we were first shifting from the festival model into a full season, I was reading a book by Paul Monette called Borrowed Time. It's an AIDS memoir about his partner Roger who died in the early years of the crisis, and is a passionate account of their relationship. In the midst of that book, which was very moving to me, there is a section where they are challenged by what to call each other—they didn't like the terms partner, husband or lover —so they called each other conspirators. I found that very beautiful as I considered the similar Latin root between conspire, and inspire and the words just jumped off the page.
A+C:  How do you go about developing a world-class ensemble?
It begins with having an aural vision; there was a choir that I always heard in my inner ear. I knew from the beginning that I wanted to focus on certain musical values. I said simply that I wanted us to build the best professional choir possible and that we could create this to be a musical home for superb musicians from around the country. And, although they'll go out and do many things as soloists, teachers and performers, this could be a home—an ensemble with shared musical and cultural values. The singers sometimes joke about something in the contract that they call the "Craig Clause." It says something like, come to this ensemble really interested in investing in this as a community of musicians. Bring a sense of not only self-respect, but also respect for others and their perspectives and that we do what we do in a responsive, cheerful and generous way.
A+C:  What guides you in your approach to leading the musicians, whether in rehearsal or in concert?
It starts in the alone time with myself where I am always asking the question: what can best serve music-making, the music itself, and its transmission? The word conduit is also a great place to begin because I think it is so much about serving as a conduit for the musical expression and transmission. Our interpretation has more to do with revealing the essence of a work, rather than stamping our interpretation on it.
A+C:  You've done five CD releases for Harmonia Mundi and you've also received five Grammy nominations. How have things changed for you and the ensemble as a result?
One of the nicest things that shifted with us coming on with HM is that they have international distribution that is so solid and secure. Suddenly there were people in Japan, Australia and all over the world who had hard copies of our disc in hand. So, for instance, when we were in France last year and were doing some radio interviews in Paris, it was very lovely to discover that they were all quite familiar with our music.
A+C:  What do you do when you are by yourself and not completely absorbed in a piece of music?
I read as much as I can. Or, I'm in a movie theater. It's very joyful to me when the phone is turned off and I have a chance to be in another world for a little while. And, of course, I watch my share of trash TV.
—CHRIS JOHNSON
---