A Lost Leonardo, Oct. 13-Nov. 5, evolved from Daedalus, which was presented as a staged reading of at Amphibian in 2015. Pictured: Matthew Amendt, playing Leonardo.
Photos by Parker T Photography.
---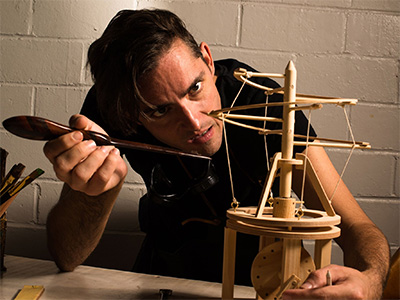 Kathleen Culebro is surprised by how many new plays submitted to her theater company are either post-apocalyptic or family dramas.
"After you've read a few, you start feeling that they're getting stale," says the artistic director of Fort Worth-based Amphibian Stage Productions, which has put on a new-play festival for the past three years. "I'm looking for a fresh voice, a fresh story, somebody who has something to say without preaching at me, somebody who clearly has some chops…I just know it when I see it."
Running from late October to early November, this year's festival features workshops and staged readings of two new works in development: Off Your Feet (Oct. 28-29) by Austin-born, New York-based Ashley Brooke Monroe and Shiny Objects (Nov. 4-5) by Jennifer Faletto, who is originally from Houston and now lives in Boulder, Colo. A playwright herself, Culebro admits a bias toward female writers. "We have a little ways to go to enjoy parity with our male counterparts," she says.
Off Your Feet is a docudrama based on interviews that Monroe conducted with homeless people and is told from their point of view. "Her aim is to tell a diversity of stories. That's the most important part and what drew me to it," Culebro says. "Amphibian is located nose-to-nose with the biggest homeless area in Fort Worth. It feels like a war zone. It's a segment of the population we treat as invisible, and we all have assumptions about who these people are. Yet we don't have any idea. It can happen to more people that we think."
Set on the eve of homecoming at a suburban high school, Shiny Objects sounds a little like a satire in the vein of American Pie. "Crystal Andersen has committed an unspeakable act with the Texas flag," behavior that sets off a scandal, according to the official description. "It's sort of like Mean Girls," Culebro says. "It's about small-town Texas and the way that people can be very cruel to one another if they're different. It's smart and funny and pretty redemptive."
What Off Your Feet and Shiny Objects aren't is ready to go. That's where Amphibian's intensive week-long development process comes in. Selected through open submissions in the spring and summer, the works-in-progress are first read on a Monday to an audience of subscribers who provide feedback with their reactions and in a talkback afterward. "You can feel the energy of when the audience is tuning out, when they're confused and when they're really sitting on the edge of their seats," Culebro says. "That will inform what happens the rest of the week."
After the initial run-through, the playwright begins rewriting and rehearsing the new material with actors, coached by a director and members of the Amphibian company. The development process ends with staged readings for the public on Saturday and Sunday. The company pays a stipend to any theater professional, be it a producer or dramaturge, that the writers want to invite to the readings to gain more input or to gauge interest in full productions. "The more you can shrink the world, the better," Culebro says.
Amphibian has been around since 2000, when it was launched at Texas Christian University. Space at the school was available only during the summer, so in 2005 the company began mounting staged readings of already produced plays with visual art themes at the Modern Art Museum of Fort Worth. That lasted until 2012 when Amphibian secured its own building. In 2015, the company started focusing on nurturing new plays.
Amphibian has enjoyed success helping new works reach fruition. After Caridad Svich's De Troya was workshopped at the 2016 new-play festival, it went on to become part of Cara Mia Theatre Co.'s season last spring in Dallas and is scheduled for a run at Chicago's Halcyon Theatre next year. Meanwhile, Music City, USA, a musical by J.T. Harding and Peter Zinn, also staged at Amphibian last year, is heading toward a Broadway run, while Allison Gregory's Not Medea, from 2015, was picked up by the National New Play Network for rolling premieres in California, West Virginia and Alaska.
In fact, the next play in Amphibian's regular season, David Davalos' A Lost Leonardo (Oct. 13-Nov. 5), about Leonardo da Vinci's painful transition from art to science, was developed by the company at the 2015 new-play festival even though it had already received a full production at Arden Theatre Co. in Philadelphia three years earlier. Culebro says plays sometimes get stuck in development hell, where they undergo rewrite after rewrite until they become unrecognizable from the original idea. "They're constantly evolving and never finished. Every place expects you to change it significantly." She advises playwrights to do their research and pick theaters suitable to their style and content.
Culebro herself struggles with what kinds of plays to develop at Amphibian, trying to balance accessibility with a sense of adventure. And it's not just the audience that has to be accounted for. Funders also demand results. "We're a nonprofit, so we exist for the community and listen to the audience, though we're not going to choose the season by committee," she says. "But we're not here for my enjoyment either. We're pulled in a lot of directions."
Traditional narrative work still dominates the submissions to Amphibian's new-play festival even as Culebro is seeing more boundary pushing on other stages around North Texas and the country.  "I think that has to happen with artists you already know and trust because it's hard to see those imaginative, very visual moments on the page," she says. "It's a leap of faith, and that faith has to be earned or it's a crapshoot whether it's going to be good or not."
—MANUEL MENDOZA