All photos: Cast of Kitchen Dog Theater's Wilde/Earnest.
Photos by Matt Mrozek.
---
Kitchen Dog Theater and Lee Trull's Wilde/Earnest  Falls Flat
In an era when every other entry into popular culture can be characterized as "twee" or "presh," it was inevitable that theater people would try to bring that cultural phenomenon into their realm in the service of our perpetual quest to build a new audience.
In case you've been living under a rock, a good definition of twee would be anything overly "sweet" or "sentimental." Think Wes Anderson movies. Or, more recently, Netflix's "The Unbreakable Kimmy Schmidt."  Slightly exaggerated adorableness. Some people love it, some find it excessively sugary. In the words of James Parker who penned an article for The Atlantic  on the subject last year, "Is twee the right word for it? Well, it is now."
But I digress.
The Dallas Theater Center's Director of New Play Development and erstwhile actor, director and playwright Lee Trull has adapted Oscar Wilde's The Importance of Being Earnest and I can think of no better word for Kitchen Dog Theater's production of Wilde/Earnest, than twee.
We could spend a bit of time here if we would like, parsing the definition of the word "adapted" but Wilde/Earnest is, more or less, The Importance of Being Earnest set in 2015.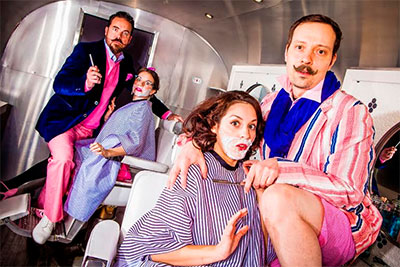 Let's start with the obvious. The premise of Earnest is dated. Two city gents feign the existence of fake relatives in the interest of always being seen at their best by their relations; when they're feeling mischievous Jack and Algy take off for the city, or the country, and play Earnest, or Bunbury (Baldwin in this production) respectively. The play is a classic, a tale of mistaken identity with a nice, clean ending. The moral of the story? Always be earnest. Obviously.
It may be dated, but it's still a kick-ass play. When Wilde wrote it, it was intended as a satirical send-up of sorts, of traditional 19th century comedy, an off-key and insincere approach to the English and their perpetual moralizing. Progress being what it is, the historical context of the play is typically considered vital to its production, for the sake of the audience. Approach the play another two centuries removed, set in 2015, and it doesn't make a whole lot of sense.
Gwendolyn's mother refusing her daughter's engagement, the whole god-father/guardian relationship thing.  It takes a little imagination to envision the scenarios in the play actually happening in the world of iPhone's, Wikipedia and Doritos.
But maybe that's just me. If you're better at using your imagination, good for you.
But, even if you find Earnest in the 21st century believable, and you like gimmicky sight-gags intended to disrupt and lighten the whole theater-going experience, think characters delivering lines while jumping on trampolines, breaking out into song (really good songs, actually, thanks to Dallas-based singer-songwriter Jencey Keeton,) roller-skating and a giant dance party to take it out on a high(er) note. (Why? Because Trull can.)  There would still be problems with this show.
Instead of re-writing, or even adapting Earnest (in the strict sense of the word), Trull opted for a little bit of revision, and a lot of strategic substitutions and additions in the interest of, I assume, making it a relevant theater-going experience for the 21st century audience.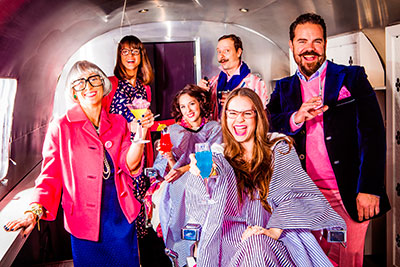 But updating it, or adding some levity into an already rather humorous play, for Trull, simply implied the addition of references to such 20th/21st century ephemera as bagel bites (instead of cucumber sandwiches) and Maroon 5 complemented by actors overly exaggerating their receipt of an "Email notification!" and you know, talking in text-speak. IDK! BTW!
Trull's adaptation is lazy; small changes intended to provoke big reactions. It also seems about a decade behind. IDK, jokes about the error-prone Wikipedia and our attachment to iPhones just aren't funny anymore, I don't think they're even funny to the post-50 set which more frequently, frequent the theater.
I get it. I've engaged in my own small attempts here and there to find ways to encourage the youth (!) to embrace the theater. Perhaps that's not what this is, perhaps it's not about a younger audience, but an attempt to make any audience think the theater can be as fun as a night out on the town. Either way. Wilde/Earnest is an over the top, cringe-inducing spectacle that will make any seasoned theater-goer bemoan Trull's treatment of Wilde's classic writing, and any new theater-goer roll their eyes at theater-type's desperation.