As Fred Ebb famously wrote in the musical Chicago, "When you're good to Mama, Mama's good to you." Amy Stevenson, a performer and educator who founded and hosts a weekly cabaret called Mama's Party, has been more than good to Dallas-Fort Worth for the last 14 years.
Her Monday night shows have been a DFW staple since November of 2006, but the idea for these musical get-togethers materialized much earlier.
"I used to go to New York City and do shows at Don't Tell Mama with [DFW musician and music director] Mark Mullino," Stevenson says. "On the Saturday before our shows, to help get the word out, we would perform at something called Poole Party with lots of comedians who were trying to get their own shows going. Back in Dallas, we were singing at a local piano bar called Phases and we asked if we could try something new. Mark came up with the name because we liked the 'party' idea and lots of theater kids called me Mama. Hence: Mama's Party."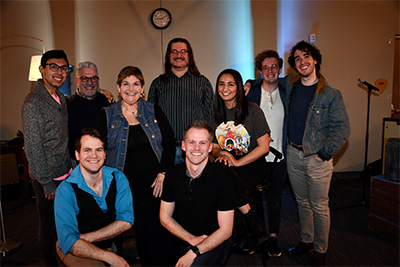 The cabaret has had several homes over the years, including Phases, the now-defunct Contemporary Theatre of Dallas (currently home to improv group Four Day Weekend), and the Uptown Theatre in Grand Prairie. Its current location is at the new MainStage 222 in Irving. The crowds travel to wherever Mama goes, supporting everyone from up-and-coming student singers to "community cast parties" for current local productions to professional Broadway performers in town with touring shows.
"I invite people, but there are many who ask to sing," says Stevenson. "As long as I have heard them before, I usually try to get them in when I have an opening. If I have not heard someone sing then I ask that they come on a Monday night and sing something for me—then I usually get them booked right away. I also have DFW shows and colleges ask for their casts and students to perform. I love being able to give them a place to try out new things!"
Besides being a safe space and welcoming stage for local performers, Mama's Party often includes a fundraising component. Stevenson first offered the cabaret up to Broadway tours that came to town through Dallas Summer Musicals, helping to raise money for the national nonprofit organization Broadway Cares/Equity Fights AIDS. Since 1988, BCEFA has raised more than $300 million for essential services for people with HIV/AIDS and other critical illnesses in all 50 states, Puerto Rico, and Washington, D.C. Then another group hit a little closer to home, and Stevenson was more than ready to use music to help others.
"Gideon's Feet was founded by actors Ashley Puckett Gonzales and Brian Gonzales, and it helps local theater professionals in times of crisis with medical funds, rent and mortgage payments, meals being brought in, et cetera," says Stevenson. "They have been there for so many members of our community, and I love helping them with this."
Just as Mama's Party assists its community, so does the community appreciate the long-standing cabaret. Stevenson was recently honored with the Nelson Award by the Irving Convention and Visitors Bureau, an accolade that's given to groups that entice others to the city, which sits between Dallas and Fort Worth.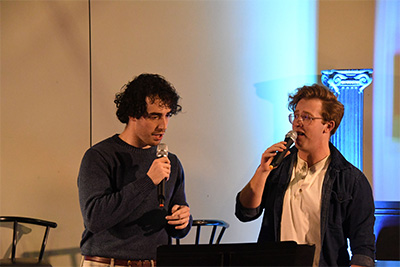 "I am so honored to be getting this," says Stevenson, "since one of the reasons I brought the show to Irving was to get people to the city I grew up in and love."
When she's not behind the microphone, Stevenson is guiding others in a more traditional way. She teaches dyslexic elementary school students, a job that she says is very rewarding and inspires confidence for all. A singer since she was three years old, Stevenson started out in the Baptist church where her father was the music minister, then eventually graduated to high school musicals.
"Being Baptist, I was discouraged from going into theater," she says. "But after doing a professional show at Richland College, I was hooked. Fast forward many years to where I met Mark Mullino, and he dragged me to an audition for Camelot in Conroe, Texas. I got cast, and that was the start of a new world for me. I quit my teaching job and went where the theater jobs took me, which eventually led me back to where I first started: Dallas."
Without that series of events, DFW might never had received the musical launchpad and philanthropic gift that is Mama's Party. And that would definitely not be good for Mama, let alone DFW.
-LINDSEY WILSON