Laurie Ann Guerrero and Sandra Cisneros. Photo courtesy of Macondo.
---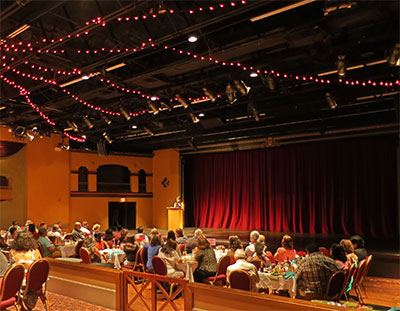 This summer in San Antonio, it became clear again that writing doesn't thrive solely as a practice of a solitary author typing away alone at a desk.
Whether around classroom tables, gathered in a circle of chairs, in rows facing a podium, milling around before and after events, giving rides across town to strangers, I realized once again that writing is born out of communities of support and dialogue. There are stories that won't get told or definitely won't be published if there isn't an ecosystem for that writer and a way for that writing to emerge.
Here in Texas, writers are already removed physically from the centers of the book industry, and for writers of color or feminist and LGBTQ authors, there are additional barriers to publishing or finding attention for one's work, especially when that writing might be seen as marginal, "ethnic," strange or controversial.
Nurturing communities for these writers is a crucial task, one that Sandra Cisneros saw as her responsibility back in 1995 when she founded Macondo as a gathering of writers around her kitchen table in San Anto. Since then, the summer gathering has organically grown and contracted over the years, as it moved from Cisneros's house to a variety of institutions in San Antonio like Trinity University and the Esperanza Peace and Justice Center.
For the last twenty-years, Macondo has been a home for a widely diverse array of writers, while always remaining centered on Chicanx writing. (I'm using the "x" here, because it includes Chicanos and Chicanas and also all the folks who don't easily fit into one of the binary genders). It's a delicate balancing act: nurturing Chicanx and Latinx work while also setting a mission to "o "support and unite writers who view their work and talents as part of a larger task of community-building and non-violent social change." The idea is to include any writer who identifies with any marginalized community, whether as women, LGBTQI or writers of color.
A few years ago, coinciding with Sandra Cisneros's decision to leave San Anto and move to San Miguel de Allende in Mexico, she decided to gift Macondo to the The Guadalupe Cultural Arts Center. Now the jewel of the literary arts program at The Guadalupe in San Antonio's historically Mexican-American Westside, Macondo has grown by leaps and bounds.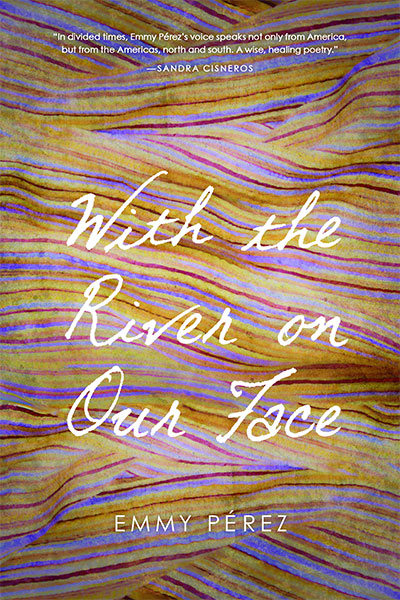 This summer, Macondo witnessed a kind of re-birth under the leadership of Laurie Ann Guerrero, Texas's poet laureate for 2016. Her fierce dedication and hard work meant that Macondo was bigger and shone brighter than ever before. The program is application-based now, though in the past new members arrived through recommendations by existing Macondo members. This summer over forty new members joined Macondo, injecting fresh and young energy into the storied gathering.
But Macondo is not just a summer gathering in San Antonio, but also a web of writers that stretches from one end of the country to another (and even includes folks from other countries). This network of writers supports each other throughout the year, organizing readings for one another and providing support in a writing and arts world often hostile to work by writers of color.
For San Antonio, it is especially important that all of these writers come to this literary mecca, as it means Macondo has deep Texas roots and that this gathering brings Texas-based authors into dialogue with a national network of pathbreaking writers. The fruits of this dialogue are even more clear now in 2016, as numerous new books by Macondistas hit bookstores (both physical and virtual).
For example, a new anthology by Sarah Rafael García and mónica teresa ortiz out from Texas A&M Press called Pariahs: Writing from Outside the Margins, that is specifically centered on the experiences of living and writing outside the bounds of what is considered normal or acceptable.
Or a new book of poetry centered on the lived experience of struggling with diabetes in marginalized Latinx communities from Austin-based writerire'ne lara silva in her Blood Sugar Canto. In her book, sugar/azucar becomes a mantra and prayer for healing in communities ravaged by the disease.
Or witness a new book of poetry, With the River on Our Face, by Emmy Pérez, a professor of writing at the newly formed University of Texas Rio Grande Valley. Pérez was born in Santa Ana, California, but has spent most of her adult life along the border in Texas, moving from the El Paso area to the Rio Grande Valley a number of years ago.
This new collection speaks to the ethos and the ethics of the Macondo Writing Workshop as well as border living more generally. It is a book nurtured by connection and by community, while never too sweet to let things get dirty or to dirty things up. As the book's title poem says, "With el río grande~bravo / in our face / This river / at its mouth / its sources / With you at the snow / the evergreens / The million earth holes / of water emerging / emerald / Snakes / Gloria Anzaldúa's grave / with this river / on our face."
Pérez's writing is floating on the river and the river is in all of our bodies, imprinted on our very faces. Reading this poetry transport readers to a river, and it suddenly it can feel like we are walking along a river's banks. This is one potential definition of a fulfilling reading experience: to be transported to another scene, another world.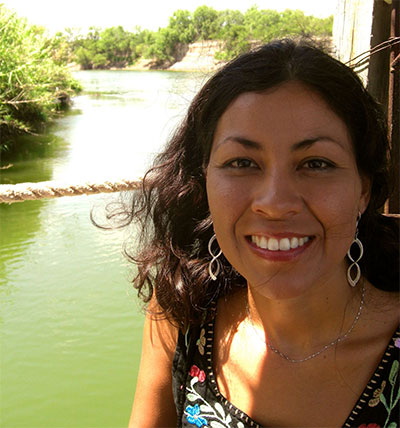 The mention of Gloria Anzaldúa's grave in Pérez's poem is no accident. In the late seventies, this acclaimed Chicana writer moved away from Texas for California, where she became active in women of color organizing efforts first in the San Francisco Bay Area and then nationwide. Texas was not a hospitable place for Anzaldúa during her life, and she wrote about those struggles famously in her book Borderlands/La Frontera.
In many ways, both Macondo and Emmy Pérez's poetry seem to negotiate an attempt to recuperate Texas itself. Both are interested in developing communities that nurture all their members, especially the most marginal. In this deep red state, they are dedicated to creating new "imaginaries," in the sociological sense of finding new ways for human beings to live together.
Pérez left California to fall in love with the Rio Grande / Río Bravo and with the communities all along it from New Mexico to Boca Chica; she has also been involved in efforts in Texas and nationwide to remember Anzaldúa's legacy and to promote her work with young people, including a pilgrimage last year to Anzaldúa's gravesite in South Texas.
From Anzaldúa to Cisneros, earlier generations of Chicana authors worked hard to leave a written legacy and to create institutions, like the Macondo Writing Workshop that would nurture subsequent generations of authors, not just Chicanas, but anyone from multiply marginalized communities. In the work of this next generation of writers—all Texas-based Macondistas—we can see what succulent fruit is being born.
—JOHN PLUECKER