---
IMAGE ABOVE: Karina Gonzalez, Joseph Walsh and Artists of Houston Ballet in David Bintley's Aladdin. Photo by Amitava Sarkar.
---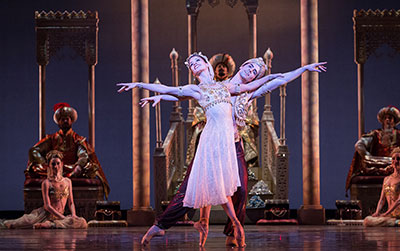 A magic lantern, a flying carpet, an evil monster, love at first sight and a blend of trickery and triumph sounds like all the right ingredients for a juicy story ballet. And it will be, when Houston Ballet presents the American premiere of David Bintley's fantastical Aladdin, Feb. 20 – March 2, 2014,a co-production with Birmingham Royal Ballet.
Whirlwind and adventure make for one exciting action ballet. With  Birmingham Royal Ballet Artistic Director David Bintley at the choreographic helm, a score by Carl Davis, eye-popping sets by Dick Bird and radiant costumes by Sue Blane, Aladdin is sure to enchant Houston Ballet's audiences of all ages.
Houston Ballet artistic director Stanton Welch knew that Aladdin was the perfect story ballet to grow their family-friendly repertory. And, Bintley knew the company was an ideal partner. "Houston Ballet has a unique reputation, and is synonymous with the narrative ballet," says Bintley. "That was Ben Stevenson's influence, but it's certainly continuing under Stanton with him having come from another great story telling company, The Australian Ballet."
Bintley felt an immediate connection with Houston Ballet. "I loved the dancers when I saw them earlier this year," he recalls. "I thought they had character, drama and personality as well as all excellent technical facility. They'll be great in Aladdin, and I really hope they enjoy the spirit of fun that it has."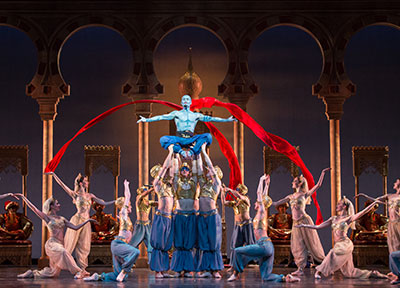 An Ancient Story
The magical tale of Aladdin is getting considerable play in 2014, with a new Broadway production inspired by the 1992 Disney movie, loosely based on a story in folk tale collection One Thousand and One Nights or Arabian Nights. Scores of millennials and Generation Ys grew up captivated by the tale of Aladdin's trials with the evil Mahgrib and his pursuit of the Emperor's daughter.
The story of a boy and his genie dates back to the third century, and the 18th century French scholar Antoine Galland is credited with introducing the stories to Western European audiences. The tale made it on stage in the form of a British pantomime in 1778, but it was Henry Byron's pantomime interpretation in 1861that really caught on with fans. All the Aladdin iterations derive from this version.  Bintley first created Aladdin for the National Ballet of Japan in 2008.
"Every child who reads books comes across Aladdin and the Arabian Nights at some point," says Bintley. "It was Charles Dickens's favorite book as a child, and I re-read it before embarking on the ballet. It's a whole exotic other world, quite unlike any other collection of fairy tales."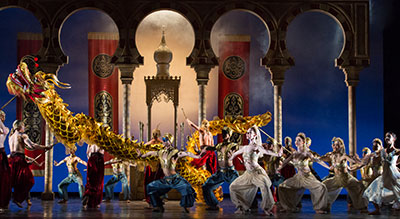 Musical Magic
Composer Davis is known for his outstanding television scores, including Pride and Prejudice, Cranford, The World at War and Up Pompeii. His soaring score for Aladdin was first created for The Scottish Ballet. Davis first collaborated with Bintley on the score for the ballet Cyrano at Birmingham Royal Ballet, and it was during that process that he gave Bintley a recording of the music performed by the Malaysian Philharmonic Orchestra. Bintley's choreographic imagination kicked into high gear, and it wasn't long before Aladdin the ballet became a reality for both the Royal Birmingham Ballet and Houston Ballet. "The catalyst was Carl's score," he explains. "I loved the music when I heard it."
The composer finds that the process of creating a score for a ballet draws on all his skills. "It is a bit like writing music for a film, except this film is going to be made to your music," says Davis. "A full length ballet will be made up of linked sections of varying lengths.   But whereas in a film situation the music is basically about mood, when composing for dance, the music must make the dancers move."
Davis found Aladdin's story beaming with musical ideas. "Beneath the pure action of the original story, there are several important elements I wanted to bring out, such as the idea of an all-powerful lamp that can be used for both good and evil," he adds.
With a multinational story, Davis was able to reference Islamic, Asian and European cultures in his score. "I based the motif for the lamp on a Raga-like drone supporting a Star Wars' inspired trumpet fanfare," says Davis. "But the principal action is set in Peking, which must be acknowledged by the use of the pentatonic scale, the basis of all Sino-Japanese music. The evil magician, however, is based in Morocco and his music is always accompanied by Near-Eastern drums."
Seeing the final project is always a joy for the composer. "Every element of the original tale is beautifully presented, from an aerobatic blue Genie to a fully-fledged flying carpet," says Davis. "I'm amazed by it, and also enjoyed David's wonderful choreography. A dream come true."
Carpets, Caves & Jewels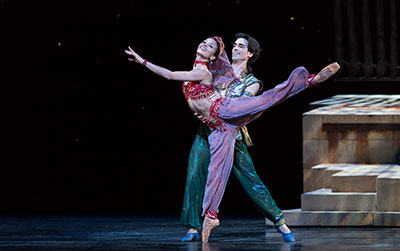 To achieve the exotic atmosphere of the ballet, Bintley turned to Dick Bird, who has designed for theater, opera, ballet, television and film, including for the English National Opera, Royal Court Theatre, Chichester Festival Theatre, Young Vic and others. Audiences can expect all the theatrical wizardry one might find in a Broadway show, which includes an actual flying carpet and bejeweled caves complete with glistening stalactites and stalagmites. Bintley found that Bird stretched his own scenic imagination. "Even from the model, you could see how wonderful it was going to look," he adds.
Blane's costumes merge the fantastic with the whimsical. From fast changes, to multiple wigs and headdresses, the costumes have a choreography of their own. Bintley knew she was the right person to dress the denizens of Aladdin. "Sue is an amazing costume designer," says Bintley. "I see my role as rather reigning in her extraordinary imagination; making sure everything is practical."
It takes a certain formula to create a successful story ballet that will become an audience favorite. Bintley and Welch are convinced that all the parts are there in Aladdin. "Essentially, it's a simple story with clearly delineated characters and very memorable moments like the cave of riches, the magic carpet ride and the appearance of the Genie," says Bintley. "It has comedy elements and a love story that transcends power and riches."
—NANCY WOZNY
REPRINTED FROM PLAYBILL.