Mark Dion (b. 1961), The Texas Cabinet (detail), 2020, wooden cabinet filled with objects from Dion's travels, courtesy of the artist and Tanya Bonakdar Gallery.
---
Four northern artists who visited Texas in the nineteenth century came seeking land, insight, flora and fauna. Sarah Ann Lillie Hardinge inherited a property, Frederick Law Olmstead visited as a New York Times correspondent, ornithologist John James Audubon to paint birds and botanist Charles Wright to collect plants.
These four artists explored the state, with Wright even traveling on foot from San Antonio to El Paso–-nearly 700 miles––to collect specimens.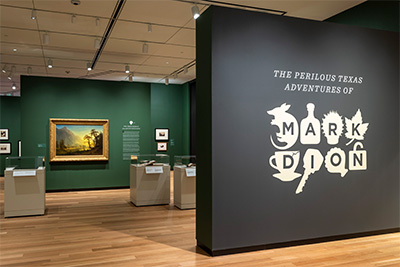 Mark Dion, a conceptual artist, has spent the past four years tracing the four characters' journeys through Texas for the exhibition The Perilous Texas Adventures of Mark Dion, which runs through May 17 at the Amon Carter Museum of American Art in Fort Worth.
The exhibition, his solo Texas debut, creates "a cross between Pee Wee's Big Adventure, Borat, and Lewis and Clark's expedition," said curator Maggie Adler, who pitched the show five years ago to Dion. Culling from the museum's permanent collection, and especially the work of Hardinge, she suggested an installation around the idea of the 19th century artist-explorer. "There are these things called artist-explorers; there are these people called our explorers. Why did they go out? What were they seeking?" Adler said of the concept.
The show––part history exhibition and part installation––became a collaborative effort involving Adler, museum archivist Jon Frembling, as well as botanists from the Botanical Research Institute of Texas, filmmakers and others.
"This is a very distinct exhibition for me. I've done lots of mining the museum exhibitions, but they're programmatic in a way. I've also done projects that are about travel, but they're not connected to the collections in the same way. I've done research, but not in the same kind of depth that this project has. So, I think in some ways this has a lot of the best of my methodologies," Dion said.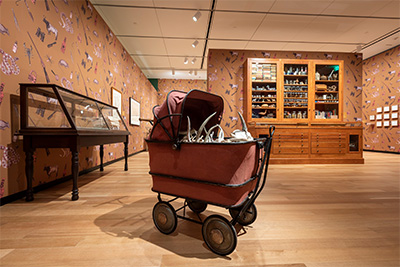 He traveled to the Gulf Coast, San Antonio, El Paso and Austin, with his companions providing insight to the land, which culminates in a group of essays in the exhibition catalogue. Dion's ultimate result is a massive cabinet of trinkets, used gum, dead spiders, broken glass, books and other items collected along the way. The first three galleries feature artists' tools, excerpts from notes, and samples of their work; the last gallery is a furnished room featuring the dividing Dion's three-year traverse.
"Americans write great books like On the Road and Lewis and Clark's accounts and make great landscape paintings. So my question is, what would be the contemporary sculptural equivalent of those depictions? We're using the tools that I have as a sculptor who's really interested in collecting as a methodology. And so this cabinet in some way will become, is on its way to becoming that object," he said.
Dion's physical work may be in the last gallery. But the exhibition is also an institutional critique, an ongoing theme in Dion's work meant to challenge how viewers experience art in a museum.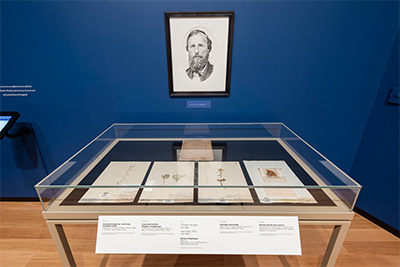 "Sometimes I wonder if being critical is just another way of loving these things," Dion said. Hardinge's landscape watercolors and oil paintings, diary entries and other archival material were culled from the museum's library; Wright's plants, Olmstead's notes and Audubon's paintings are also included. Of particular interest to Adler was Hardinge, a New England native and self-taught artist who moved from Boston with her family after she inherited the property from her brother. The claim map, which is on display, was so vague that the property was hard to find. When they did find the property 90 miles southwest of Houston, it was also dirt-cheap. She continued painting and teaching even after she moved back to New England in 1856.
"The show addresses how we hear accounts of peoples' journeys, how we remember and interpret them in sculptural form and what these relics mean," Adler said.
Dion adds, "In a way we want to create a kind of ironic bait-and-switch situation that maybe draws you in here. So you're expecting one kind of exhibition and then when you start encountering the text and seeing where the exhibition goes, it turns into something more way more complex."
—JAMES RUSSELL