Sehba Sarwar, What Is Home?
wool shawl from Delhi, ajrak shawl from Karachi, beads from Karachi market and notebook.
Photo courtesy of the artist.
---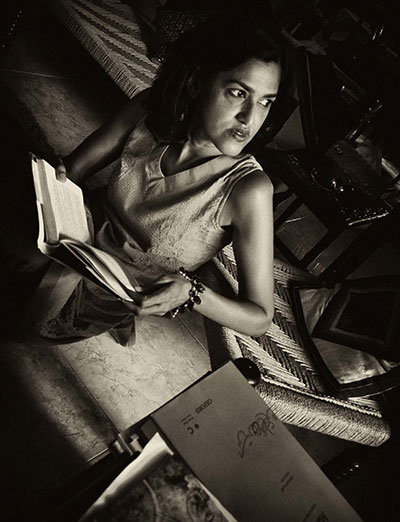 What is home? Oftentimes, it takes asking a question like this one to make us truly consider the complexity of meaning associated with what otherwise seems obvious.  What is home? Is it as simple as the place we lay our head at night, the city we were born in or the one we've lived in all our lives? In all of these scenarios "home" is connected to memory, to past experiences—home is in many ways the space where experiences begin to form narratives from which we trace our beginning to our present, histories impregnated with meaning.
For years, multidisciplinary artist, activist, and writer Sehba Sarwar has dissected this very question in various ways, most recently in her project What is home?, which culminates on May 9th with a public exhibition, performance, and community gathering at Baker Ripley Neighborhood Center from 3-5pm.
The project first manifested itself in the form of a memoir by the same name, which she began working on during her time as artist-in-residence at University of Houston Cynthia Woods Mitchell Center for the Arts  from 2012 – 2014, where she was given the time and resources to researched and developed her writing. The project includes workshops, readings, exhibitions, and a blog.
All of her projects come from the personal and, although What is Home?  has grown to include not just her own stories, but also those of others—the sense of urgency with which she works to preserve memories, voices, and stories comes from an entirely intimate and personal place.  "For me, streets provide memory maps like the tangled network of arteries in my brain: once each route seeps into my dream world, I can call that place home," Sarwar writes in her essay "Recovering my Voice" (2000) published in Good, a collection of essays about Houston, published by Livable Houston Magazine.  In this essay, she examines her move to Houston, its similarities to the city she grew up in, Karachi, Pakistan, and her diagnosis with arterio-venous malformation (AVM).  The subsequent surgeries required to correct the condition threatened not only Sarwar's speech, but also her memory.  She explains that she became compelled to write, to document in order to "deal with the challenge of not being able to change" because the overwhelming fear of losing her voice and memory had silenced her.  She was not only compelled to write, but also to give others voices as well, and it was from this that her non-profit arts organization Voices Breaking Boundaries (VBB), "a grassroots nonprofit arts organization open to artists, individuals and organizations from a multitude of perspectives, backgrounds and countries," was born.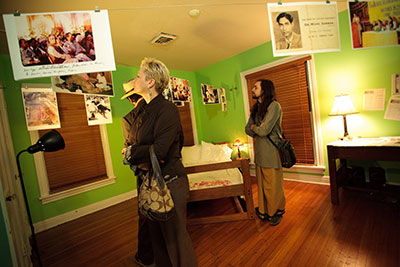 Through VBB, she has organized other projects related to the question of what is home and history.  The living room art series (now the VBB Borderlines series), first took place in November 2009 at Sarwar's East End home, where she and fellow artists produced work honoring the legacy of loved ones, activists or otherwise, who have passed.  Entitled Honoring Dissent/Descent, "the production included my installation of images and sound dedicated to my father, my sister's documentary about the Pakistani student movement, an installation by a Pakistani friend who also lost her father in Karachi a year earlier, an installation by Daniel Bustamante's daughter honoring the work of a living Chicano leader, and photographs by artists from Karachi and Houston" she explains in an except from her memoir published in VBB's catalogue Borderlines: Volume I, a collection of essays by artists, activists, and academics from around the world exploring migration, borders, and other topics.
Another production, Home and Histories, took place December 2012 and was held on the streets of Freedman's Town, in Houston, and linked this neighborhood founded by freed slaves after Emancipation in the 1860s, with Lyari, "one of the oldest neighborhoods in Karachi and home to a large Baloch community whose roots are in east Africa."  Freedman's Town is a neighborhood whose history many are struggling to preserve in the mist of gentrification, and the Baloch community struggles to be seen.  Issues of displacement and of invisibility plague both communities that wrestle with preserving the homes they created.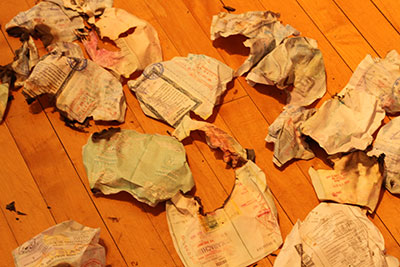 What is Home? delves into the state of being transnational and the urgency one faces to come to terms with being in-between, dissected and segmented by the different places and people one's history lies with/in.  Where, by and large, most people feel places belong to them, Sarwar's work seems to ask which parts of oneself, if any, belong to a place and how does one cope with leaving parts of oneself behind?  Now funded in part by grants from Mid-America Arts Alliance, the National Endowment for the Arts, and the Texas Commission for the Arts, What is Home?  has expanded.
In January 2015, she began working with South Asian women living in southwest Houston. Some were dealing with immigration issues, had experiences with domestic violence, and other suppressive experiences. With the help of Baker Ripley Neighborhood Center and Voices Breaking Boundaries, Sarwar conducted storytelling workshops that gave these women a very unique opportunity to be heard.  Their stories and narratives were documented and, on March 12, presented by Westbury High School refugee students from Nepal, India, and Burma, with whom she has also conducted workshops.
This act of cultural exchange was powerful: not only were these students shown the importance of telling their own stories, of making themselves seen in social atmosphere that pressures those outside of the majority to recede into the background, but they were also shown the importance of being the voice for those who can not speak—be it out of fear or lack of language or ability, or a lack of access to a platform to do so.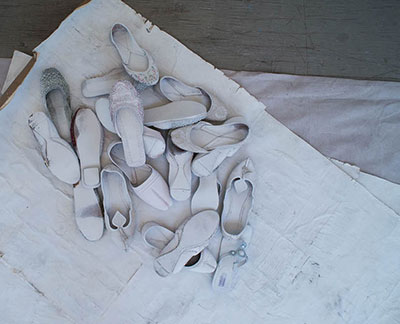 Following that event Sarwar has continued to conduct workshops and small events as a build-up to a final event on May 9th, which formally concludes her Mid-America Arts Alliance Artistic Innovations grant.  The event will include performance and installation derived from Sarwar's written work and research.  Her memoir will also be a part of the event.  She will read excerpts from What is Home?, which she explains is currently broken into short vignettes, splices of her life, as well as interviews with her mother about her experiences migrating from one country to another, of living through tumultuous times that intertwine to create a collective history of both Pakistan and India history.  She also hopes to include the work of the women and students she has worked with, not only so that they continue to be participants in this project, but also to introduce them to the immigration and health resources Baker Ripley has to offer.  Ultimately, she will arrive at the final result with her "eyes closed and moving," a phrase which seems to not only describe art making, but living in general. "The journey is more exciting that way, more motivating."
—CHARISSE WESTON