---
IMAGE: Installation view of Melissa Thorne: A Wall Around a Window at Devin Borden Gallery. Photo: Logan Beck Photography.
---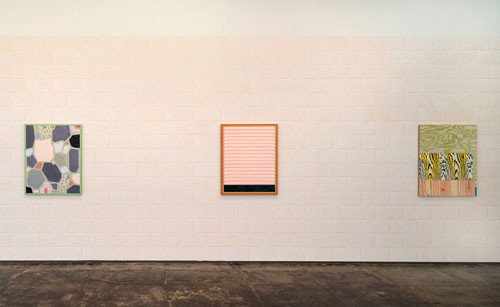 Artist Melissa Thorne must see the world in pattern.  In Thorne's current installation A Wall Around a Window at Devin Borden Gallery, site there are paintings of bricks, look louvers, clinic rocks, wood grain, and even a crochet pattern laser-cut into a small stool.  Thorne's practice takes notice of the disparate components that constitute a seemingly unified surface.  All the works are based on walls and items Thorne has come across in her daily life in Los Angeles and upstate New York.
The most impressive parts of the installation are the large-scale wall paintings of bricks on the north and south walls of the gallery, painted flush with the floor and ending just a few feet below the high gallery ceiling.  For the fleshy pink brick painting on the north wall, Thorne and her team outlined each brick in color pencil, with enough negative space between each brick to indicate cement.  Thorne filled in each brick with an acrylic wash, thickly edging each rectangle with a second wash to create the illusion of depth.
The bricks on the south wall are in alternating pastel greens and grays, but the patterning is changed ever so slightly.  Here, only the left and bottom lines have been outlined, with a variation in washes that suggests the shape of a brick.  The difference between the two paintings is barely noticeable, and yet this careful consideration seems crucial to the installation.  It speaks to how A Wall Around a Window does not overpower the gallery space, nor succumb to it.
In Thorne's rock painting, there are periwinkle and beige-colored matte rocks, charcoal rocks with visible brushwork, and even a few painted with what appear to be little microbes.  Across the gallery is a near replica of the rock painting, but this one is in watercolor on paper, and a quarter of the size.  When Thorne transposes one surface to another, she abstracts them further and further from the original source material.   This assures that Thorne's paintings have a lively dialogue with one another and with the history of abstract painting.
Fortunately, though Thorne may be all about surface, she is by no means superficial. Thorne's work references the anonymous craft that surrounds us every day.  This installation has paintings of brick facades and rock walls, but also of a small zebra vase and a crochet swatch.  The people who made the objects Thorne bases her paintings on may not consider themselves artists, but Thorne sees the artistry in what they create.  And much like most anonymous craft around us, the paintings, fabrics and objects that make up Thorne's installation have no titles—a remarkable decision on Thorne's part.  Not naming the works resists standard avenues of how art is archived and canonized.
Thorne may ultimately decide to name the pieces, but the fact that she publicly exhibited the works sans titles speaks to her sympathy for the applied arts.  A Wall Around a Window is glimpse into the humble objects that make a space, and a meditative distillation of our built and crafted environments.
—KELLY MONTANA