Mickalene Thomas, Racquel Reclining Wearing Purple Jumpsuit (detail), 2016, rhinestones, glitter, flock, acrylic and oil on wood panel, 96 x 144 inches © Mickalene Thomas.
---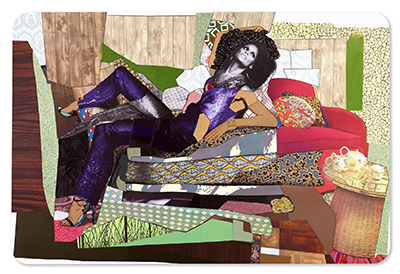 There's a living room constructed in the Moody Center for the Arts at Rice University. With vibrant colors set against the drab backdrop of wood paneling, it harkens to decor of the 1970s with a modern twist. It's hard to say why you'd set a television next to a couch, but this is more of a diorama than a set. The tombstone states that the objects within are part of a tableau created in the artist's studio, a three-dimensional collage that Mickalene Thomas activates with models during photoshoots and drawing sessions. The ephemera may change over time—On Beauty by Zadie Smith may be set on a shelf elsewhere, or Diana Ross's To Love Again may see a different spot as the artist thumbs through her collection—but the vibe stays the same.
Waiting on a Prime-Time Star, on view through Jan. 13, 2018, is rife with references to both pop culture and art history. The set occupies a majority of the entryway and sits across from text that explains these references as a means to challenge notions of femininity from a modern perspective. The works hung in and around the installation reflect its vibrancy, giving off an air of pop art as the rhinestones make Mama Bush's afro sparkle. The artist's work is lively, energetic. Her process, laid bare in the gallery just beyond the doors, provides insight into why her work never feels still.
In this sense, though, the layout of the room feels off. The exhibition provides glimpses into the artistic process, but these are overshadowed by Thomas's larger-than-life collages. In Racquel Wearing Purple Jumpsuit, the model leans back on a couch, head tilted upward with her gaze off-camera. She, as well as her environment, has been torn apart and reconstructed from photographs, paint, cardboard, and more. Her afro turns to rhinestone as you scan upward, as though it holds some secret of the cosmos that could be contained nowhere else. Thomas's choice to collage Racquel in this fashion points to an intersectional perspective in which we as humans can never be merely one thing. Their liveliness barely contained by the walls, these collages cannot help but compete for your attention amongst themselves, leaving the supporting work almost an afterthought.
Tucked back into a corner is a diptych of a finished portrait and a slideshow of stills from a photo-shoot set to music. It shows the early stage of her process, the nature of which feels akin to a fashion shoot. Nearby, a diamond of small-scale collages seems to be sketches of Thomas's larger works—some present, some not. Across the gallery, hang photographs of the artist's models and muses. While the dots are far from hard to connect, the arrangement feels stilted. The focus of the exhibition is Thomas's grandiose works, which already grab the viewer's attention, but these smaller works show how careful and thoughtful the artist is in how and why she works.
Thomas reimagines historical works, drawing references from historical figures and spinning it to fit her viewpoint. Sleep: Deux femmes noires draws on Gustave Courbet's Le sommeil (Sleep), which depicts two nude white women entwined on a bed amid white sheets and a dark backdrop. In Thomas's version, two black women lie similarly entwined, but the artist has replaced the drab background with a collage that features both domestic and natural environments. Placed in the center of the collage, these women feel as the source from which the natural world is possible.
Thomas is well-versed in landscape and portraiture yet takes them further as she twists both to construct her collages. Beyond the colorful nature of the work and the powerful presence of her models, the energy that Thomas captures is the dynamism of their being.
—MICHAEL MCFADDEN