IMAGES: Detail from Video for Miklós Rózsa's  Adante for Strings, Op. 22a  by Pipilotti Rist, 2015 (video still).
© Courtesy the artist, Luhring Augustine, NY and Hauser & Wirth.
---
The Dallas arts world is many things.   One thing it's not?  Lazy. Artists and organizations are incessantly debating where we are and where we should be going, a fact we occasionally like to bemoan (justifiably); but, generally, our proclivity towards civic debate is healthy. I'd posit our community is synonymous with innovation—at least with its attempts, which is certainly worth something.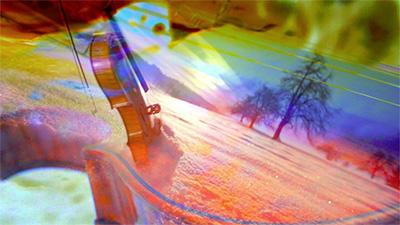 The Dallas Symphony Orchestra, as an institution saddled with one of the more challenged art forms, is a rather surprising member of the innovation camp. Despite the multitude of obstacles symphony orchestras are facing, most of which the DSO is intimately familiar with, the organization has been a leader in spearheading palatable (aka creative but safe) experiments in audience development and retention.
The ReMix concert series, in which shorter, generally newer works are presented complete with snacks and free booze in a smaller venue than the purportedly intimidating Meyerson Symphony Center, is a good example. Has it succeeded in driving attendance among the coveted younger audience? Not entirely; but it hasn't failed, either.
The inaugural Soluna International Music & Arts Festival, presented by the DSO along with their partners and sponsors, could and should have been another example of that. And it was, kind of.
Composed of three weeks of art, music, dance and film which wrapped at the end of May, Soluna proposed—in the words of Director of Festival Advancement Anna-Sophia Van Zweden, daughter of DSO Music Director Jaap Van Zweden— to "create unique cross-pollinations of inspiration and ideas to inspire truly original multidisciplinary art forms."
National, international and even a couple of local artists were invited to create new work for the festival, which was performed/screened/presented in rotation with more traditional DSO programming. It was a lot to take in, and the incredibly diverse array of events, many geared towards very different audiences, makes it rather difficult to evaluate in terms of success.
I'll start by stating the obvious; attaching an "international" label onto anything bolsters expectations, which, although tempered by the inaugural aspect of the event, were high. Additionally, we have the Van Zwedens—who are members of the world's cultural elite and, as goes with the territory, presumably would bring in the big guns, which they did, even if the roster of commissions trended more towards art and music with instant appeal but little lasting impact.
Alex Prager, who created new films to showcase alongside music by collaborator Ali Helnwein, is an artist whose penchant for Hollywood glamour is matched by her apparent plethora of funding;  Pipilloti Rist, who created a video to show alongside the music of Miklós Rósza and seems enamored, in a negative way, with yesterday's technology and imagery, are two examples. Performances/films were also performed/screened by artists Francisco Moreno, Kevin Beasley, Monte Laster and Yael Bartana.
None was exceptional, but neither were they disappointing. Although I was surprised by the seemingly random, arbitrary selection process when it came to inviting artists to participate and gifting Prager's lackluster pieces, for example, the opening night slot, I have to applaud the DSO for affording Ms. Van Zweden the opportunity to spearhead the festival in the first place. Despite what the various pieces lacked in terms of staying power and import, Van Zweden is undoubtedly savvy when it comes to the audience problem symphony orchestras are facing. Creating opportunities for exactly the adventurous, multidisciplinary works which, if anything can, will entertain future audiences, she used her position of considerable influence to push the DSO in the right direction.
However, the artistic component of the festival was poorly curated;  the true downfall of Soluna was how few of the right (or any) people saw most of the work, excluding what might count as more traditional DSO performances (Bernstein's "Kaddish" and Mahler's Symphony 3 for example).
I struggle alongside the DSO and orchestras throughout the country with overcoming the symphony's reputation as "something my parents do." What Soluna drove home for me was that the symphony, in terms of a cultural purveyor of entertainment, will always be on a different level and—to go a step further— will never be, in its current form at least, a sought-after commodity for the 21st century.
I think about the many people I know who would have found something to enjoy in Alex Prager's homages to fashion and film, or Helnwein's postmodern film scores which quote everything from Bach to Morricone, but the fact that their performance is taking place in a symphony music hall, or as a part of the DSO season, automatically (without even trying to) disengages them. We, the mainstream, culturally savvy millenials, engage with art of all kinds, but for the most part, we've drawn the line at fine art. Sure, part of it's money, but I have a multitude of friends who don't think twice about $80 meals or $60 tickets to see Passion Pit. It's not just money. It's the lack of education/awareness, but even more so it's the stigma against fine art, a term which, by the way, is part of the problem.
What if these events had taken place in a venue in which the younger cultural elite who engage in mainstream culture frequent? Or what if it had been marketed to them? Would that have made a difference? At least in part, I think the answer is yes.
The rub, of course, is that the level of funding required to create and stage quality art in experimental ways, is unattainable for any but the most well endowed cultural organizations such as the symphonies or the opera companies of the world. When their influence is vested in the hands of younger people like Ms. Van Zweden, these organizations have the means to experiment far more than most, as Soluna proved, but the people on whom these organizations depend for their existence are either uninterested, or completely turned off, by the adventurous programming they must engage in to maintain relevancy. You see the problem and it's one Soluna's more adventurous programming drove home dramatically.
The other issue with Soluna—and it's something Dallas is horrendous at, if not alone in: the insistence on including every event under the sun that might make sense for audiences to know about also happening during the festival's tenure. Hence the Nasher Soundings, an independent music series at the Nasher Sculpture Center, somehow becomes part of Soluna (although granted, the content of this particular Soundings performance was coordinated to match Soluna's "Destination America" theme). Oral Fixation's regular storytelling event, becomes part of Soluna (again, thematically consistent). A performance by the winners of the Marilyn Horne Song Competition Recital becomes part of Soluna. It's not that their inclusion doesn't make any sense, but it does serve to water down Soluna's "brand," if you'll permit me to use a crass marketing term, and confuse would-be audiences, begging the question of what kind of festival is this anyways? More is rarely better, a lesson we've been slow to learn.
We've got the funding, and Soluna has the backing of Nancy Nasher and David Haemisegger, so I'm sure it will be back next year. Here's what I think would be amazing: A smaller, better defined event which, as Ms. Van Zweden's stated mission implies, focuses solely on multidisciplinary collaborations between artists of all kinds. Get rid of the focus on local; we do enough of that as it is, much of it built into programming throughout organizations seasons and years (funding for local artists being a separate issue). Or, since it's true some organizations are better at others at incorporating the local artistic community, launch another community-driven festival, either under the leadership of the DSO, or the Arts District as a whole. Let Soluna be a festival that could truly live up to its "international" moniker, a festival that puts Dallas on the map.
Don't complicate the festival's mission by including partner organizations' regular season programming and traditional performances in the event's purview. As I said, more isn't better.
Market the event to people outside of the existing subscription base, a.k.a . young people. Outside-the-box collaborations and contemporary art present an incredible opportunity to lasso the much-maligned millenials into the symphony's network and if the DSO is willing to support it, we have to capitalize on its potential. Bring in some slightly more mainstream musicians who are already attracting the young audience but whose classical roots are deep; St. Vincent's inclusion in this year's festival was a sell-out and it did get those people in, but just for the one event. What if the festival was packaged, in terms of ticketing, like an actual festival— so regular and VIP passes which get you into everything (including the parties)? With a pass you get all of those kids that bought tickets to the sold-out St. Vincent show hooked; why wouldn't they go to more events if they've already paid for them? I cannot think of a better way to introduce a new audience to classical music without pandering.
Soluna, I don't think it's a stretch to say, has massive ambitions; and rightly so. If the DSO can sustain the sizeable investment in creating art which Soluna represents, they have the potential to make art and music resonate outside the symphony hall, essentially doing something revolutionary not only for symphony orchestras but something revolutionary for the art world as a whole.
—JENNIFER SMART