Juan Sebastian Cruz in Stages Repertory Theatre's production of My Mañana Comes, through March 5.
Photos by Jon Shapley.
---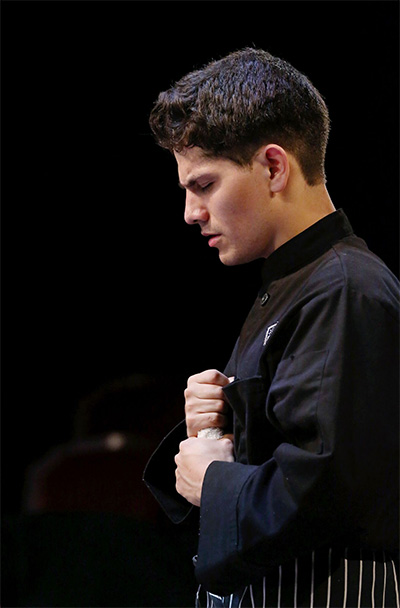 As the nation's fourth largest city, Houston is home to more than 2.1 million people (over 5 million in the metro area). The city's Latina/o residents comprise roughly 41 percent of the population. As I have detailed before (See: "Excluding Latina/o Stories in Tejas"), Houston's arts scene has seen a major boom in capital projects, funding, and national exposure. Yet Latinas/os, by and large, are not represented in the same ways that they are in other cities with comparable Latina/o populations such as Chicago, Dallas, and Los Angeles. In regard to theater, Latina/o stories are even fewer and far between.
The Alley Theatre, the city's only major regional theater company, has not produced a Latina/o play since Herbert Siguenza's solo show A Weekend With Pablo Picasso in 2011. And it is worth noting that, despite Siguenza's roles as writer and actor, Picasso is not a Latina/o story. The Alley hasn't produced a Latina/o story since The Clean House by Sarah Ruhl in 2007 and hasn't produced a play penned by a Latina/o since Culture Clash in America in 2006. The city's other professional theater companies intermittently produce Latina/o stories, such as Catastrophic Theatre's production of Maria Irene Fornés' The Danube in 2015 and Main Street Theater's 2017 production of Karen Zacarías' Native Gardens. While a community center, MECA consistently fills gaps by presenting tours of Latina/o solo shows such as Virginia Grise's Your Healing Is Killing Me and Cris Franco's '57 Chevy staring Ric Salinas in 2016.
This makes the work at Stages Repertory Theatre all the more noteworthy. Since the turn of the century, the theater has remained committed to telling stories by, for, and with Latinas/os. Programming Latina/o stories is not an occasional one-off quota, but is a genuine part of the fabric of the company. In this time frame, Stages has produced such titles as Blood Wedding (in both English and Spanish), The Whipping Man, The Elaborate Entrance of Chad Deity, and most recently My Mañana Comes.
Even so, I now shift to the present and question what happens when theatre becomes timely and responds to social and political issues affecting our nation. On February 17, I attended the opening night performance of My Mañana Comes by Elizabeth Irwin at Stages. Under the direction of Leslie Swackhamer, the play excels in many ways, but I am most interested in exploring how the play responds to current events.
Since I became aware of Irwin's play, I've frequently heard divisive opinions about the show from within the national Latina/o theater community. What others consider a racist play, others see as a play that humanizes unheard voices from the working class and undocumented communities. Naturally, I went into Stages' production both apprehensive and curious.
By and large, I found the story to be a powerful way to shed light on a sector of the population that I had seldom seen represented in theater. And, this isn't always pretty. At times, the busboys use racist and sexist language, not just with each other, but to each other. At the show's climax (spoiler alert), the head busboy Peter, an African-American U.S. citizen, calls 911, reporting a false theft in an attempt to deport two of his undocumented co-workers. He does this out of desperation to make ends meet. In other words, he views reporting his so-called friends to be his only option at survival. This show is gritty and ugly, but necessary in such a way as to spark a conversation, questioning who actually has access to the American Dream. Unfortunately, the answer isn't always what we want to hear.
Stages Artistic Director Kenn McLaughlin decided to produce My Mañana Comes over 18 months ago. At that point, it would have been impossible to imagine the nation's sociopolitical climate in 2017. That President Donald Trump has enacted controversial executive orders in the lead-up to My Mañana Comes' opening just goes to show that sometimes theater programming gets a stroke of luck. This luck has enabled Stages to situate itself as one of the only Houston theater companies responding in some meaningful way to the issues facing many local residents. As McLaughlin writes in the program, "In my wildest dreams, I could not have imagined that world-wide protests on these subjects would be occurring while you sit in our theaters and experience this story."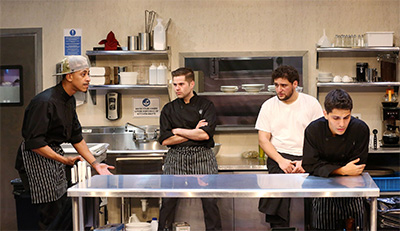 Aside from the quality of the production, what struck me the most was the timeliness of the piece. My Mañana Comes opened on Feb. 17, 2017, the day after the national "A Day Without Immigrants" protest. While watching the show, it was impossible to set aside the tumultuous political climate from the action transpiring on stage. Although written several years prior, this was a play responding to issues facing working class and undocumented immigrant workers who so often are exploited by capitalism. "A Day Without Immigrants" was a movement responding to President Donald Trump's policies on immigration, principally his plans to build a wall on the U.S./Mexico border as well as his executive order banning travel from seven countries that happen to be majority-Muslim. Coupled with Trump's racist and xenophobic language toward immigrants and people of color and the recent ICE deportation raids, the lived realities for these peoples have become more difficult. For this reason, businesses across the country closed on Feb. 16. Immigrants and the children of immigrants skipped work, didn't go shopping, didn't buy gas, didn't eat at restaurants, or send their children to school. The central premise of the protest was to make people realize how much they rely on the country's immigrant population. As of 2015, about 25% of Harris Country residents were immigrants. Not to mention that the Greater Houston area is home to roughly one million undocumented immigrants. Put simply, Houston wouldn't run without immigrants.
This makes producing theater that speaks to the current reality of Houston so important. As Matthew Clinton Sekellick writers in a recent essay on HowlRound, "We must understand that theater is always political, whether implicitly or explicitly, and that what narratives we choose to promote is a political decision about whose stories deserve telling and get resources."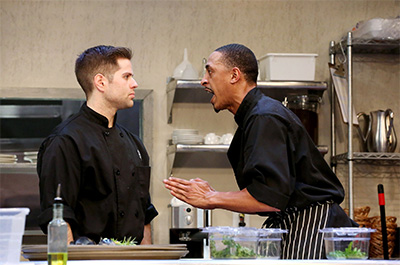 Choosing to produce plays such as My Mañana Comes holds a mirror up to audiences and encourages them to consider how their actions are implicated by what they are seeing on stage. As the busboys rush in and out of the kitchen and tell stories about different restaurant diners, it's nearly impossible to not consider how restaurant workers might view us. In the pre-show director's speech, Leslie Swackhamer asked attendees if anyone had noticed their busboy at dinner before the show. "What did your busboy look like?" She added that busboys are the invisible workers in the restaurant industry. While watching the show, it was impossible to not consider how my actions are implicated in the systems that exploit people just like the characters in the play.
Now more than ever, theater companies must ask themselves why. Why this play? Why now? Theaters are not just responsible for entertaining audiences, but should be places that provoke conversations. And in 2017, Latinas/os and undocumented peoples not only should be represented on stage, but also must be given a seat at the table. What will we do in the present to create a more inclusive Houston for future generations?
—TREVOR BOFFONE