---
IMAGES: The Strange Undoing of Prudencia Hart by David Greig, Writer & Director Wils Wilson, The Welsh Centre, Kings Cross, London, 2013. Photos by Johan Persson.
---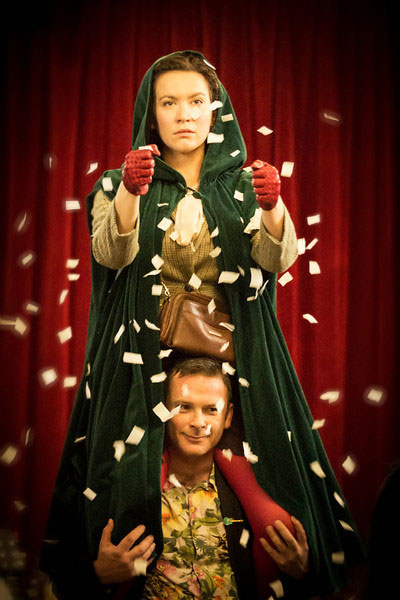 The Strange Undoing of Prudencia Hart
Texas Performing Arts
Feb. 11-15, 2014
I never thought I'd be shooting whiskey with a toothless grandpa and a table full of strangers on the stage of Bass Concert Hall, but the National Theatre of Scotland went to great lengths to strip Bass of its formal attributes for The Strange Undoing of Prudencia Hart. After being led through a backdoor, audience members entered a faux tavern. Chandeliers hung from the rafters, softly lighting the wooden tables below. Ushers sat everyone at tables filled with strangers. Without the traditional stage to occupy everyone's silent gaze before the show and with the complimentary whiskey shots for everyone of age, audience members turned their attention to one another and exchanged salutations. The cast members were freely walking about this space, making casual conversation with tavern patrons. Those that weren't mingling were diddling around on various stringed instruments and frame drums.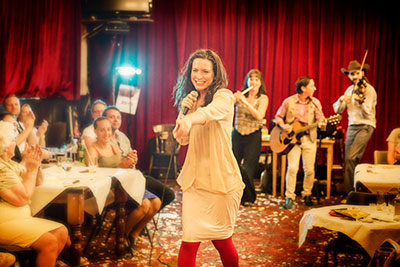 After a beautiful opening hymn, the cast introduces us to the curious Prudencia Hart, a musicologist specializing in the ballads of yore, played by Melody Grove. While speaking at an academic conference on border ballads, she approaches the texts with a very "appreciate it for what it is" mentality. Opposing her are psychoanalytic musicologists, to whom the content of a ballad is never what it appears to be, and pop culture academics with such broad definitions that even football chants qualify as ballads. Frustrated by her colleagues' reductionist tendencies, she awkwardly blurts out mid-debate, "Why don't any of you believe in beauty anymore?" That night, she ends up drinking too much, talking to ghosts, getting sucked into hell, participating in a metaphysical menage a trois and singing karaoke, in that order.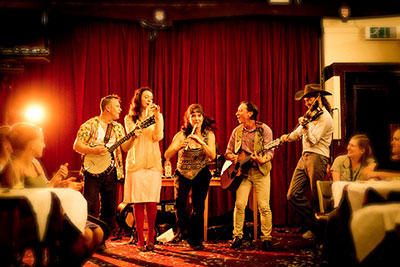 The casts' fluid movement throughout the tavern is indicative of director Wils Wilson and writer David Greig's greater flow between theatrical modes. Every shift in style was tasteful, well timed and informed the work. For instance, almost all of the work was in rhyming verse, save the first half of the second act. Prose felt so foreign to the ear after being lulled into meter. The dryness of prose subtly reinforced Prudencia's notion that "love is not impossible in poetry," and that only by giving ourselves up to meter can we undo ourselves into love. After meter overtook the prose sequence, the theatrical mode transformed into a tender erotic dance between the Devil, Mephistopheles and Prudencia. Despite the seamless beauty of the Devil's threesome, they did not hold onto the mode for longer than necessary. In fact, after all the metaphysical cobwebs were swept away, the work shifted into bawdy tavern mode, complete with audience chanting, standing on tables and inter-actor hijinks. At which point, the work took on the inclusivity of a soccer game where everyone was chanting for the characters because their success was a little bit yours as well.
Closing the piece with a sorrow ridden karaoke rendition of Kylie Minogue's Can't Get You Out Of My Head brought closure to the academic debate presented in the first act between the mythical and the popular limits of the Scottish ballad. She imbibed the Australian pop song with the desire laden suffering of someone who has spent an eternity in librarian hell, reading until scholarship dissolved into the Stockholm syndrome. She contradicts her previous argument that popular music cannot qualify as ballad because it lacks mythic airs after she assumes her own mythic density by confronting the emptiness of academic theorizing in the face of eternity. Whenever someone is truly undone and has nothing left but a song of equal parts melancholy, desire and intoxication, the ballad still exists regardless of context.