de/Rastra– Opening weekend Oscillographic Synthesizer and Computer Interface performance by Kyle Evans (Austin, TX).
---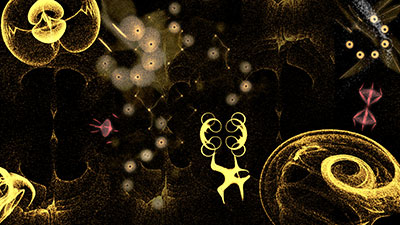 Texas artists rendezvous at Currents New Media Festival
A large-scale, panoramic image generated by multiple projectors rises on skeletal wings in the colossal depths of a gigantic warehouse space. It's quite possibly an X-ray of the Pterodactyloid Pterosaur Quetzalcoatlus, the Late Cretaceous flying dinosaur first unearthed by a University of Texas geology student at Big Bend National Park. A four-channel sound system, possibly six, pipes evocative, ambient strains in to every corner of the room. Even the title of this interactive new media installation, Emblems of Ascension, suggests this could be a natural history exhibit of some winged creature of yore's delicate fossils.
But this isn't the New Mexico Museum of Natural History and Science, located an hour south in sprawling Albuquerque. This is the hangar-like exhibition hall at El Museo Cultural de Santa Fe, and the piece is artist collaborative NoiseFold's latest concoction for Currents 2015, the 6th Annual Santa Fe International New Media Festival, showing June 12 – 28.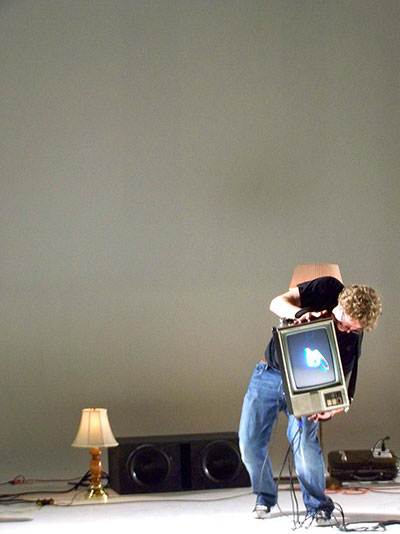 "One of the cool things about this festival is it started out as a collective and a community thing, and the impact is global," says University of North Texas professor and research artist David Stout, who makes up half of NoiseFold along with Cory Metcalf from the University of Denver. Stout was part of the original group that did the first Currents show before it became the large festival it is now, for which he currently serves on an artistic board of advisors.
According to him, Emblems of Ascension, just one of 121 pieces from as far away as Switzerland and the United Arab Emirates, falls under the category of generative art. "A lot of times when we do group shows we tend not to make sound very important, but this time the sound will be more important," he says. "Specifically with this one, we're using particle field animations, and so we're interpenetrating complex attraction and repulsion fields that create vortices of particles." Pretty cosmic stuff, not unlike Quetzalcoatlus. "But what's interesting is these emblematic forms, these strange calligraphies that come out of the system during this," he says. "It's typical of us, but it's pretty unique in the field, that all of our sound is derived from image data itself."
While the technique and resulting effects may be new, Stout says that working with students in the Initiative for Advanced Research in Technology and the Arts program reveals the potential misnomer of new media. "I see a lot of younger artists fetishizing the cassette tape, the VHS tape, old video mixers, old-school analogue video," he says. "And so a newer term that's being used is emergent media."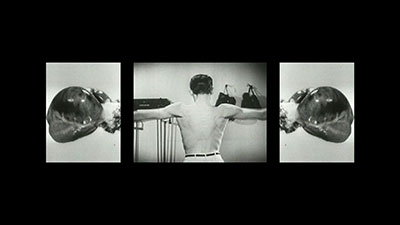 Edward Ramsay-Morin, assistant art professor at Sam Houston State University whose collage film PUSH PULL will run in the gallery's single-channel video loop, has been working with imagery and media from scientific journals, educational sources, televised fiction, textbooks, children's books, and other forms of ephemeral film—much of it gathered from the Prelinger Archives—from half a century ago, when new media was finally gaining ground in a field of its own.  "My parents are scientists. They went to high school in the late '50s and college in the late '60s, so those kinds of sources were a big part of my visual experience growing up," he says. "Though I may be looking at the past with a lot of the source material, I'm still looking at the time I'm in right now. All these different aspects are still a part of contemporary culture."
"Usually new media kind of fetishizes the new aspects of things that are new or relevant, but we like to explore the old as well…And those are fallible," says Kyle Evans, an artist and performer from Austin who will play his de/Rastra device—a TV he turned into a visual-audial instrument—along with his famous electronic didgeridoo during opening weekend.
He's most influenced by the Chicago Dirty New Media Art style.
"I think a lot of dirty new media tries to expose the fallibility of technology and the ways in which it can actually be disrupted. I think it's a really fascinating way to approach technology, to give it more of a critical engagement."
While Evans hybridizes analogue and digital technologies to manipulate the fluidity of older forms with the precision of newer ones, UNT student Olivia Brown explores the interface between culture and technology in projects like her single-channel video, sequence_3. "If everyone is building this persona that exists online," she says, "that's kind of an avatar for yourself that actually equates your existence. What does that mean?"
Born in 1993, Brown has been around as long as the internet has, but she acknowledges that she's among one of the last generations invested with an understanding of the fact that the internet wasn't always there. Now, it's "become kind of the same as having water. That's how it's an extension of everybody's lives, is that if you're not participating, you're missing out. But what are the best forms of participating? That's the question that we all need to be asking."
—BLAKE DRIVER