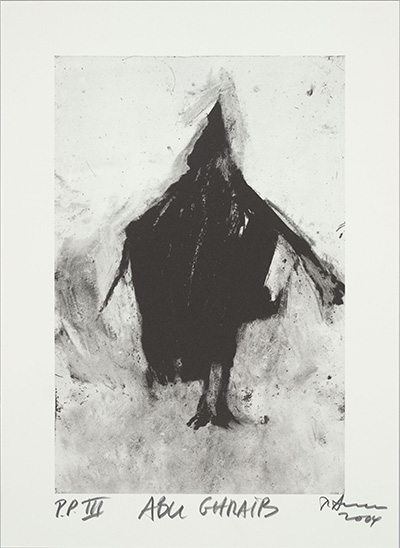 Richard Serra's work in print-making may be unknown to the casual art-goer, the artist's name associated instead with his massive, imposing sculptural work in steel. But as Richard Serra: Prints, on view through April 30 at Dallas' Nasher Sculpture Center details, for the last 30 years or so Serra has worked extensively with an array of printmaking processes.
As most of the literature already in existence on the subject — as well as that produced by the Nasher for this show — will attest, Serra's prints are not meant to be viewed as studies for his sculpture or really in relation to his sculpture at all; Serra would like his audience to view the prints as he sees them, completely distinct from his sculptural practice. Museumgoers are accustomed to seeing sketches and drawings for complete works by famous artists, but Serra utilizes printmaking for the opposite: for him it is a method of "re-seeing" his completed sculpture. The prints are still experiments, in a way, but only in so far as he is attempting through his prints, to explore methods of translating the physicality of sculpture onto a two-dimensional surface.
Despite all exhortation to the contrary, I'd venture a guess most viewers will either have difficulty separating Serra's sculpture from his prints or will simply prefer not to, the imposing nature of many of his prints an easy visual metaphor for his famous sculptural work.
Over 50 lithographs, screen-prints, etchings, and monotypes were brought together for this show from the collections of Jordan D. Schnitzer and His Family Foundation. It's a comprehensive examination of Serra's work in printmaking, the earliest print from the show dating from 1972 and the most recent from 2015.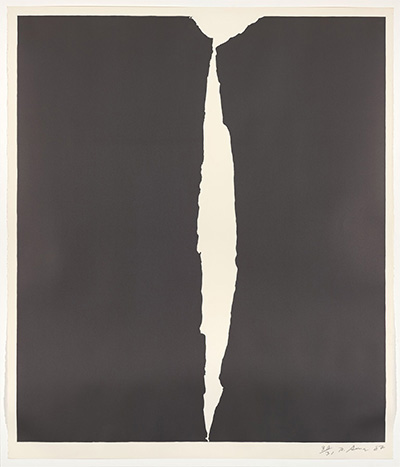 The shades in the Nasher gallery have been drawn for the exhibition, forcing a more reserved, almost religious contemplation of the work on view. It's an interesting choice, implying as it does the need to view the works with certain seriousness. And indeed, the rich, dense blacks Serra utilizes in his print-making do convey a sense of gravity. Serra chose to work in black because it doesn't "transfer elusive emotions," it is exactly what it is; foreboding, dense, a color you can get lost in. He also chose black because he views it as a property; in his estimation the color black actually conveys weight and mass.
It's easy to see why in the Nasher gallery. Massive prints such as Robeson, a screenprint from 1985 as well as other works in the gallery such as the intaglio of Vesturey III, another of the larger works in the show, are imposing, they prompt a sustained, penetrating contemplation, kind of like being hypnotized by an attempt to see into and through the dense layers of black.
Some works appear more complete than others. The Reversal series, some of the newest work in the show, see Serra experimenting with formalism not apparent in adjacent works such as his earlier Sketches series, which seem incomplete.
Many of the prints on view have their roots in Serra's sculpture: The 12 Venice Notebook etchings on view, for example, were etched from drawings Serra completed looking down on his piece in the 2002 Venice Biennale.  Other earlier lithographs such as Balance and Double Ring II were based on prop pieces the artist was working on at the time and Ishmael's Edge, a lithograph from 1987 is based on Serra's massive cor-ten sculpture Call Me Ishmael.

Even in the pieces that don't so obviously refer to specific works, it's hard to eliminate thoughts of his sculpture . The claustrophobic black slabs of Penn. Ship, a lithograph from 1987 immediately call to mind My Curves Are Not Mad, a massive piece that sits right outside the gallery in the Nasher's garden, and the curator's inclusion of another Nasher permanent collection piece, Inverted House of Cards,  within the gallery itself, makes connections to many of the prints that surround it, pieces such as The Moral Majority Sucks, Muddy Waters, and Pasolini, which, although different, each feature massive black rectangular shapes which nearly fill the canvas.
The experience of the work on view in Richard Serra: Prints is dictated to its viewers like few shows in my recent memory, mostly in the interest of maintaining the origins of the work on behalf of the artist; however,  the process elicits some interesting questions concerning our experience of art. First of all, despite the prescriptive ways viewers are meant to view or interpret this or that element, each viewer brings his/her own subjectivity to the experience, period. I think in many ways, the information adds enormously to the experience; print and drawing shows tend to appeal only to the die-hard artists and art lovers, but the additional information provided concerning how to view Serra's work allows the show to appeal to a broader audience. Refreshingly, it's not just about process. Curatorial choices such as the somber atmosphere established in the gallery, encourage the viewer to engage in an emotional experience despite all of the information they've been saddled with. Will many be able to distance the prints from the sculpture? I doubt it. Just as I doubt people will be able to view Fuck Helms apolitically, assuming of course, they know the reference.
How far can/should a museum or gallery go in dictating an audience's experience of art? Does it matter if an artist's audience is oblivious to an artist's intention?
We're still debating these questions, maybe newly so in the age of audience-curated museum shows. Many museums are making desperate attempts to appeal an audience—any audience—to ensure they continue to have one. The Nasher's attempt to educate its audience, while a little aggressive (I'm not a particularly big fan of being forced to read about an exhibition while I'm in the exhibition as the gallery-only guides available for the Serra force viewers to do) stands in refreshing opposition to the pandering which is becoming commonplace in the museum world.
—JENNIFER SMART