Travis Prokop and Brittany Thetford Deveau.
Photo by Lynn Lane.
---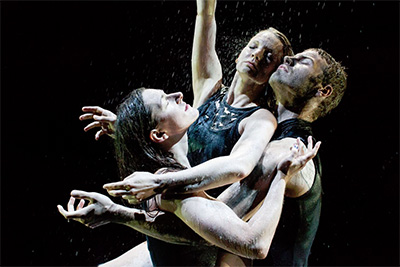 Are you ready, Houston? Another storm is blowing through, and this time, NobleMotion Dance is at the center of it. The ten-member dance company is incorporating the harshest of elements on stage in a new production titled Storm Front: Experience the Elements, playing Aug. 28 and 29 at the Hobby Center for the Performing Arts' Zilkha Hall. Rain, wind, ash, trash, and light will feature in the evening's six pieces, quite literally being brought to the proscenium stage.
Led by co-artistic directors and husband-and-wife team Andy Noble and Dionne Sparkman Noble, NobleMotion Dance does not tread lightly. The company is known for its exhilarating athleticism and cutting-edge use of light and technology, as well as other, nontraditional elements. Enter Storm Front, a production that brings together the arts and the environment in a visually impressive way.
"We're trying to grow the audience beyond people who love to dance," said Noble. "This is big, dynamic, exciting dance that you don't have to be a dance connoisseur to like or to appreciate. We create things for other artists, but I want their dads—their football-loving dads—to come to the show and have a good time."
The environmental theme coalesced when Noble decided to reprise one of his works from 2008, which hasn't been performed in Houston in five years. In KinkyKool Fan Blowing Hard, which was met with great critical success and played at the Kennedy Center in Washington, D.C., three industrial fans blow the dancers around the stage, creating a windswept atmosphere. "It's our most proven work in the concert," explained Noble. "We realized we had a thing going with 'weather,' so we went with that theme."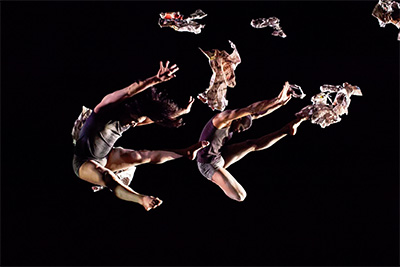 With wind crossed off the list, rain was on Noble's mind. In the 33-dancer Tower, co-choreographed by Noble and his former student Laura Harrell, a storm builds and explodes over the course of 15 minutes, complete with onstage rain. Noble, also an associate professor of dance at Sam Houston State University, "incubated" this work on university dance majors before setting it on NobleMotion Dance.
"I needed a collaborator on this because 33 is a lot of bodies to control," he said in reference to working with Harrell on the piece. To date, it's the largest dance NobleMotion has created and will feature guest dancers from several top modern dance companies, including Pilobolus Dance, Urban Souls Dance Company and VauLt Houston. The remainder of the dancers will be cast from NobleMotion's first-ever summer dance intensive. Noble describes the dancers as being unleashed in waves, until the entire stage is packed with moving bodies.
The next piece, Flash Burn, is not for the faint of heart. Set to a 12-minute-long tornado siren, the work conjures a post-apocalyptic scene. The title refers to what happens after an atomic bomb is dropped: "The heat and light is so intense that it burns shadows into the ground," explained Noble. "You feel this impending sense of doom the whole time. Flash Burn fits in perfectly with our signature look because it incorporates a lot of lighting and technology," continued Noble, who credits lighting designer David Deveau as a co-creator of the piece. "[Deveau] pushed me, 'Let's go here instead.' This piece wouldn't have been possible without him." A series of pipes outfitted with lights will be hung eight feet off the stage floor in an effort to control where the audience focuses. Roving lights on wheels will illuminate an eerie blanket of ash as it falls upon the dusty dancers. Here, technology and nature are juxtaposed.
Wasteland, co-choreographed by Noble and Jennifer Mabus, explores the frightful human impact on nature. The stage is set with literal heaps of trash that the dancers slowly work to "clean up" with leaf blowers. In other moments, the dancers themselves are treated as trash, pointing to how people sometimes treat each other as disposable. The piece is the result of a partnership between NobleMotion and the Houston-Galveston Area Council Trash Bash, a nonprofit whose mission is to clean Texas waterways. After Noble, Sparkman Noble and their dancers volunteered for a day of waterway clean up, Noble's wheels started turning: "I thought, 'This is a nice partnership. There are environmental messages in our works.' It's not in your face, it's subtle."
Though the environmental message is clear in Storm Front: Experience the Elements, Noble stresses that the art comes first. "I do believe art can change people's lives."
—CLAIRE CHRISTINE SPERA