Monika Sosnowska, Rubble, 2015. Concrete and painted steel. 97 2/3 x 72 3/4 x 65 inches.
Installation view, Monika Sosnowska: Still Life, Foksal Gallery Foundation, Warsaw.
Artwork © Monika Sosnowska. Courtesy the artist; Foksal Gallery Foundation, Warsaw; The Modern Institute, Glasgow; Galerie Gisela Capitain, Cologne; kurimanzutto, Mexico City; and Hauser & Wirth.
Photograph by Bartosz Górka.
---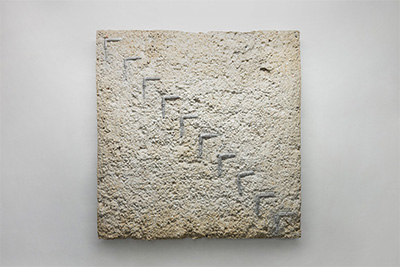 In Warsaw, Monika Sosnowska lives across the street from a forest that was once a Jewish cemetery. During the Second World War, Germans destroyed it to use headstones as material for construction work. Polish people quickly responded by planting trees. They eventually started a project to restore the cemetery, which continues to this day.
Sosnowska's studio is surrounded by the architecture of the Soviet period. She reimagines elements of her environment to create new compositions made mostly of concrete and steel. Her work is abstract yet carefully rooted in her nation's history, geography, and architecture. It simultaneously resembles elements of nature and the enclosure of urban landscape from the '60s and '70s.
After studying painting for years, Sosnowska began to use space as a canvas for gargantuan site-specific installations and sculptures. With an eye for three-dimensional and geometric configurations, she often modifies simple architectural elements and uses optical illusions to challenge the perception of familiar structures.
Architectural elements that are expected to be solid and static appear to be pliable or even delicate. A staircase becomes something you would expect to slither across the floor. A building becomes a net. A banister can become a drawing.
Sosnowska also plays with the perception of the materials she uses. Heavy matter often looks light. Steel beams look as if they grew into spaces, bending or arching like branches surrounded by ceilings and walls. Structural roof support appears to hang limply out of a wall, looking as soft as wet noodles. Blotches of concrete look like wasp nests attached to steel bars that resemble a tangled pile of wire, or an enormous illegible scribble.
Through Feb. 26 at The Contemporary Austin in the newly restored and expanded Jones Center, Habitat is Sosnowska's largest monographic American exhibition to date. These works are closely related to her large-scale sculpture, The Stairs, which has been on view at the museum's outdoor site, the Betty and Edward Sculpture Park at Laguna Gloria, since 2015.
This circular staircase looks like it has been torn out of a house. Standing on its stairs—many of which are bent or twisted—it resembles a windmill. You don't look down the stairs; you look through them. Standing in front of trees, the staircase looks like a portal or pod for nature.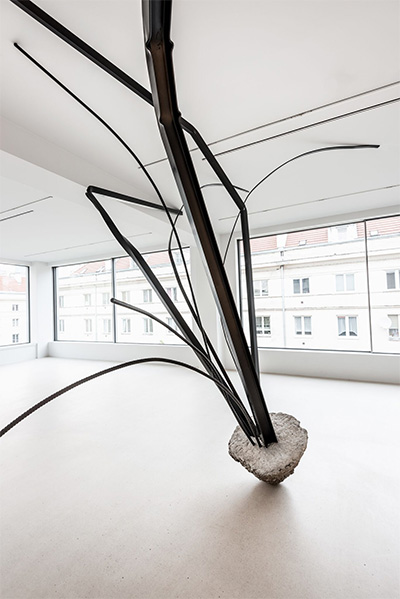 The focus of Habitat is on these domestic structures—simple Polish architecture from decades ago like handrails, fences, walls, ceilings, and corridors. These objects are replicated to scale and transmuted. The sculptures and installations are mostly built with a bleak economy of steel, concrete, and plastic.
"I like to think of Sosnowska in the whole trajectory of this massive modernist steel sculpture," says senior curator Heather Pesanti, who started campaigning for this show in 2014. "David Smith started with almost flat drawings in space and then made much larger geometric works. I love that trajectory. But there are also more recent lady sculptors who use massive steel as well, like Louise Bourgeois and her big spiders. There is a kinship there with the tendril metal creeping through space."
This immersive exhibit invades two floors demanding attention. If you walk around staring at a screen, you may hurt yourself. An enormous plantlike structure seems to have outgrown the lobby. Both menacing and teetering off-balance, it seems to hold itself up by bracing its steel tentacles or branches on the walls and ceiling.
"When you come into the museum it's going to be confusing and dislocating," says Pesanti. "There is a little bit of danger to her work in concept. Nothing is dangerous, but the implication is part of the work. It has a raw, aggressive tone. Sometimes it seems like it is moving or falling."
The Antechamber is an irregular network of meandering walls that reconfigures the ground floor into an intricate path. Shaped like an asterisk, this installation is a sculpture in and of itself. Inside the walls, the hallways are decorated with wallpaper. The design is a subtle juxtaposition of soft white shades in a Georgian Knot Pattern—a nod to Texas interiors from the '60s and '70s.
"It is very fortuitous that we have just renovated the building," Pesanti says. "I think there may be some who will assume that these are the new walls of the museum."
Doorways in these walls lead to small triangular rooms, each containing a single uncomplicated sculpture. From inside these rooms, the other side of the wall is exposed as unfinished, complete with visible wall studs. The sculptures inside are Sosnowska's reinterpretations of things commonly found in homes.
Metal doorknobs are embedded in a perfectly square canvas of rough concrete. The doorknobs are carefully arranged diagonally and barely stick out of the surface. Hanging from a wall, Relief effortlessly uses two crass materials to make stark minimalism arrestingly visual. In another room, sharp-edged steel seems to hang from the wall like rope. Perhaps they are melting. Frieze is a concrete rectangle with sagging slats.
"There are a lot of everyday architectural elements used to make these confounding sculptures," Pesanti says, after explaining that one sculpture was made the same way as a stop sign.
Upstairs, there are three new large-scale commissions for the museum exhibited for the first time, each weighing about 900 pounds. Handrail is an abstract rendition of a cheap plastic-covered steel banister from the '70s. But instead of being used for navigating a stairway it becomes a wall drawing made of steel and PVC pipe. Inspired by the exterior front of a building in Warsaw, Façade has been crushed until the steel looks like tumbleweed. Stairs are twisted and bent until they look like something that would slither.
"I call it a centipede," Pesanti says. "It looks like a giant Jurassic centipede."
 Habitat challenges viewers by turning familiar forms into imagery that is bizarre and intensely psychological. The show also seems to threaten the building, as if distorted fragments of architecture have been crammed into rooms, perhaps replacing them. Old architecture is in a brand new gallery, as if two buildings were constructed in the same place. The results are impossibly surreal.
—JEREMY HALLOCK