Stanley Whitney, SunRa 2016 (Detail), 2016, Oil on linen, 96 x 96 inches.
Courtesy of team gallery.
---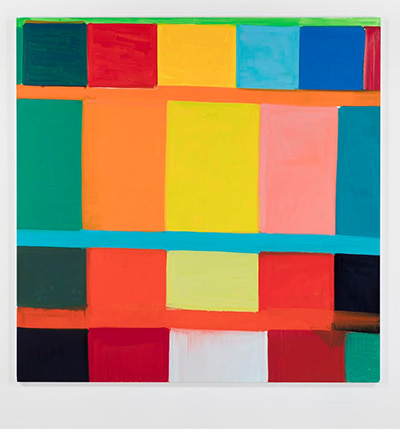 In the current FOCUS series of exhibitions at the Modern Art Museum of Fort Worth, abstract paintings by the African American painter Stanley Whitney are on view through April 2.  This solo show is his first in Texas.  Taken together the exhibition brings on an intense color saturation by this little known master painter whose mature style developed in the 90's.
Whitney was born in Philadelphia in 1946 and began teaching and painting professionally in the mid 70's after completing an MFA at Yale University.  Now he splits his time between homes in New York City and Parma, Italy.  His extensive exhibition history includes major venues on both sides of the Atlantic that include several solo shows in New York at the Studio Museum in Harlem, Omi International Arts Center, Ghent, and the Brooklyn Academy of Music. Exhibitions abroad include the Lagorio Arte Contemporanea, Brescia Italy, Architettura Arte Moderna, Rome, and his work was included in the 50th Venice Biennale.
When Whitney finished graduate school the fashion for minimalism in art was more than just in the air, and his paintings feature rows of irregular, multicolored, squares and rectangles stacked atop each other in a type of counter grid, often separated by a band of color that runs horizontally.  The squares painted above the band contact their neighbors side by side without a barrier, and so it goes as the viewer's eye surveys the image plane from top to bottom or vice versa.  Whitney renders the square sections in alternate ways including solid colors, thin imperfect layering with a transparent effect, or surfaces with definite streaks and drips of paint.
There's a musical component to the interplay of the different colors and amounts of paint he uses for the different sections that reveal his inspiration drawn from Jazz music, specifically Ornette Coleman and his seminal album The Shape of Jazz to Come.  From the jazz, his images take on elements found in the musical form of which he says, "it' s a little offbeat, polyrhythmic, the way that things move, nothing's straight, nothing's regular, everything's a little crooked." In these quotes he's talking about jazz, but he may as well be talking about his paintings.  Additionally, European old master painters from the Renaissance and Baroque periods have provided an unlimited font of inspiration for Whitney.  He particularly references Veronese and Velazquez as his favorites.  From these painters in particular comes the texture and monumentality, from minimalism the structures and repetitions, from the New York school a sense of aura, and from the color field painters the intense shades and hues intermingled with light.
In the most dramatic and inspiring section of the exhibition, three of Whitney's large-scale panels are displayed together in a row on a single wall.  They each measure an imposing 8×8 feet, filling the limits of the viewer's eyesight with fields color along broken borders and sections of form.  In the chilling Love In the Time of War, 2016, red and orange predominate and several of the sections bleed into one another, a small white square on the lower left serves as the only source of light, as it's negated by a black square adjacent to it on the right.  As a bookend of the three to the right hand side is Blue For You, 2016, a more somber piece that has a large rectangle of solid blue, almost dead center, that melds with one of the horizontal bands at the bottom, bisecting the surface.  This final piece of the three adds a touch of mourning for something lost, reflecting quiet thoughts.
During these past decades Whitney embraced abstraction, and found his signature style in opposition to trends in post-war art that ran in other directions, some overtly hostile to painting itself.  His subject is color and how the painted forms come to dictate structure and visual melodies.  If anything, the work in this exhibition argues convincingly that Stanley Whitney is a painter's painter through and through.
—JOHN ZOTOS