Theatre Britain – Dangerous Obsession by N J Crisp. (l to r) Stacy Ann Strang as Sally Driscoll, Walt Threlkeld as John Barrett, Robert San Juan as Mark Driscoll.
Photo by Mark Trew.
---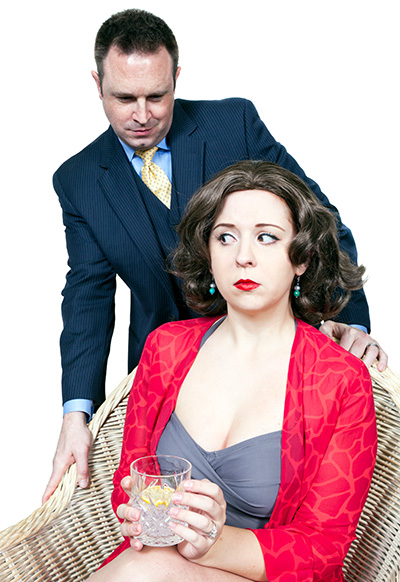 Dangerous Obsession is a difficult play to review without revealing too much of its twists and turns. Penned by British playwright N J Crisp, the taut three-character thriller is ably produced at Theatre Britain in Plano through the end of the month.
It can be revealed—without giving away too many secrets—that all is not what is appears to be on a hot summer afternoon in the upper-middle class home of Mark and Sally Driscoll somewhere outside London. Sally is attending to her plants in the conservatory, prancing around in her sundress and heels when a mysterious man enters. Dressed for business and carrying a briefcase, Sally makes a quick assumption that he is beneath her, both in social status and taste. She sends him away, but he returns and claims that they have met previously at a social occasion. His name is John Barrett and he certainly seems to know a lot about her and her husband. They sit for a drink and light chatter as Sally tries to piece together his story. Soon Mark hollers that he's home and ready for his nightly cocktail.
The audience knows something sinister is on the horizon when Sally goes to make a drink and John slips the key from the entry door and drops it in his pocket without notice. Is he just a pushy salesman on the brink or is there more to the story? As is the case, much more is yet to be revealed in this talky but intriguing production.
Director Cynthia Hestand keeps the pacing steady, letting the characters stew in each new plot revelation, but not at the sacrifice of balance or audience fascination. She's aided with strong performances by Robert San Juan and Stacy Ann Strang as the couple being played. Strang specifically captures a British snobbery that slowly begins to unravel with every cocktail she gulps and private moments are made public. As the mild-mannered stranger, Walt Threlkeld is calculated and sympathetic at the same time, giving his character dimension and cause, which only heightens arousal about his intentions.
Theatre Britain builds their seasons out of giving British playwrights added exposure on this side of the pond. And while we are no strangers to the stories of Sherlock Holmes or Agatha Christie, this 1987 play by Crisp isn't as well-known. The play did get the Hollywood big screen treatment, but the author was so disdained by the outcome of product—Darkness Falls was the name of the film—that he had his name pulled from the credits. The film eventually died at the box office.
But Dangerous Obsession lives and breathes at Theatre Britain, in a production that would have pleased Crisp, and certainly audiences who enjoy a game of cat-and-mouse will be equally impressed.
—SCOT C HART