Exhibition view of  Future Tradition: Melissa Cody. On view at Houston Center for Contemporary Craft, February 3 – May 28, 2017.
Photos by Scott Cartwright.
---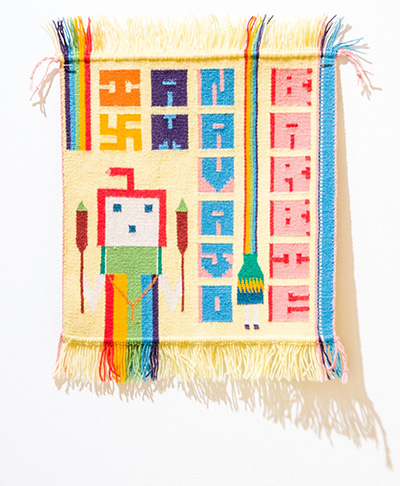 One of the funniest episodes of the HBO series Curb Your Enthusiasm involves Larry David, aiming to score points with his love interest's flamboyantly effeminate son Greg, buying the seven-year-old a sewing machine to the dismay of Greg's mother, who hasn't yet come to terms with her son's likely sexuality. Compounding David's faux pas, Greg uses the machine to make his mother's (Jewish) friend a baby-blue pillow sham emblazoned with a purple swastika—a symbol he gravitated toward when observing David absentmindedly doodling it, along with Hitler mustaches, on a magazine ads.
There's a slightly wryer, quieter humor at work in fourth-generation Navajo weaver Melissa Cody's incorporation of the "whirling log"—what Navajo called the symbol and used to mean luck and good fortune for millennia before the Nazis appropriated it. In I Am Navajo Barbie (2012) —one of the woven textiles in Melissa Cody: Future Tradition, on view through May 28 at the Houston Center for Contemporary Craft—she combines the whirling log with her stylized version of the yeii or Rainbow Person, who symbolizes protection, and the title, which is part of the composition and is rendered in lettering straight out of a 1980s video game. Navajo Barbie, presumably a stand-in for Cody, shows up again in Good Luck (2014), along with a larger, more prominent whirling log and the letters making up the title, which can either be taken sardonically or as a literal translation of the symbol's meaning.
Logos, as graphic designer Michael Bierut argues in a Vox explainer on what makes a great one, are "empty vessels," and "you pour meaning into them." Cody is part of a generation of Navajo reclaiming the whirling log and pouring their meaning back into it, decades after the Navajo suspended their use of it during the 1930s. (Native Americans have had far less luck getting sports team owners to stop using them as mascots; some things are sacred, after all.)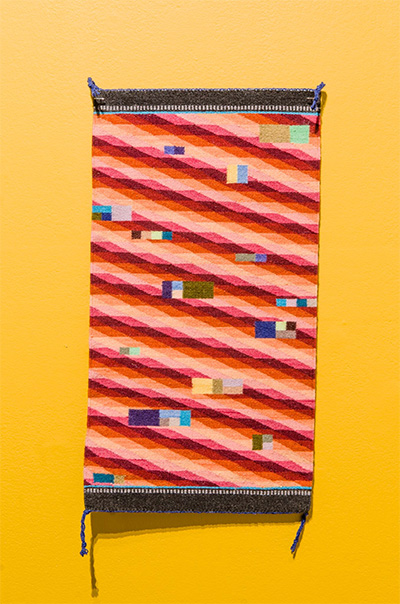 Adding another layer to Cody's use of the whirling log is that while, like other Navajo weavers, she designs her works on a stand-up loom as she weaves, instead of using vegetable-dyed wool, which has muted tones, she works primarily with bright, commercially dyed wool yarns—"a palette that connects her work to the Germantown Revival," according to an introductory text by HCCC executive director and exhibition curator Perry A. Price. "This movement stemmed from a flowering of artistic growth in Navajo weaving during a period of extreme duress—the forced migration and internment of Navajo at Bosque Redondo in the 1860s. Interned weavers repurposed the brightly dyed wool that was commercially produced in Germantown, Pennsylvania, from the blankets provided to them in Bosque Redondo."
Cody's dazzling revival of the Germantown Revival "dazzlers," as the intricately patterned textiles were dubbed, takes into account the chromatic innovations of Op Art without merely replaying them, as the show's tour de force, the abstract, monumental World Traveler (2014), makes clear. Much more complex and impactful than the smaller, mostly text-based works, it imparts a jubilant syncretism and the sense that this time around the traveler in the title is navigating the world on her own terms.
—DEVON BRITT-DARBY