Marfa Live Arts presented Fire Island Opera Festival: Marfa December 4-6, 2015 in Marfa, TX.  Scene from A musical journey through the Seven Chakras the Saturday night performance at the Crowley Theater featuring (l to r) Jeremy Hirsch, bass-baritone; Samantha Malk, mezzo-soprano; and Amy Shoremount-Obra, soprano.  Photos courtesy of Marfa Live Arts by Jessica Lutz.
---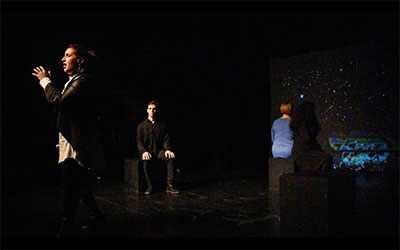 If you took the Santa Fe Opera's summer performance schedule and, while you were busy flipping through the season, also replaced the white-tablecloth tailgating, the candelabras and the Veuve Cliquot with boots and cowboy hats, you'd have a general feeling for the Fire Island Opera Festival presented by Marfa Live Arts.   For the most part, these boots and cowboy hats would be worn by people who actually wear them in and around town, not just people dressing up to "Go Texan."
The company itself traveled to Marfa (pop. 1,980) from New York, where several of the singers sing often when they're not performing in London, Tel Aviv or Berlin. The basic concept of the "festival" involved not only taking opera out of New York and other major cities but also, as is the hope for all opera these days, taking it out of anything resembling the opera house. Marfa's Crowley Theater played host to the central Saturday night performance, but it was bookended by a bit of lively singing in the Jett's Grill bar at the Paisano Hotel and by a walk in the desert leading to an aria from Norma. If the goal was to break a few molds, both the opera company and Marfa Live Arts succeeded mightily.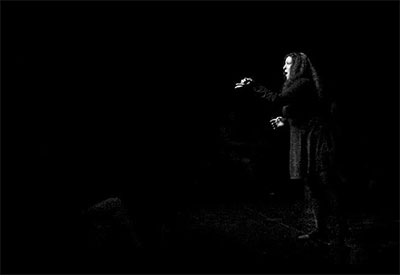 At least part of the weekend's raison d'etre was visual artist Charles Mary Kubricht; since she lives in "New York and Marfa," she was the perfect contact to Fire Island artistic director Edwin Cahill. She also designed the simple but evocative sets for the Crowley performance.
That show, like the walk in the desert that ended the festival, displayed a certain fascination with meditation and other prime borrowings from eastern spirituality. The main program was titled The Seven Chakras, the songs from operas and elsewhere. Still, even if you knew nothing about such things, you'd be hard-pressed not to love mezzo-soprano Samantha Malk's expressive delivery of Jacque Brel's "Mon Enfance," Amy Shoremount-Obra's lovely lyricism on Puccini's "Ch'il bel sogno" from his "waltz opera" La Rondine, and her singing with Francesca Mondanaro on the Flower Duet from Delibes' exotic Lakme.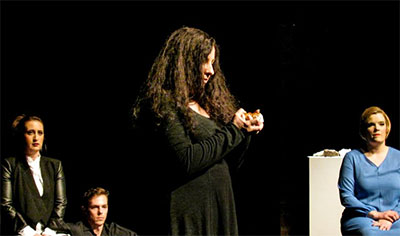 Bass-baritone Jeremy Hirsch stood out among the performers the night before, entertaining a lively and well-lubricated crowd at Jett's Grill. He was especially good at interacting with individuals at close quarters while singing – all of which pointed forward to his most powerful moment at the Crowley, "This Nearly Was Mine" from South Pacific. And Mondanaro returned in the most memorable of fashions, meeting a group of 40 or so who hiked 2.5 miles out into the desert for a kind of spiritual healing built around the aria "Casta Diva" from Bellini's most popular opera, Norma. People undertaking the hike were encouraged to write down negative things they wanted to get rid of in their lives, these to be burned and buried in the middle of the desert. As more than one participant joked before heading out: "I hope they have lots of paper."
-JOHN DeMERS