Barrett Riggins as Huey and Simone Gundy as Felicia in the Theatre Under the Stars production of Memphis, through March 4 at the Hobby Center for the Performing Arts.
Photos by Melissa Taylor.
---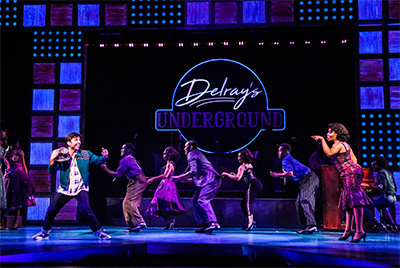 The Tony Award-winning musical Memphis tells a rollicking story of the dawn of rock 'n' roll in the segregated south that rejects black and white simplicity. Yet, the new revival production from Theatre Under the Stars (now through March 4 at the Hobby Center) directed by Dan Knechtges, dances a step further, creating a rich spectrum of color complexity in both its celebratory message and vibrant staging.
Memphis chronicles the journey of Huey Calhoun (Barrett Riggins) from poor Tennessee hobo-chic rags to DJ and television stardom riches. To achieve this rise he co-opts (or does he steal?) the local black R&B culture he so admires and delivers it over the airwaves to the not so hip cat white kids, until the whole city is dancing to the same beat.
Based on a concept by George W. George, show creators David Bryan (music and lyrics) and Joe DiPietro (lyrics and book) seem more generally inspired by the life of famed Memphis DJ Dewey Phillips, who first broadcasted Elvis to the world, rather than completely basing Huey on Dewey's bio. The original songs of the show honor the rock, blues and gospel music of the 50s, while reflecting a 21st century perspective on the time period.
The core drama and heat of Memphis also come from the entirely fictional elements, especially Huey's interracial romantic relationship with Felicia Farrell (Simone Gundy), a singer in the underground club owned by her brother Delray (Warren Nolan Jr. in an understandably gruff but layered performance).
Memphis is a strange rhythm and blues bird that manages to dance (exuberantly thanks to stellar choreography by Jessica Hartman) a fine line. It looks like it's set to misstep, sending it tipping over the edge into unpleasant and even offensive tropes and clichés, but then the show regains its balance by calling itself out on its own shit.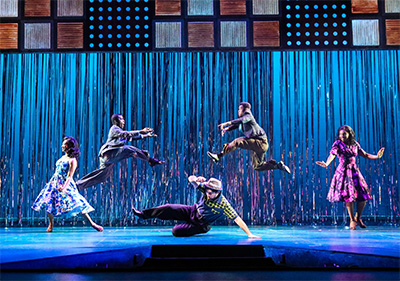 And that shit-caller role usually falls on Felicia, the ever-radiant–and Texas native–Gundy doing the heavy vocal, dramatic and comic lifting in this production. For instance, after Huey and Delray try to make Felicia's recovery from a brutal assault all about their own emasculated feelings of helplessness, Felicia brings the focus back to herself with a few words delivered by Gundy with a mix of love and steely impatience. Later when Huey refuses to sacrifice his principles for his career but Felicia doesn't have the luxury of such choices, she again makes it clear that in this life, taking on the white (irony intended) knight hero role becomes a lot easier for some than others.
Yet the majority of the action does revolve around Huey's rise and eventual fall, even though those characters twirling and leaping around him are sometimes far more intriguing and their struggles much more inspiring. Riggins exudes dweeby charm throughout, but his attempt at a country accent is a single but major misstep in a show usually quite graceful on its feet. Riggins goes full hillbilly on every syllable when speaking while adding a oddly staggered cadence to his words that grates on the ears. (For reference I checked out some Dewy Phillips shows archived online. While the radio pioneer certainly had a distinctive Tennessee twang, it sounds like Laurence Olivier doing Hamlet when compared to whatever Riggins was attempting on the night I saw the production.) Luckily, when Riggins sings, especially with Gundy the show comes back to dynamic life.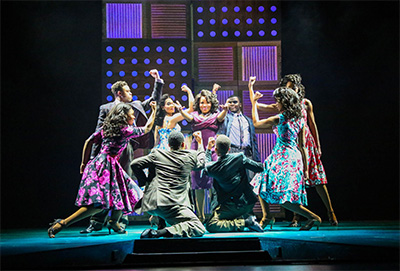 Credit must also be given to the creative crew, especially set designer Kevin Depinet and lighting designer Ryan O'Gara, for bringing even more vitality to the show while metaphorically accentuating that message of complexity. An ever moving and palette changing series of rectangles and squares shrank and widened throughout the show, framing and shading the story and dance within. Leon Dobkowski's vibrant costume also added more layers of glorious color to the proceedings. The production is a rich treat for the eyes as much as the ears.
Memphis is the first solo-produced show of TUTS's 2017-2018 season, and perhaps an early preview of what newish artistic director Knechtges has planned for the next season, the 50th, which will be all in-house and in-Houston productions. For Memphis, Knechtges has brought together a cast including an equal mix of local talent, like the always great Philip Lehl as station owner Simmons and veteran New York performers (consummate scene thief Julie Johnson as Mama). Knechtges even lets some of the talented students from the Humphreys School of Musical Theatre in on the act as members of second ensemble in the show. All together Memphis will likely renew Houston musical-lovers faith that TUTS can achieve a bit of Broadway on Buffalo Bayou.
—TARRA GAINES