Oren Porterfield and Edward Carr in Jennifer Hart's Camille: A Story of Art and Love.
Photo by Nadine Latief.
---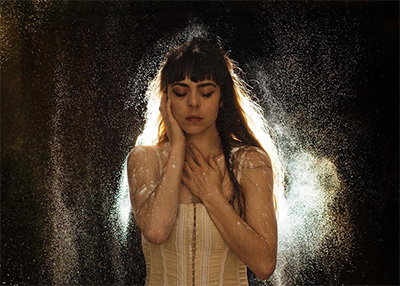 "Connection." This one word rang out as director Jennifer Hart eyed her dancers, four bodies eating up space. One raised her arm slowly in a disembodied meditation; her partner stared straight ahead and proffered a hand, as if extending a feeler. Suddenly palm met palm, and fingers spread against each other, a climactic moment as one person discovered another.
Hart's single-word answer could be seen in this moment as well as in all parts of her choreography—it was the response she gave to my simple question, "What informs your work?" And indeed, as I leaned against a chair in the high-vaulted rehearsal studio, connection, disconnection, and a certain kind of in-between were readily apparent.
Hart, along with cofounder Edward Carr and a small group of artists comprise known as Performa/Dance.The Austin-based company, taking an untrodden approach to their art form, is launching its second season with performances June 10-11 at Ballet Austin's Austin Ventures Studio Theater.
The "untrodden" bit: Hart collaborates with one local and one national artist to enrich each production. This lends performances a depth of content, as well as a breadth of geographical inclusion—a vertical and horizontal spread. "I want to see really good quality dance coming together, but different perspectives on dance," Hart told me after company run-through. "I want a range of voices."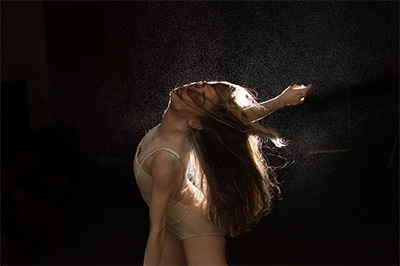 The range is as broad as a summertime music festival, in Performa's upcoming show, show, 4X3, which offers four pieces by three choreographers. Two of the pieces are Hart's own: Camille Claudel: A Story of Art and Love, and Spaces, which I witnessed during rehearsal. The former has to do with isolation and turbulence, a danced biography of a gifted and unrecognized twentieth-century sculptor. Spaces is all about the growing together of people, but their remaining sense of individualism.
The third piece is choreographed by Larry Keigwin and will be danced by Minnesota-based Nic Lincoln, a recent Dance Magazine "25 To Watch" artist. In Glitter Garden, Lincoln investigates his sense of self and prunes his standout, nonpareil identity, so that it becomes what Keigwin refers to as "a personal garden that sparkles."
Lastly, the troupe has collaborated with local company, ARCOS Dance, in a technology-driven, monolith of a piece called Hoaxers. In it, the dancers portray the severed-yet-palpable connections made between people in cyberspace. The stage is filled with laptops, and performers go back and forth between physical reality, and the questioned reality of online life.
Hart paused when I asked her whether there was some line of connectivity between these four works. "No, you might say, 'I don't see how you can put those things next to each other.' But somehow, it informs the work in a new way; it makes you look at the works in a new way."
What this means is that the technological drive of Hoaxers, next to the disenchantment of Claudel's life, might lend a deeper, more complex perspective on humanity than two traditional pieces set side-by-side.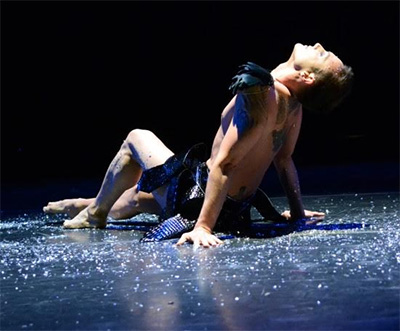 The hope is that many people would have the opportunity to witness the works in this light; the production will take place during the same week as the Dance USA conference in Austin this summer, drawing 500 plus pairs of eyes from across the country. But Hart said that these aren't the only eyes she wants to fill the Austin Ventures Studio Theater on 3rd Street. "I want to draw local audiences in to see how dance can transform their lives. Local audiences are the ones that are here to stay."
Hart hopes that Performa/Dance will outgrow its current status as a summer endeavor, and become a larger, year-round operation, adding performances, more dancers, and an educational component: "A full time thing, a bigger company that is noncompeting with the great things that the people in the city have to offer, but that leads to collaboration."
As a witness to the allure and spine-tingling charge lent by Spaces, I anticipate that Performa/Dance will continue to integrate itself into the Austin dance scene—a place rife with experimentalism, humor, and global traffic. After all, Hart is an instructor at the Ballet Austin Academy and Carr is a member of Ballet Austin, making the two fully immersed in the city's art scene.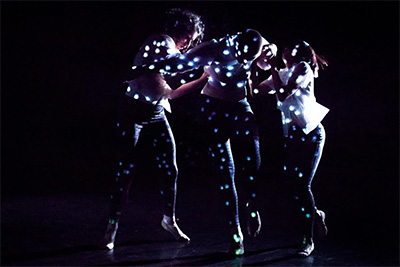 I picked up on Hart's balletic background during rehearsals, as the dancers exhibited the lines, technique, and specificity accredited to the style. However, the choreography strayed far away to embrace the concentrated nothingness of Butoh, the upper back curves of modern dance, and hard-hitting angles divorced from tradition.
The dancers swung up and under the curvature of their partners' bodies. The movement grew to match the intensity of the Nils Frahm bursting through the speakers, and the room felt small for such expansive movement. Sometimes, the performers were physically linked in a show of relation, but then they would drift apart, sometimes so subtly that you wouldn't realize it until after the fact.
"We're together and not together," Hart said. "And at the end, they're one—and yet still separate and distinct."
—ERIN MARIE KEDZIE