Casey Arguelles Gregory, Something About Longing, oil on canvas, 2015, 31″ x 72″.
---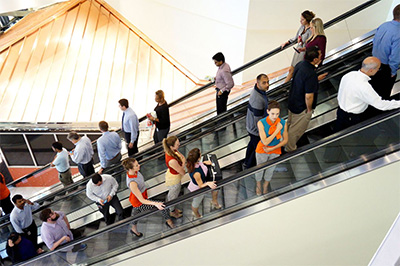 I love the way J. J. Watt takes the field after a sack with some kind of noble gesture: He owns the space, transforming the field into a stage, even if just for a few seconds. I'm always looking for drama, just not necessarily in a theater. It's the burden of a performaniac: We are committed to the idea that everything, at some level, is a performance, so in turn, every space holds the potential of being a theater.
Lydia Hance, of Frame Dance Productions, has a particular aversion to traditional theater spaces. The last time that she performed in a theater, she told me, "That was interesting, and I probably won't do it again soon." Her works have sprawled out in galleries, on the Metro, in the back of a truck, the lobby of the Pennzoil Building and throughout October and November, amidst Houston's tunnel system. I dropped down into the tunnels to find many levels of theater happening, from the impromptu space tunnel denizens provided for the dancers, to their fleeting glances as they passed by. But mostly, I appreciated Hance's approach, which was quite subtle. Danielle Garza, Hilary Schaff and Jamie Williams floated up and down the escalator system, sometimes blending into the crowd, other times striking a pose to be just weird enough to shift the character of the space. The moment they shifted from pedestrian to performer the quality in the space changed. Eventually, they settled into a wide-open area near Lenny's Sub Shop in an area marked off by their boots and high heels. Within seconds, a small audience had formed to enjoy the Hance's Tunnel Vision.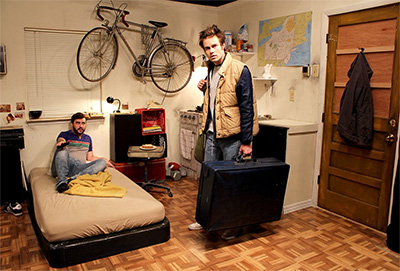 Drama in the family living room is a frequent happening, especially during the holidays. Living Room drama means something else entirely for Matt Hune of the Hune Company. He actually built a tiny theater in his living room. So when I saw his savvy production of This is Our Youth as part of his Living Room Series, I felt as though I was sitting among the squalor of a New York apartment circa 1980. Cost, convenience and intimacy all factored into his decision. Hune sees it as more all encompassing. "Historically, living rooms have been places where we gather and share stories. Theater needs to offer more than just a good show. Audiences crave more of an experience when they go out." Performing in your living room is not without its idiosyncrasies. Hune explains, "The best shows that fit in the living room are obviously shows with small casts, and typically, one setting. Since the audience is so close, there is also no hiding any short-cuts in the work. Every show has to be meticulously worked. The acting and set have to be tangibly real. Anything fake rings out horribly to the audience." This month, the Hune Company presents David Harrower's Blackbird  Nov. 25 – Dec. 12 and Up Close: Short Plays by Local Artists, Dec. 10-12.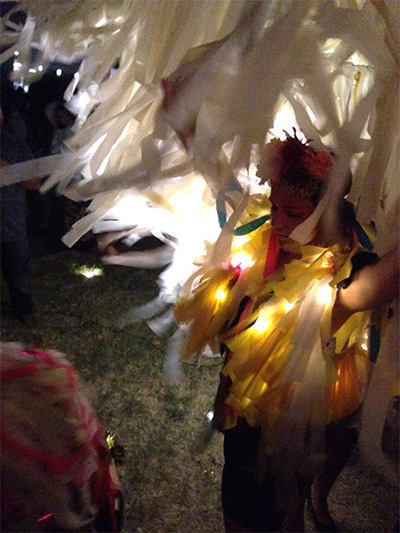 Dallas multi-disciplinary artist Danielle Georgiou is dramatic when she gets out of bed. I offer her Women and Their Works installation #hashtag has evidence, which consisted of her Bed Head series of photographs. She has performed in a number of rare venues, most recently, at the corner of Flora and Jack Events streets in downtown Dallas as part of AT&T Performing Arts Center's Aurora Festival. The always-provocative choreographer describes the instant drama that occurred on the street. "Nothing compares to entering into an agreement with a group of people, knowing that you have a task to complete, but not knowing the rules. Being able to make them up on the spot, create your own world, is empowering. We had the intention of keeping it light and playful and more audience-centric, but about 15 minutes into the work, we started to create a narrative with each other, creating a game of follow the leader that exploded into a series of contact partnering that became a dance of chance."
I've written more about paintings performing than anyone really should. But even MFAH director Gary Tinterow mentioned the balletic and theatrical nature of Joachim Wtewael's work, with his crowded Biblical scenes and elaborately and erotically posed subjects. The drama within the frame is palpable. Pleasure and Piety: The Art of Joachim Wtewael runs through Jan. 31 at the MFAH.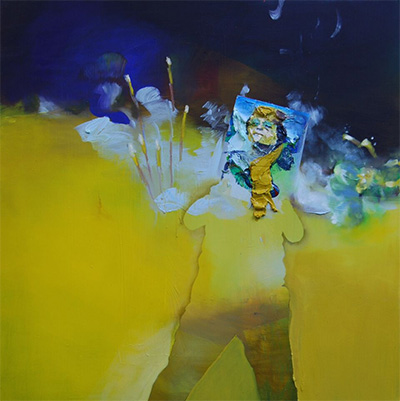 Casey Arguelles Gregory's canvases are downright operatic in scale. Looking at a batch of her recent work at Fat over Lean at Gspot Gallery, I wondered if the Houston painter agreed. "Oil painting in particular is a good vehicle for expressing drama because it mimics light and atmosphere so well (which I can then contrast with the more aggressive, chunkier paint to ground all that airiness). I really like to ride the line between high romantic drama and everyday banality. When I'm making a piece it is a bit like a drama playing out."  Gregory often uses text or a fragment of representational imagery to thicken the plot. I could easily imagine her venturing into set design or performance work. Gregory adds, "The best results are always something better than a sum of the parts, and for me a painting dies when it's maker has pre-answered all of the potential questions, so as long as there's an element of mystery in there for me, I know it will be the same for the viewer."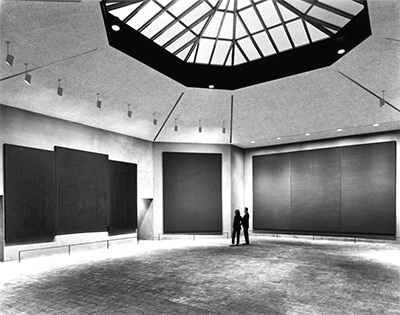 There's no denying that the Rothko Chapel is ripe with drama. But after hearing the story of how the Chapel actually came into being during Eric Wolf's lecture The Rothko Chapel: The Evolution of a Sanctuary for All as part of  Mark Rothko: A Retrospective at the MFAH through Jan. 24, 2016, I had a deeper appreciation of the meaning within that drama. Ashley Clemmer Hoffman, Community Engagement Director of the Rothko Chapel, illuminates this ethereal sense of theater in the space that many of us have felt all along. "Rothko and the de Menil's had so much integrity in the way they moved through the world, and not allowing their vision to be compromised. I see this theme of uncompromised vision and integrity being a ripple, a thread, an echo, through the bigger Chapel story: from  the Seagram Murals commissioned by Mies Van der Rohe and Philip Johnson for The Four Seasons restaurant, to the unfolding of the Chapel from a Catholic building on the St. Thomas campus, to a private institution for people of all religions, to the story of the Broken Obelisk originally intended as an MLK dedication in front of city Hall. The story demands respect. The weight and gravity of the de Menil, Rothko,  Chapel, and Obelisk legacy grows when one understands how it came to be, and the process and the struggle along with way. It all fought its way into being, and it is all that much more powerful as a result."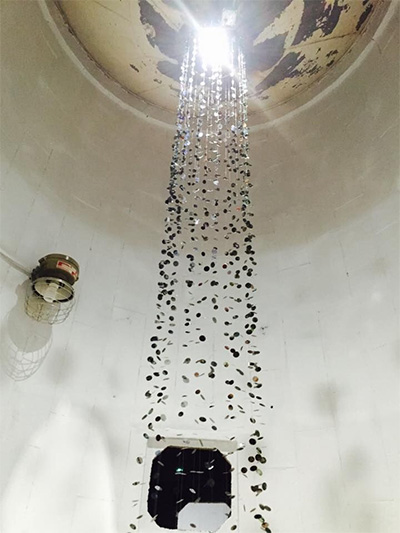 It's not that hard to turn a space into a theater. The recent SITE installation, curated by Bill Arning and Jillian Conrad at the Sawyer Silos, offered mini theaters as each artist was given their own rice silo to transform. Bennie Flores Ansell's installation, 1 dpi Lens, crafted from slide transparencies, definitely upgraded the industrial surroundings. Yet, it was the addition of the nostalgic sound of a slide projector carousel that added an extra theatrical dimension.
I appreciate drama in a well-equipped theater, too, and I got to experience that times three recently at the newly refurbished Alley Theatre, Main Street Theater, and the brand new MATCH.  But in each case, the experience was larger than what was on stage. I felt the drama of the moment, as each of these organizations galvanized the power of a collective vision that truly treasures live theater. Watching Shannon Emerick as the unheralded astronomer Henrietta Leavitt explaining the brightness of a star in Lauren Gunderson's poetic Silent Sky in Main Street Theater's sleek new space, which is itself powered by solar panels, I felt some mighty deep drama.
—NANCY WOZNY