Lesley Dill, Divide Light, Performance, 2008.
---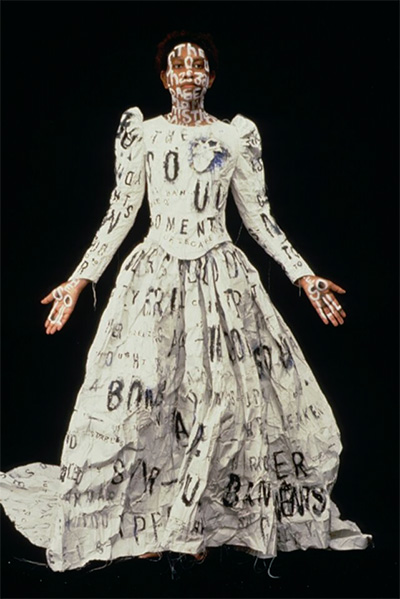 Lesley Dill at the McNay
The poetry of Emily Dickinson struck New York artist Lesley Dill like a lightning bolt, sparking a 35-year career mixing sculpture, drawing, photography, printmaking and installation in performance-based works featuring word-emblazoned, strikingly sculptural costumes, exemplified by her tour-de-force opera, Divide Light, based on the complete works of the Belle of Amherst.
Divide Light premiered in August 2008 at Saratoga's Montalvo Arts Center in California and has been documented in a film by Ed Robbins that premiered in April 2009 at the Anthology Film Archives in New York. The stunning costumes for Divide Light can be seen in the artist's retrospective, Lesley Dill: Performance as Art on view through Sept. 6 at San Antonio's McNay Art Museum.
Dill didn't care much for poetry until her mother gave her a book of Dickinson's poems as a birthday present.
"These words had wings and jumped down my throat like electrical blue hummingbirds. I actually saw the words as blue light," Dill said at a preview for the exhibit. "Her words are strong and vibrant; there's a lot of intensity in the language. The work in Divide Light starts with fragility, opens to vulnerability, moves to loneliness and then to madness and craziness before ending in ecstasy. While Dickinson is usually thought of as shy and retiring, her language is daring, immense and powerful."
Dill lived in New Delhi, India, from 1990 to 1992 and was influenced by henna stain designs as well as the Hindi language. The temporary henna tattoos led to painting words on the bodies of models, making words flesh, and written Hindi script, a language she didn't know, became a "melodic and visual unintelligibility" that has influenced the costumes, music and projected animations of her performance pieces.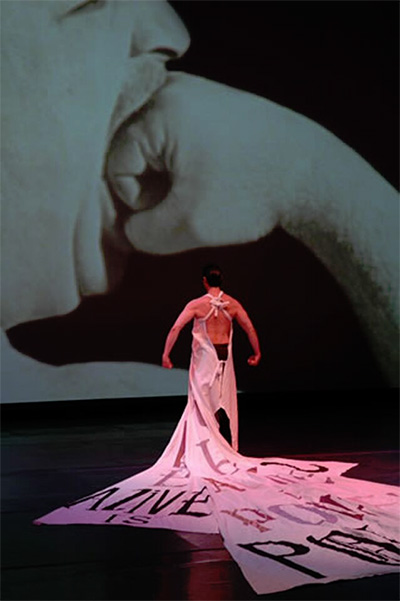 She became involved in performance art after being asked by freelance curator Robin Kahn to create an "event" involving Dickinson's poetry for the SoHo Guggenheim Museum in 1993. Dill fashioned a dress representing the skin of the female body and cut little holes from which she pulled out streamers of language from Dickinson's poem "The Soul Has Bandaged Moments." The idea evolved into a performance piece, Paper Speaking Dress.
At the McNay, the design is echoed by Paris Speaking Dress from a 1996 performance curated by choreographer Bill T. Jones at the Maison des Arts de Creteil in Paris. A video shows how paper ribbons containing lines from Dickinson's poem appear to unroll from the performer's body.
Dill worked with 70 people for three years to develop Divide Light, inspired by the lines "Banish Air from Air/Divide Light if you dare." Backed by a string quartet and a 45-voice choir, a soprano, mezzo-soprano and baritone sing Dickinson's words to minimalist music composed by Richard Marriott. The performers wear Dill's splendid, vaguely 19th-century costumes with Dickinson's words sewn on them. Threads dangle from many of the words. "All of the words are hand-sewn applique," Dill said. "I leave the threads because they're like me, a little unraveled. I love tactility and sensuality in my designs."
Some are more sculpture than costume. The Paper Poetry Scroll Suit has broad swaths of cloth radiating out like helicopter blades. To Be Alive is Power (Apron Dress) has a long front textile panel that hangs down from the dress mounted high on the wall at the McNay, as if the performer would have to stand on stilts to wear it.
Under the guidance of contemporary art curator René Paul Barilleaux, the McNay Contemporary Collectors Forum acquired Dill's Vision Catcher (1995) in 2006, while Tobin curator Jody Blake sees parallels between Dill's sculptural designs and the theater designs of early 20th-century Russian constructivists Natalia Gontcharova, Alexandra Exter and Sonia Delaunay.
—DAN R. GODDARD
---