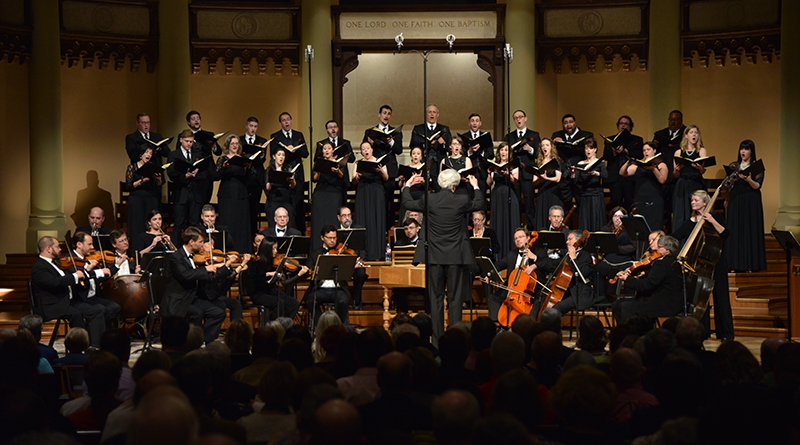 Pioneers and Visionaries: Houston Chamber Choir's 22nd Season
Houston Chamber Choir.
Photos by Jeff Grass Photography.
---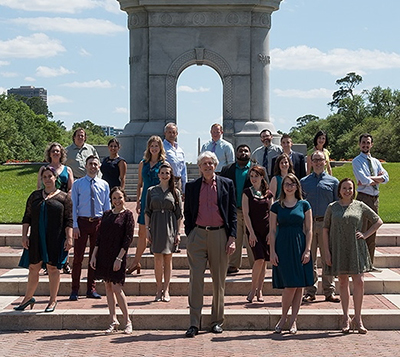 Stephen Foster, dubbed "the father of American music," laid the foundational stones of the American Songbook with beloved folksongs like "Beautiful Dreamer."   Charles Ives was a total American original who freely jaunted between polytonality, borrowed tunes, crashing dissonance, and folk simplicity.  Steve Reich was part of a group of American composers who pioneered minimalism, opening up new sonic vistas with layered repetition and limitless dynamism. Caroline Shaw, the youngest ever Pulitzer-winning composer and Rice Shepherd School alumnus, playfully deconstructs traditional musical elements and reassembles the parts into something completely fresh. These are just some of the trailblazers in American music who Robert Simpson, founder and artistic director of Houston Chamber Choir, will spotlight in the opening concert of the 2017-2018 season, "This American Voice" (Sept. 24).
"This is an ensemble that loves to tackle new and exciting things as well as preserve treasures from the past," Simpson says of his beloved chamber choir, "It's going to be wonderful to look at a few of the individuals who have made an impact during the course of music history where things have taken a new direction thanks to their inventiveness, or in some cases even their resistance to the current flow." That resistance, represented by the Romantic classicist Johannes Brahms in the 19th century and the unabashedly lyrical Samuel Barber in the 20th, will be on full display in "Conservative Backlash" (Nov. 18). Combating Wagnerian excess with clarity of form and transparency of texture, Brahms's Neue Liebeslieder Waltzes embodied a more pure Romantic aesthetic; while Barber, against dissonant cries heralding the death of tonality, set down the most lyrical, and unapologetically tonal, melodies. Who has not been moved by the elegiac strains of Barber's Adagio for Strings, an anthem for humanity's collective sorrow? The chamber choir will sing the composer's own setting of this poignant piece to the Latin text "Agnus Dei." Pianist Brian Connelly will be joining the choir on a 19th-century Bösendorfer piano, an instrument that would have been familiar to Brahms.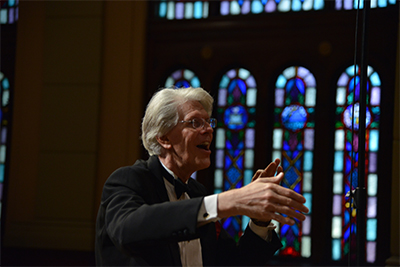 Each season, Simpson invites a prominent guest conductor to work with the choir on an area of his or her expertise. This season, he has engaged Alexander Blachly, founder and director of the renowned New York based early music vocal ensemble Pomerium, to lead the chamber choir in his "ideal concert." Simpson believes it is important for his choir to "explore the specialties of the choral field with a master." In the cleverly titled program "Mind Craft: Gamesmanship, Eloquence, and Surprise in the Renaissance" (Feb. 24), the musical pioneers and rebels of the period find fantastic ways to devise their works like puzzles and games.  From Josquin to Isaac, Dufay to Gesualdo, "each piece on the program," Simpson promises, "will help all of us become aware of the fact that there is nothing old or oldie about music from this period—it was very engaging, mind-expanding, and crafty."
David Lang, Pulitzer-winning composer of The Little Match Girl Passion, has worked with the choir previously on this starkly powerful piece, inspired by his love of Bach's St. Matthew's Passion and Hans Christian Andersen's heartbreaking eponymous tale. Simpson recalls that Lang had asked the ensemble to "further reduce the emotional element of the music so that it was at an almost machine-like indifference. It seemed counterintuitive. But in fact the less we tried to emote, the more powerful the music became—cold, steel, unfeeling—one comes away shattered." Other pieces on "Just Imagine" (April 14) will take the audience on encounters with Alice in Wonderland as well as the real and mythical creatures of a Medieval bestiary through the wondrous works of Irving Fine and Murray Schafer. Simpson intends to explore "the whole field of imagination and creativity through the combination of text and music."
What better way to celebrate American musical legend Leonard Bernstein's 100th birthday than inviting his daughter Jamie Bernstein to Houston to share Lenny stories as host of "Lenny@100" (May 12). "There are so many Lenny stories only his child could possibly know. She's going to give us the inside look at the great man," says Simpson. This celebratory concert will showcase the full range of Bernstein's visionary genius with selections from West Side Story, Candide, On the Town, and the rarely performed sacred work Hashkiveinu.
The ensemble will celebrate the 90th birthday of the American musical on Broadway with a free concert at Miller Outdoor Theater (Oct. 28), showcasing its versatility with classics from Show Boat (1927), considered by many as the first true American musical, to current mega-hit Hamilton.
The magical Villa de Matel provides the perfect setting for one of the most anticipated events of the holiday season, as the Houston Chamber Choir sings Christmas music that span the centuries in five  performances (Dec. 8-10).
The 26 members of the Houston Chamber Choir devote their artistry to the voice. With a new recording in the finishing stages (the complete choral works of Maurice Duruflé, the choir's fifth commercial release) and new Executive Director Aileen Roberts joining the team, Simpson is excited about the future. "We are the oldest and most established professional choir in town, and Houston has fertile soil for growing a professional choir."
—SHERRY CHENG