Pipilotti Rist, Pixel Forest, 2016, LED installation with media player, the Museum of Fine Arts, Houston, Museum purchase funded by the Caroline Wiess Law Accessions Endowment Fund. © Pipilotti Rist / Courtesy of the artist; Luhring Augustine, New York; and Hauser & Wirth / Photo: Mancia Bodner, courtesy Kunsthaus Zürich.
---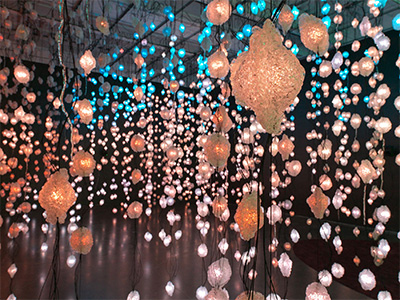 Last summer, the Museum of Fine Arts, Houston presented two installations and a few somewhat overlooked paintings by Yayoi Kusama. The installations, two of the artist's mirror- and light-based works called "Infinity Rooms," could soon be seen across the feeds of preferred social media channels as visitors to the museum posed and posted. This year, the MFAH hopes to achieve something similar with Pipilotti Rist: Pixel Forest and Worry Will Vanish, on view through Sept. 17. Both artists are part of the museum's continued summer exhibition efforts to highlight artists whose installations are largely deemed social media-worthy. It's a mutually beneficial endeavor that draws crowds to the museum, puts some focus on the artist, and hopefully fosters appreciation of the arts among visitors and inspires them to further explore their city's art scene. Rist's work provides a spectacular backdrop that will draw individuals from across the city to experience the artist's work in a newly developed style.
Curtained off from the rest of the museum, the exhibition is an immersive light and video installation that consists of two works: Pixel Forest, a series of colored lights that hang like vines for visitors to wander through, and Worry Will Vanish, a 4-channel video that spreads across the rear and adjacent wall of the room. Although she conceived of and developed the works separately, Rist has meshed them together with the help of lighting designer Kaori Kuwabara to form a technically marvelous installation. Visitors move through Rist's forest of light and find themselves in an obliterated video, a living work of abstraction. The pixels are independent yet cohesive, each a fragment of video reduced to single moment and slowly reacting to the Rist's film Worry Will Vanish.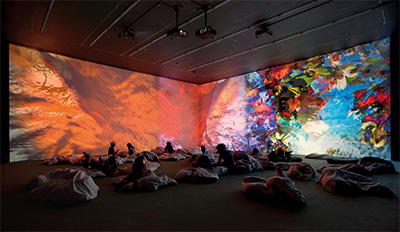 Once museum visitors emerge from the forest, the video is ready and waiting to be watched and experienced—complete with cushions, seemingly as an invitation to stay a while. Two videos are spread across four projections that blend together and consist of a mixture of computer-generated animations and footage taken by the artist. Together they send the viewer on a journey in and out of the human body. The body itself is animated, avoiding overly graphic imagery that might be off-putting for some. The real footage tends to focus on the natural world: slow pans across dewy grass, close-ups of plants, endless bodies of water, and in one instance, the artist, nude, bouncing in slow motion.
Accompanying the video is a composition by Anders Guggisberg. The music is slow, electronic, and a bit entrancing. It fits seamlessly within the installation as everything joins together to put visitors in a dreamlike state. While the video and light forest run on a loop of approximately 20 minutes, it's difficult to determine when the music begins and ends. While calming and meditative, the exhibition is a bit overwhelming for the senses because viewers find themselves visually gliding through someone's internal organs only to emerge into what seems like an ocean, or stumble through glistening vines.
Pipilotti Rist is a talented artist and a great collaborator. From a technical aspect, this exhibition is an incredible undertaking, and that work pays off with that entrancing experience. Outside of the experience and technological links, though, these works don't feel connected. When you synchronize a series of pleasant things, the message of the work is muddled, and while Rist's room is beautifully detailed, it's unclear what she's trying to communicate to the visitors. Perhaps it's hidden somewhere among the pixels.
—MICHAEL MCFADDEN