Annie Arnoult as Valeska Gert in DADA Gert created and performed by Open Dance Project, co-presented by Moody Center for the Arts at Rice University, through May 19.
Photos by Lynn Lane.
---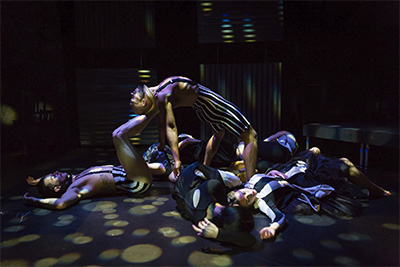 She did it again.
The "she" being Annie Arnoult (and her troupe of multi-talented dancers/actors at Open Dance Project), who created 'Bout a Stranger last season, hands down the most polished and potent dance theater piece ever to come out of Houston.
The "it" being DADA Gert, an immersive dance theater piece about the under-recognized diva of the 1920s Weimar scene Valeska Gert, that recently took command of the Lois Chiles Studio Theater at Moody Center for the Arts at Rice University (through May 19). The unsung mother of the punk aesthetic could have very well paved the way to Pina Bausch.
Now back to what "she" did, which was to create a dance /theater piece about a world which, for the most part, we may have only visited through other theatrical pieces such as Cabaret. Gert slipped through the fame cracks. Wars have a way of doing that, fracturing a cultural phenomenon such as the DADA scene in Weimar as Jewish artists scattered throughout the world in the lead up to World War II.
DADA Gert was not a Smithsonian exhibit in that the audience may leave the show somewhat unclear on the artist's biographical facts, but hungry to know more. I am guessing there was a good amount of post-show googling, and that Gert has amassed some new fans. Arnoult's approach was way more expressionistic. It's as if we were dropped down into Gert's circus of a world, complete with small cabaret tables with old-school telephones. If you picked one up you could hear a German voice mumbling a cryptic message.
As the piece progresses we settle into the rhythm of Gert's chaotic pulse, maybe sit down at a cabaret table and merge with the proceedings, which lies at the heart of the immersive dance/theater experience. We didn't need to know any more than what was in the program; we soak up the essence of Gert's art through movement, music, text and a visual surround, created by set designer Ryan McGettigan. The theater, rendered completely unrecognizable by McGettigan, doubled as a cabaret, a street, a stage, a boudoir, and a dreamscape. From corrugated metal to the clever use of posters and even an odd chandelier, McGettigan created a richly textured set, a perfect playground for Gert and her cohorts.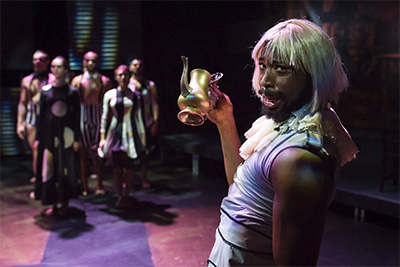 Unlike Stranger, which gave the audience time to acclimate, Gert starts abruptly with a punch, not unlike the artist's angular and rough hewn aesthetic. For most of the show, the pace is relentless; the performers charge from one section to another. Near the end, we get some relief when the dancers sing a staccato version of Kurt Weill's "Mack the Knife" from The Threepenny Opera.
Arnoult inhabits Gert throughout, completely embodying her twisted form, reveling in her contorted shapes and awkward stance. Gert worked with the whole catastrophe of living, experimenting with the vugler, the grotesque and the gritty. She dared to dwell in anti-beauty. The woman was not into flow, or her contemporary Mary Wigman, who is personified by a stoic Alisa Mittin, perfectly capturing her iconic second position plie.
Gert's flamboyant but dark style also comes through in the actual choreographic vocabulary created by Arnoult and her Open Dance Project experts. The Picasso-esque angles, the earthy sensuality, the full embrace of ugliness with bodies resisting the traditional rounded contours of ballet and modern dance, combined to keep our eyes moving, and sometimes our bodies, as this piece was meant to be seen with us in motion, for at least some of the time.
DADA Gert echoes opera's largesse with a tight dynamic operating between motion and environment. Shape and momentum alternate as organizing principles, as tableaus let the performers sink into the environment, while other times dancers fiercely crash through the space, often at high speeds. Arnoult has a keen sense of framing motion and stillness within a space.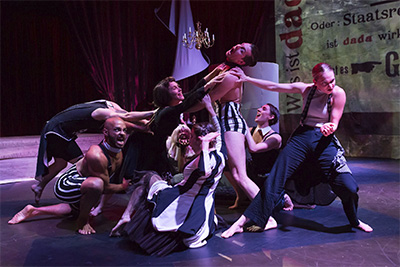 Lighting and projection design by David J Deveau (based on original projection design by Christopher Ash), Jeff Hancock's stark black and white costumes, and a dense soundscape by Bryan Ealey, made for a total Gert experience.
Open Dance Project delivered a delicious performance They give their all to each project and it shows. The dancing–full throttle, intense and with unwavering commitment–amplified the experience of merging into Gert's oeuvre. Kudos to Mittin, Alonzo Lee Moore IV, Davis Stumberg, Taylor McAnulty, Brittany Thetford Deveau, Elizabeth Nalley Grossberg, Stacy Skolnik, Seth McPhail, Joseph Stevens, Sarah Lyman and Tehillah Hartmann, along with rehearsal director Abby Flowers.
Arnoult and her creative team have constructed a vibrant kinetic installation, yet there's nothing subtle about DADA Gert. It hits you over the head, which feels about right for now.
Valeska Gert would have loved it!
-NANCY WOZNY