Pablo Gimenez-Zapiola's Eastext takes place on three Thursdays in and around each venue: Oct. 13 at El Rincón Social, Oct. 20 at GalleryHOMELAND and Oct. 27 at Box 13.
Photos courtesy of the artist.
---
When Pablo Gimenez-Zapiola arrived in the United States from Argentina in 2002, he had with him three hundred dollars and a bicycle. "It's something you do in your twenties, not your forties," he says. In the wake of economic upheaval in Argentina, Gimenez-Zapiola found himself unmoored from his architecture business and his country, seeking employment and a home for his young family.
Fourteen years later, the architect turned artist has made a name for himself in Houston as the producer of poignant yet fleeting images. He deals in photography and video projections, responding to built spaces rather than constructing them. Now working on his second grant funded by the city of Houston through the Houston Arts Alliance, Gimenez-Zapiola has focused his latest project on the city's east end. "It's a growing area." he states.
Gimenez-Zapiola will be projecting poetry from a (slowly) moving vehicle onto the neighborhood in a project he is calling Eastext, which takes place on three Thursdays in and around each venue: Oct. 13 at El Rincon Social, Oct. 20 at GalleryHOMELAND and Oct. 27 at Box 13.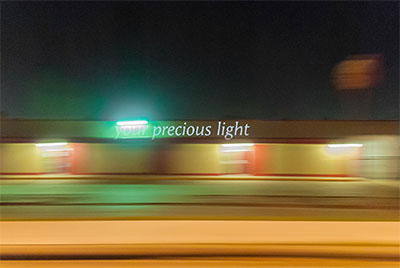 The frenetic mixture of industrial and residential architecture prevalent in the area provides a wide range of textures, acting as an ever-changing and unpredictable canvas. "It's about…that dialogue between the space and the projection." On his computer screen, Gimenez-Zapiola shows me an example of poetry projected onto a chain link fence. For an instant, the text has a ghostly double as it hits objects behind the fence's transparency. "The words just float. They break apart, they move," he says of the text, much in the way that a word begins to lose meaning if you stare at it for too long.
His first projections were often just that, a single word projected onto a building's surface. "Words as shapes always interested me. You can decide to read it or not." Over time, he decided to project onto moving trains, which caused the text to undulate and flicker. Gimenez-Zapiola compares it to graffiti, but only for context. "It's a way of gently or softly touching things without leaving any trace."
The poetry for Gimenez-Zapiola's performance is a gumbo of languages, styles, and poetic themes, but all of the writers are Houston-based. Gwendolyn Zepeda, Houston's first poet laureate, is a contributor, along with John Pluecker, Eloísa Pérez-Lozano, Vanessa Torres and Holly Walrath.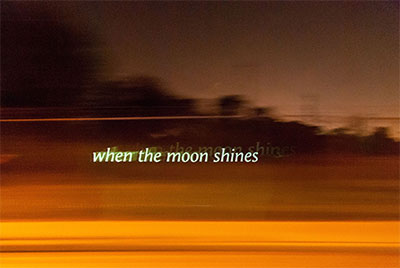 "For me, poetry is the highest level of philosophy," Gimenez-Zapiola avers. His performance, which will consist of about forty-five minutes of drive time, only allows for approximately three poems to be projected, but their appearance, a phrase or sometimes a single word at a time, gives the poems a visual weight they would never possess on the page.
Gimenez-Zapiola 's studio is one of the most compact and organized I've seen. It is intensely neat but pleasant, lined with books and magazines, photo equipment and small mementos. Three computer screens beam invitingly from the center desk. Unlike many artists, Gimenez-Zapiola doesn't require massive amounts of square footage. One is left with the sense that the bigger world is his studio, and his small space is just a nook in which to process the vast poetry he encounters out there.
"Most of my projects I just find," he says, showing me a recent series entitled Night' Trees. These trees are captured photographically in the uniform but limited circle of a flashlight beam. They almost appear surprised, their foliage silver in the sudden light.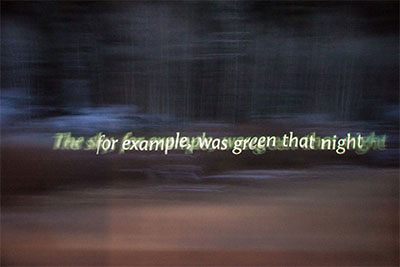 It's tempting to theorize and armchair psychoanalyze Gimenez-Zapiola's shift from a medium as obsessed with permanence as architecture to one as fleeting as projected poetry, but when I put the question to him he laughed it off. "They both have some sculptural aspect." Gimenez-Zapiola explains, "I'm very accurate in terms of distance," saying that he sometimes checks the calibration of his internal measurement system by finding his way around a darkened but familiar room. "I didn't go to art school, but architecture taught me a lot," he acknowledges. Of the projections, their transience seems as integral to their content as the words themselves. "It's like a rainbow…you can't keep it with you." Gimenez-Zapiola chuckles. But, "If art is good, it stays in the viewer."
—CASEY GREGORY