Quilt (kantha): tree of life (detail), c. 1910–1920, cotton, Dallas Museum of Art, gift of Alta Brenner in memory of her daughter Andrea Bernice Brenner-McMullen, 1996.177.
---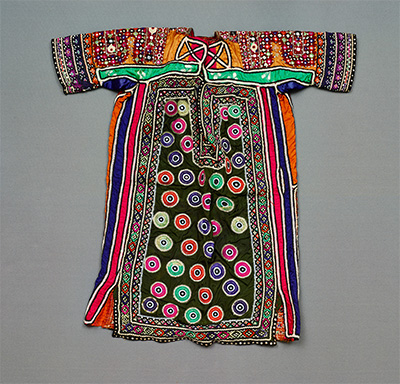 During the past 10 years the Dallas Museum of Art has hit many important milestones signaling its emergence as an encyclopedic institution and a player on the international stage.  Examples include co-organizing the most comprehensive J.M.W. Turner survey mounted in the United States; publishing the first catalogs of the DMA's collections of African art, and Asian art; opening a paintings conservation studio; and securing the 15-year loan of the prestigious Keir Collection of Islamic Art.
The DMA's next third-floor "focus installation"—a yearlong rotation of works, often drawn from a relatively unheralded part of the permanent collection—might seem an unlikely addition to a list of such impressive firsts. But while the museum's collection of luxury Asian garments and ornamental hangings has been decades in the formation, Asian Textiles: Art and Trade Along the Silk Road—on view Dec. 16, 2017 through Dec. 9, 2018—marks the first time a selection has been presented in a stand-alone exhibition, says Anne Bromberg, the DMA's curator of ancient and Asian art.
"DMA is now as strong in Asian or African or Pacific or Native American art as we are in traditional European or American art," Bromberg says. "A sideline of that is that we have a very strong non-Western textile collections." In fact, Bromberg was inspired to mount this show after seeing Add to, Take Away: Artistry and Innovation in African Textiles, a 2014-2015 focus installation by Roslyn Walker, the museum's African art curator—the first DMA show of its kind. Bromberg thinks the space is "even better for Asian textiles than it was for African textiles."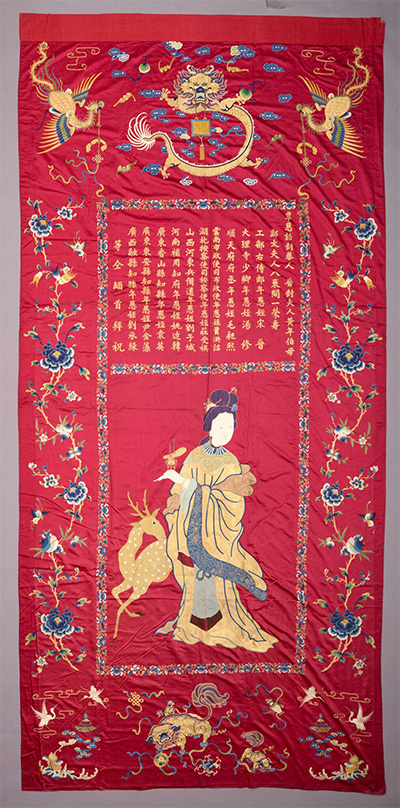 "One of the points I was trying to make with the labels and the selection of the textiles is that it's basically because of the Silk Road that the tradition of textiles spread so far, from the Mediterranean world to China and Japan and down south to India and the Himalayas, and back and forth," Bromberg says. "Conveniently for me, the space where we're now showing our international textile collections immediately feeds into a permanent exhibition on the Silk Road based on works from the collection that I've had up for a number of years. We've got maps, explanations of how religious ideas traversed the Silk Road, and so on, and now we've got how textiles were part of that story—including silk itself." (Despite its moniker, the Silk Road has been an international trade route "practically forever," long predating the spread of silk from China to other parts of the world, Bromberg says.)
Viewers will notice a more expansive definition of textiles than they may be used to, Bromberg says.
"In the West, we tend to think of textiles as clothes or maybe big wall hangings—quilts and things like that," she says. "But in Asia it's quite different, because artists painted important scenes on textiles—particularly silk, but other textiles, too. So we've got works that many people would consider to be paintings—portraits of Buddhist figures from the Himalayas, Japanese ink paintings—that happen to be painted on fabrics. So you see them in a completely different light than you would if they had been hung up in a gallery as paintings, with other paintings."
For example, the installation features Male Crane with Pine, a monochrome late 17th-century Japanese painting on silk created as a wall hanging. "As is often found in Japanese painting, a largely empty upper area contrasts with the image of the crane placed off-center in the lower portion of the scene," Bromberg writes. "The painter, Kano Tsunenobu, was a member of the Kano family, which produced some of the most distinguished painters of the Edo period."
Other exhibition highlights include a late 19th-century Japanese fireman's coat—quilted and featuring a metal breastplate to protect the wearer. "Before combating a fire, the firefighter would close the ear flaps on the hood, cinch the belt, and be drenched in water," Bromberg writes. "The designs on the back of the coat are rhythmic and ornamental, suggesting natural forces, as dragon designs did in China."
The show hints at the wide range of techniques found in Asian textiles, from ikat weaving, the method of using resist-dyed threads, as seen in an early 20th-century Uzbek silk-and-cotton chapan, or coat; to metal-wrapping thread, "which in several parts of Asia was an important way of making very expensive, glitzy clothes, because the sparkle of the metallic wrapping around the textile fiber adds a richness and color," as in a Chinese 19th-century Blue Five-Clawed Dragon Robe, Bromberg says. "It produces a lavish, glittering kind of fabric, so it's easy to see why the technique was popular."
Bromberg hopes Asian Textiles will also have widespread appeal, not least because it's "literally glitzy," she says. "That sounds funny, but it's true. They're very dramatic pieces. I think given the fact that having purely textile exhibitions drawn from the permanent collection here at DMA is a fairly new move, that it will be fairly popular with the public."
—DEVON BRITT-DARBY