Anna Halprin's famous dance deck at The Tamalpa Institute in Kentfield, CA.
Photos courtesy of Core Dance.
---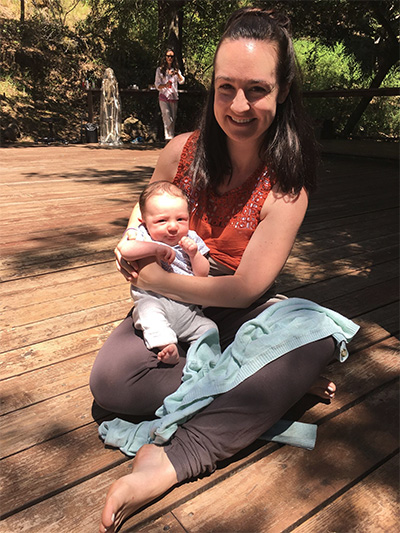 My pelvis tipped forward, my shoulders were tight and closed, my knees ached from around-the-clock bouncing. My 42-day old baby was strapped to my body, asleep across my soft abdomen. The sun stung my eyes. I had perfectly memorized my son. I had forgotten my body.
I was attending Tamalpa Institute in Kentfield, California with Core Performance Company. Anna Halprin and her daughter Daria founded the program in 1978 as a training program in The Tamalpa Life/Art Process®. This movement-based approach to social, personal, and interpersonal healing blends dance, visual art, therapeutic practices, and psychology.
I read about Anna Halprin in my dance history classes. I never expected to meet her and dance on her deck that had been etched with the feet of the stars of the dance world. She's small, gutsy, silly, and powerful, and I really thought she'd be taller. She is nothing less than a dance giant. Anna was one of the Judson Dance Theater pioneers of postmodern dance, and she never stopped breaking rules and making new ones. She has been on the forefront for how dance can be a catalyst for social justice, and how that begins with deep, personal investigation turned into action. I recently read in the New York Times that she once had a warrant out for her arrest for indecent exposure from staging a naked dance at Hunter College. So when I was invited to study with her four months into my pregnancy, I said yes.
When I arrived at her home, called the Mountain Home Studio, a sign adhered to a redwood tree read in colored pencil: Walk slowly. Pause periodically. Look. Listen. Breathe. Smell. Touch. I inhaled the aroma of redwood and began the steep decent down the stairs carved into Mt. Tamalpais and onto her deck.
Everyone stopped talking and we walked, holding hands, snaking the perimeter of Anna Halprin's deck. She had asked us, via her assistant, to observe our surroundings as we approached her for our introductions. Dear God, please keep my baby quiet. I knew how to breathe so that my son would not wake up. My bare feet traced the outline of the deck shaded by redwood branches as I fought to find my own balance. I had never felt so weak. And then I stood before the living dance legend to introduce myself. I spoke with as much power and clarity as I could muster. I had been talking in nothing but whispers, shushes, and songs for what felt like my forever.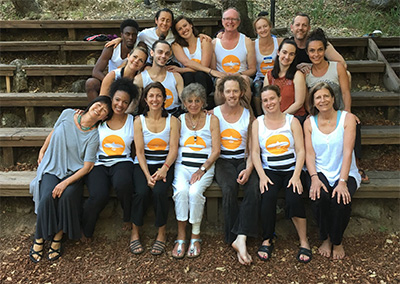 Anna has been a hero of mine, largely because of her interest in creating dance in relationship with her environment, often outside, and off of a traditional stage. Describing her early work, Anna said, "We broke as many barriers as we possibly could."
Anna works from a series of scores (parameters) for movement and spatial exploration. She is a facilitator, and that week we slowly and authentically came to new understandings about our bodies in space. After each score, we gathered to talk about our insights and challenges. The first day our score had three questions: Where am I? Who am I with? What am I to do? We moved around her deck in simple walks, runs, falls—locomotive, human movement. We could pause at any moment. She directed us to notice ourselves in the midst of the group and how our presence impacts the overall balance. Where am I? Anna Halprin's deck. Still stunned. Who am I with? That's where I got stuck.
My infant still swaddled across my chest, I perched on top of a pillow on the second row of benches facing that illustrious deck. Anna sat opposite us. She instructed us to hum and create guttural sounds from the very bottom of our pelvis. More! Louder! Again! I cracked my tailbone during delivery, so I was in pain. But I also knew that what she was getting at was momentous, so I continued. And I knew there was something specific for me in this exercise. If you've never given birth, I can tell you that afterwards it feels like the bottom of your pelvis has dropped out. Finding that stability and articulation was key to my recovery of body and self. I had never considered I could find my pelvis again through sound. Announcing myself sonically felt necessarily scary. I knew what my son sounded like. I had forgotten the sound of my own voice.
My breath ushered reverberations of my insides and ultimately led me into larger seated movement. She told us to follow the impulses within, and expand beyond our bodies. It was too much for me to physicalize. I was lost finding the impulse within. Where was I? Sound pushed my torso left, it lifted my sternum up, and it also lulled my baby back to sleep. I found my sitz bones as the sun streamed through the delicate gaps of the oak tree leaves above my head. As I continued to hum, I found my deepest breath and my pelvis activated.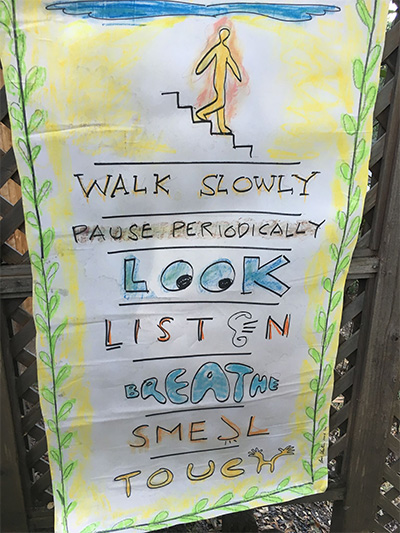 Anna asked us to walk, eyes closed, down a hill into a tight cluster of redwood trees. After a cautious decent, there we sat on eroded stumps and damp, mossy rocks. She asked us to listen and then move. But I barely moved. I heard birds, and felt the wind. I smelled the bark as it softened from moisture. I tried not to lose my focus when the other dancers around me started to move with boldness over the crunchy leaves. I was still sitting there. So I stood. What was I to do? I sat again. I even went over to hug the tree. I was distractible, frustrated. I tried humming and I felt myself shrink. And then slowly, my insides began to attune with my environment. I felt weighty– routed and grounded– like I existed just as much as those two hundred foot trees. I was present and participatory.
Anna trusted that what we needed we already had: ourselves in our environment. We needed patience to quiet our ideas and place ourselves in the natural order. If we found our center, our weight, our sound, then we could see what was around us. When we returned, Anna asked us: What are you taking with you from the natural world?
I am taking with me the realization that I'm not apart from the natural world. I am taking with me the importance of nourishing my body and soul through movement, however small it is. I'm taking with me the insight that serving my son in his earliest days of life is precious and painful.
I leaned over the deck's railing and I saw a loose rock tumble down the side of the Mt. Tamalpais incline. My teaching, my choreography, my grant writing, my budget making—it all revolves around the healing and joy I know dance brings. I was so busy nurturing others' creativity and creating movement for dancers that I forgot how to use it for myself. It had completely escaped me.
It took pregnancy and childbirth to figure out that I needed movement to heal. My work as a dance artist can lead me away from dance. But it is dependably and patiently there to pull me back to myself.
—LYDIA HANCE