Two Irish Plays in Rep at Stark Naked Theatre
---
IMAGE ABOVE: Philip Lehl in Stark Naked Theatre's production of Faith Healer. Photo by Gabriella Nissen.
---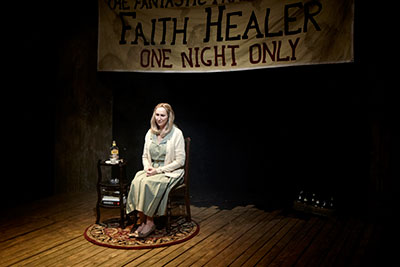 Stark Naked Theatre Company heads into the bleak winter months with two riveting Irish plays: Brian Friel's Faith Healer, Jan. 23 – Feb. 8, with Philip Lehl, Kim Tobin, Stark Naked's co-artistic directors, and John Tyson; and Conor McPherson's The Good Thief, Jan. 28 – Feb. 15, with Santry Rush. Both are directed by Tyson and take place at Stark Naked's intimate Spring Street home at Studio 101. A corresponding art exhibition, Obsession and Grace, curated by dianne k webb, Stark Naked's in-house art coordinator, accompanies the run of both plays and is available for viewing an hour before each show. A + C Editor in Chief Nancy Wozny visited with Tobin about the Irish wave going down at Stark Naked.
Arts + Culture TX: You have paired two Irish playwrights who are separated in age by about 40 years. How did you come to think about doing these two plays in rep?
Kim Tobin: These are two Irish plays about characters who are looking for some kind of redemption, peace or release from the current set of circumstances they find themselves in. John (Tyson) originally brought Faith Healer to us as a project that he wanted to do and saw the two of us in it. Well, who can read that play and not fall in love with the story telling and the language?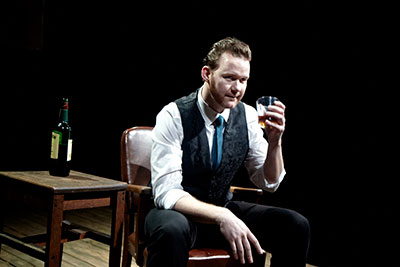 A + C: True, Friel's work is a feast of words.
KT: It's beautiful and haunting and agonizing and frightful. And then it's fragile, humane and full of universal familiarities in our deepest self. It is what we go to theater to see revealed to us. We also realized that it had not been done in Houston before. That sealed the deal.
A + C: That's amazing that Faith Healer has never been done in Houston. Go on.
KT: Putting it in repertory with The Good Thief just made perfect sense. John had worked on that show about a year and a half earlier with Santry and it had a limited run. Philip had seen it and loved it, so we thought a larger part of the Houston public should see Santry's wonderful performance.
A + C: People raved about Santry in The Good Thief, but by the time the word got out, it was over. So it's really great that you have brought the piece back.
KT: Santry has been on Stark Naked's radar for a long time and we just have not had the right project for him. He's a wonderful actor and this was just too perfect of an opportunity to put these two plays together.
A + C: It's interesting that Faith Healer is performed as a series of monologues and The Good Thief is a one-man show, so there is this theme of the solo voice.
KT: In both plays the characters have arrived at circumstances in their lives where they are completely isolated.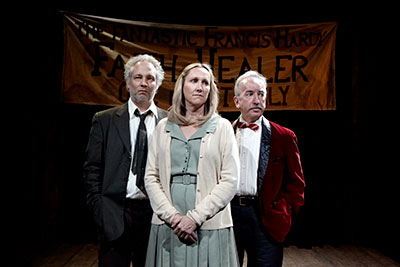 A+ C: Exactly, Faith Healer actually takes the solo voice into a complicated place in that each character is telling their version of the same story.
KT: True, in Faith Healer we also deal with how memory is different for each person when looking back on events in their lives together. We remember what matters to us emotionally and what was emotional for one person in any given event will not necessarily be the same for the other person.
A + C: You have brought in Alley Theatre actor John Tyson to direct both shows. How do you see Tyson's directorial style as a fit for Stark Naked? 
KT: This has been a joy for us to have John on board as a director (and actor)!
A + C: I forgot that. He's playing Teddy in Faith Healer, which is a terrific role.
KT: My experience with John on this production has been amazing. He has come to the table with a vision for this play that is specific and thoroughly mapped out according to the given circumstances laid out by Friel.
A + C: How does that change the experience for the actors?
KT: What that means for an actor is that John comes to rehearsal knowing exactly the structure the character he is directing you to craft has to work within – and has made those decisions based on the text, not on line readings or what looks or feels "interesting". When a director gives this gift to an actor, then the actor is liberated from the burden of not knowing where to put their focus in the larger world of the play, because the director made those decisions. He is not directing anyone to play some idea or some caricature – he is looking for truth.
A + C: Faith Healer is a difficult piece, ideal for the introspection of winter. How did you see this play as a match for Stark Naked's values?
KT: It is an interesting match for us. On one hand, it's quite a challenge because my Meisner work is so based in improvisational work off partners and this is monologue work. But, really the audience is the scene partner, so you are talking to someone. It is a real challenge in that you are alone, and the journey is taken in a form of isolation for each character. I cannot think of a better theater for the intimacy of this piece. We are actually going to move the seats even a little closer to the actors so you will be even more intimate.
A + C: You and your husband will essentially be playing a husband and wife team once again in Faith Healer as Grace and Francis Hardy, certainly a different dynamic than Mr. and Mrs. Macbeth. Where are the challenges for you?
KT: For both of us they are very large roles and just learning them is quite a daunting task. They are also characters that are very far outside what we normally play. That is both exciting and terrifying at the same time.
A + C: It's truly wonderful that you have connected to your Spring Street neighbors and include an art show in many of your events. How did that all come about? 
KT:  I thought Houstonians should know about all the amazing artists in Spring Street and Winter Street Studios –these two buildings are huge artists complexes. The work in our exhibits is always for sale as well. Also, Spring Street, Winter Street and Silver Street Studios are open every second Saturday of the each month from 2-5 pm for the general public to just walk around and visit all the artists studio's and view art and buy and get to know dozens of local artists. I believe in artists supporting artists and will always be available to do that when I can.