Jessica Stockholder, Why Clouds are Woven into Bed Linens, 2018. Two ladders, eight desktop electronics, sheets, vinyl, plastic crate, tree branches, acrylic and oil paint, nails, wire, and toy car. 10 feet x 90 inches x 33 inches. Installation view, Jessica Stockholder: Relational Aesthetics, The Contemporary Austin – Jones Center on Congress Avenue, Austin, Texas, 2018. Artwork © Jessica Stockholder. Courtesy the artist; Kavi Gupta, Chicago; and Mitchell-Innes & Nash, New York. Image courtesy The Contemporary Austin. Photograph by Colin Doyle.
---
"I am interested in how we, and the things we make, are at once isolated and inextricably connected to so many other people and things."

—Jessica Stockholder
Jessica Stockholder built a big turquoise and orange platform to take up a corner of The Austin Contemporary's downstairs gallery, its plastic wooden floor paired with bright fiberglass grating on wooden pylons and sitting above a yellow carpet that fills out into the space. Climbing onto the platform, the viewer finds the perfect vantage from which to see an exhibition of prints by Robert Davidson. Approached by The Contemporary to make a solo exhibition, Stockholder invited Davidson to share the exhibition, selecting 10 of his prints dating from 1974 to 2015 that she curated. Hung high, the prints are best seen from this elevated place: the platform becomes an invaluable assistant for the viewer, an access point to think about connection and influence, and simultaneously a strange ship-like character in a room full of sculptures with evocative personalities.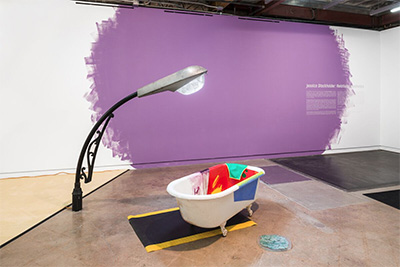 Stockholder's sculptures pair objects—a table, bathtub, street light, bookcase, toaster oven shelf, discarded electronics, tree branches—in wildly magical configurations. These are sculptures of accumulation, and the pairings are met with a brilliant sensitivity to color and its moods, to scale and material. Found objects are covered in paints and stains, with bits of fabric, resin, metal components, wires, and wool completing their visual balancing acts. Color is a major protagonist here, with flights of bold and surprising combinations that I can imagine Stockholder thinking through with a grin (and oh, thank goodness for something that brings a bright, warmhearted smile!).
Stockholder titled the Davidson exhibition U and Eye (through March 3, 2019), taking the title from one of his prints, but with a nod to both artists' interests in relationships. Davidson's prints are full frame explorations of strong, colorful forms that sometimes suggest animal figures and human-like creatures. Halibut Halibut Halibut (2001), for example, has a recurring fishy face, its blue eyeballs in satisfyingly unexpected shapes of green and red that give the viewer just enough information to find the creature's impression. Looking Back at Where We Came From (2000) takes a similar approach, repeating the almost-abstracted form of a frog three times; in this case, two of the frogs sit upright, stacked on one another, while a third seems to be a reflection on a watery surface below. In the mid-60s, Davidson apprenticed with master Haida carver Bill Reid; his relationship to traditional arts and Haida history informs his image-making, but also offers a specific context for his explorations of both human and inter-species relationships. I Am You and You Are Me (2008), for example, is an image of two orbs, both with the same figure compactly fit inside, but tilted just slightly: they are the same, but sit in different places (and isn't that such a poignant metaphor).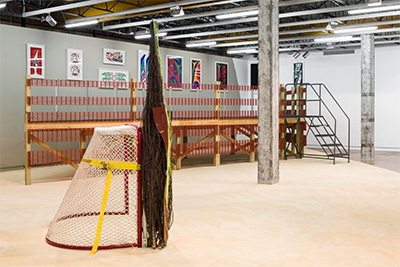 For all its material dash, waggish critters, and wonky juxtapositions, the heart of Relational Aesthetics (through March 3, 2019) is in the assist. A series of Stockholder's sculptures are strapped to objects—a refrigerator, a regulation-style hockey net, a pink motorized scooter—that support them, allowing them to stand. The gesture of inviting Davidson to exhibit with her, Stockholder adds, acknowledges another kind of assist, one rarely given space in our public lives. Whereas her sculptures are strapped to a "prop" so that they can stand upright, the invitation to Davidson is one that acknowledges and makes space for the ways in which other members of our communities and worlds also hold us up, enabling us (teaching us!) to do the work we do, and to do it better. This kind of assist can be reciprocal or imbalanced, but it is fundamental for most kinds of production and is too-often made invisible.
In her exhibition statement, Stockholder writes, "I am invested in the potential for art to bring both the artist and the audience in touch with our capacity for independent thinking. At the same time, I am aware that all of our thoughts and creations occur in tandem with culture, history, and the collaboration of many others. This gesture of invitation to another in the context of my exhibition is an acknowledgment of my debt." In a culture that rewards individualism and mythologies of self-made success, making support networks visible is a remarkable act. The proposition Stockholder makes is radical in its insistence upon exchange and learning from others. Or, as Davidson writes, "I draw on the lessons of our ancestors. Our ancestors left an incredible legacy of art and, in order to honor them, it's our responsibility to relearn that legacy, whether it's through the art, whether it's through the song, or through the dance." Sharing space, honoring our mentors, literally lifting each other's work up: this is a relearning of what is important. Stockholder and Davidson's exhibition-sharing proposes that exhibitions can help us understand more nuanced histories, can offer models for how we make space for one another, and can teach us to find the knowing power in the assist.
—LAURA AUGUST