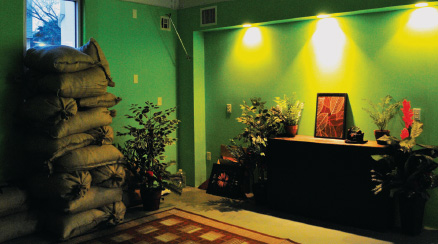 Review: Otabenga Jones "Fort HMAAC
"Otabenga Jones: Fort HMAAC"
Houston Museum of African American Culture
February 25 – April 21, purchase 2012
www.hmaac.org
"Fort HMAAC" is the latest offering from Houston-based collective Otabenga Jones. The inaugural exhibition marking the opening of the Houston Museum of African American Culture's new space on Caroline Street, seek "Fort HMAAC" illustrates pedagogical and revolutionary ethos that girds the collective's practice, as well as the curatorial approach that informs the groups' museological interventionist installations.
Raising the issue of the precarious position of many African American cultural institutions Otabenga Jones has repurposed the HMAAC and posited the site as a type of safe haven. Approaching the HMAAC, one encounters a stack of sandbags that line the front entrance. Though the glass doors at the entrance, one can see further sandbags in the main foyer and lower gallery spaces that are ostensibly shoring up the walls of the museum.
The collective has transformed the main floor gallery space into a bunker/classroom. The walls of the gallery have been painted various shades of green and a glass door that leads into a back garden area is covered by a camouflage sheet and adhered with packing tape. Few objects are contained within the gallery space. Four tables in the center of the room enclose a still life comprised of plinths covered in black fabric, artificial palm leaves and flowers and a wrapped African mask on a stick that sports sunglasses.
Six empty easels are placed near the north wall of the gallery, on the west wall hang three framed pieces: A Rolling Stone magazine with the late James Brown on the cover and two album covers, Elaine Brown's "Seize the Time" which features the words Black Panther Party in white text beside an image of an individual holding a semi-automatic rifle and the back cover of Joni Mitchell's album "Clouds" (perhaps included due to shared formal qualities with the Elaine Brown album cover). Beside the framed pieces are a series of charcoal drawings on paper adhered to the wall with blue painter's tape. The drawings document the still life in its various stages of inception. Included within the gallery is a library of sorts; a couch sits against the back wall beneath two posters of fictional Black Panthers. To the side of the couch is a bookshelf that contains titles of seminal works that have relevance to Black culture and aesthetics such as Ralph Ellison's "Invisible Man" and Elvan Zabunyan's "Black is a Color."
The gallery's sparse décor is intentional, for a series of classes in drawing, sculpture, design, performance and art history are planned to take place in the gallery and will produce works that will be added to the already existing pieces in the space guaranteeing an ongoing evolution over the course of the exhibition's duration.
— SALLY FRATER
Sally Frater is currently a fellow in the CORE Critical Studies residency program at the Glassell School at the Museum of Fine Arts, Houston.