The great grand dame of hate-becomes-love stories Jane Austen's Pride and Prejudice always held a current of social commentary beneath the surface of the glorious romance. Yet even though the novel remains ever popular two centuries later, many modern incarnations of the story, whether costumed in Georgian fashion or set in 21st century London, tend to heighten the romance while muting some of the issues of gender and societal restrictions Austen originally explored.
Kate Hamill's new adaptation for the theater takes the opposite route bringing those themes stage center. In the 4th Wall Theatre production, running in Houston through Dec. 22, the reluctant love between Lizzy and Darcy still burns bright, but some biting social commentary dances through the show, as well. Then, director Kim Tobin-Lehl and the exhilarating cast prettily wrap it all up for the holidays as a riotous romcom gift to audiences.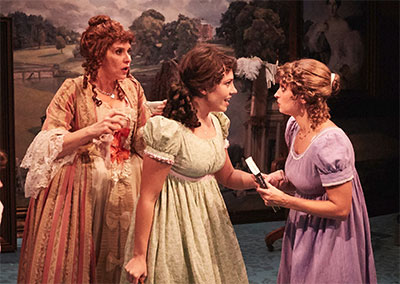 The play begins with a variation on blindman's bluff and the gaming allusions continue throughout the story amid a breakneck pace. Hamill has distilled the layered novel into a little over two hours and calls for six of the eight actors to play multiple roles. Only Amy Mire and Justin Doran play one role each, creating a charming version of Lizzie and Darcy who act as a calm (though sometimes internally tormented) center in the social mayhem.
Much of that comedy derives from the rest of the cast diving between roles, many times within the same scene, but the character-juggling hijinks also allows Hamill and Tobin-Lehl to explore some serious ideas, particularly ones of marriage, love and family.
From that first blind bluffing, we plunge into Mrs. Bennet's (Courtney Lomelo) battle to get her four daughters married. Hers is a dire game, if not necessarily life or death, then perhaps life or squaller, as the family estate can only pass to a male relation, the distant cousin Mr. Collins (Jeff McMorrough). So at least one of the girls must marry well to save this troop of women.
While Mrs. Bennet attempts to rally her daughters/players in this game for marriage, Mr. Bennet (Philip Lehl) views it all with bemusement from a metaphoric distance. And though Lomelo plays this frantic mom for laughs, she also makes what seems to be one of Hamill's points: that for a woman of that time and place holding out for a love match might be either the ultimate indulgence or empowerment.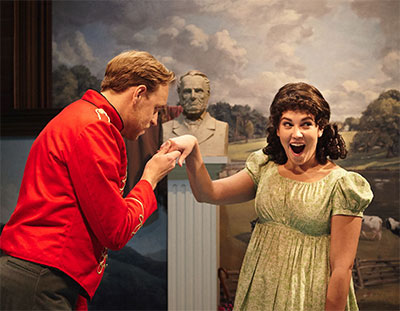 Even though this adaptation pushes the story into a screwball frenzy, Tobin-Lehl, slows the spinning action for emotional reveals, especially between Lizzie and Darcy, but also the central sisterly love between Lizzy and Jane, who Leslie Lenert plays with benign sweetness.
While the novel and most film/television adaptations rightfully focus on the women in the story (and of course Darcy), in this 4th Wall production all of the men in the cast, except Doran, take a fun turn playing at least one female character. McMorrough takes Bingley's sister beyond a stock, catty judge of the Bennet sisters. Lehl gives Lizzy's bestie Charlotte a grace and depth when she announces her pragmatic decision to marry the ludicrous Mr. Collins for comfort and general survival. In fact, Lehl's portrayal imbues Charlotte with so much sympathy that  Lizzie's haughty reaction to the news makes her seem like a bit of a bitch in comparison.
Philip Hayes does triple duty as a puppy of a Mr. Bingley and cad Wickham, but his portrayal of the much put upon Mary Bennet teeters on grand larceny of every scene he's in. Wearing a braided wig so hideous it's almost lovely and sporting his usual beard, Hayes makes Mary the hangdog face that launched a thousand startled cries when any of her family spot her, and therefore are forced to suddenly recall that she exists. With Mary especially, adaptor, director and actor go beyond farcical comedy to make her a commentator who sees past the posh, mannered veneer of societal rules and describes the true cutthroat nature of the marriage game.
Even the frivolous Lydia (in a fine, bratty performance from Rachael Logue), who almost brings the family to ruin, gets her own speech on the hypocrisy of the rules of the game. This adaptation is the only one I can remember that reminds us the girl is just that, a 14-year-old adolescent bride.
Tobin-Lehl heightens the fun with musical interludes between scenes using blaring contemporary pop songs that produce some of the most entertaining set changes I've seen this year, while also making some of the characters' emotional states all the more explicit. Who knew a certain Lady Gaga standard would so eloquently describe Lizzie's inner turmoil or a disco classic would set Darcy's suppressed dancing soul free?
Scenic designer Ryan McGettigan and costume designer Paige Wilson mostly keep it traditional to good thematic effect. The regency style dresses and coats, along with stately painted landscapes and subdued portraits that align the back of the stage, in juxtaposition with the frantic antics onstage, serve to highlight the drama, comedy (and perhaps a bit of madness) underneath all those Georgian aristocratic manners.
Hamill and 4th Wall take audiences on a wild comic ride with this Pride and Prejudice, but there's a not so hidden strong womanly message in their madness.
-TARRA GAINES