Nick Vaughan and Jake Margolin, Political Gestures, 2018. Five-channel 67-minute video loop, projection screens, wood, nail lacquer, printed text, dimensions variable. Photo by Emily Peacock.
---
In late June of 1969, police raided the Stonewall Inn, a prominent gay bar in the Greenwich Village neighborhood of New York City. This raid sparked a series of demonstrations by an outraged, oppressed community, often referred to as the Stonewall Riots or Stonewall Uprising, that are seen as the precursor to the Gay liberation movement and the continued fight for LGBT rights.   50 years later, the Contemporary Arts Museum hosts Stonewall 50, an exhibition conceived by Bill Arning and later curated by Dean Daderko that purports itself to be "a snapshot of the complexion, interests, and activities of a diverse group of queer and allied artists."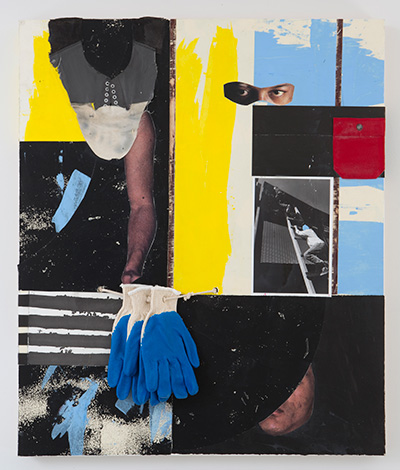 While the exhibition seemingly accomplishes what it sets out to do, it falls a bit flat and feels only vaguely linked to its namesake, becoming more of a group exhibition of notable Queer artists when perhaps there should be more dialogue between the work and the events.
Collections of brightly-colored objects organized/arranged by the late Tony Feher decorate random spots across the museum's first floor, reminiscent of small altars or items knocked out of a curio cabinet. Works by Barbara Hammer occupy a corner of the museum where a series of videos are arranged, highlighting the artist's experimental works and use of x-rays to provide oddly intimate glances into her life.
Two series of portraits by photographers Catherine Opie and Zanele Muholi (not collaborations), adorn the walls of the museum. According to the text, these series would reference one another quite clearly were the other grouping is visible from where each is hung. The two collections feature stunning portraits from each artist's community. In conversation, they could show similar yet differing lifestyles from two Queer communities separated by oceans, facing incredibly different political realities and living without fear. The conversation, however, feels disrupted by the small theater constructed within the space.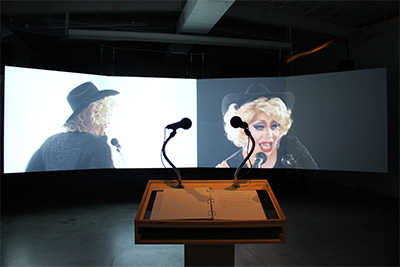 At the center of the exhibition, and perhaps central to it, is an installation by Houston-based artists Nick Vaughan and Jake Margolin—a collaborative Queer couple who have dedicated themselves to explorations of Queer history across the United States. Political Gestures (2018) is a five-channel video depicting interviews with contemporary members of Oklahoma's LGBTQ+ community and performances by drag queens as they lip-sync the speeches given at the 1979 Washington March for Gay and Lesbian Rights. As Drag culture makes its way into the mainstream (again), the artists show the historic role of Drag queens and their impact on culture within and beyond the queer community, acting as the main bridge between the exhibition and the events of the Stonewall Inn.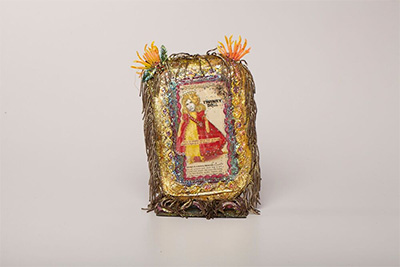 Connecting their exploration of lost spaces to Houston's own self-destructive ways is the original bar top of Mary's (originally Mary's, Naturally)—an icon of the Houston landscape decorated with a mural that anyone who spent time in the city before the bar's tragic demise (and for a time even after its closing) would recognize. It is these installations, creating the most direct relationship to Stonewall, that distance the other works from them, making them feel tangential.
What the exhibition does well is showcase a variety of somewhat diverse artists who create a broad array of work, some dealing in the political, some not. An exhibition connected to such a politically charged series of events, though, seems to do little to address them, ask questions of its audience, or set a stage for such a discussion.
—MICHAEL McFADDEN