Herman Gambhir and Company in Stages Repertory Theatre's production of The Elaborate Entrance of Chad Deity.
Photo by Amitava Sarkar.
---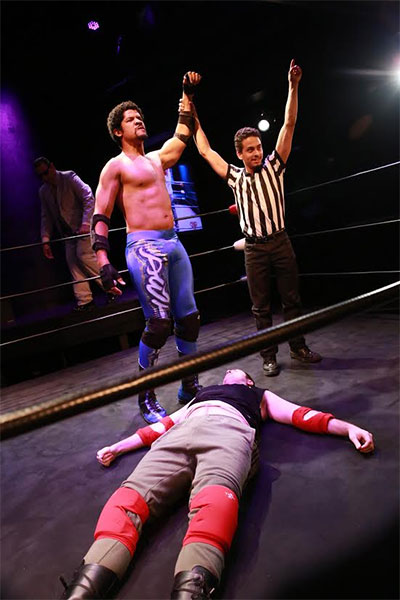 I have a (admittedly unoriginal) theory that sooner or later, no matter what the perceived subject matter, every writer ends up writing about the act of storytelling, and every playwright ends up writing about acting during the act of storytelling. The latest datapoint for this theory is Stages Repertory Theatre's glorious sensory overload of a production of the Obie Award winning The Elaborate Entrance of Chad Deity by Kristoffer Diaz, which runs through Nov. 8.
From the half hour before the play officially begins, as audience members walk into the theater with a bout from Houston's Doomsday Wrestling already in progress, to the final knockout blackout, there's never any doubt Chad Deity is about professional wrestling. But also from that first moment when from darkness a spotlight conjures our protagonist and narrator Macedonio "Mace" Guerra (Luis Galindo), it becomes as subtle as a body slam that this play is also about the power and politics of telling stories.
Professional wrestling is never short on action, yet Mace begins the play not by choke-holding an opponent, but by holding the audience in his quiet thrall as he describes a childhood playing with wrestling action figures. Galindo's portrayal leaves no doubt of Mace's great joy that the boy in love with professional wrestling became a man grateful to do that thing he loves. Yet, he also depicts Mace's yearning for something else, less as a sign of thwarted ambition, and more as a worldweary wish: for just once to be the author and hero of his own story.
Mace has become such a good wrestler, a master of his craft, that The Wrestling Federation chairman Everett K. "EKO" Olson (Drake Simpson) has relegated Mace to bad guy parts. As the fall guy who falls with such seemly bone-crushing grace, Mace makes the more charismatic, but less talented wrestlers, like superstar and world champion, Chad Deity (Roc Living) look good.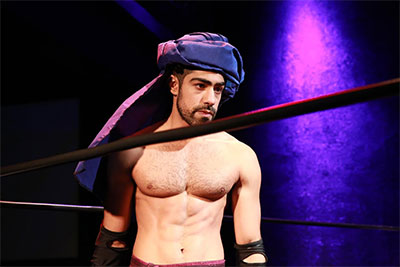 Then one day, as we're told in Mace's continuing narration, he meets Vigneshwar "V.P" Paduar, a natural performer, playing his exuberant self through life. Mace sees his chance to partner up and maybe, just this once, to write his own story for the ring. There's nothing trickier than playing a character who the other characters label charismatic, but Herman Gambhir is perfect as the magnetic, mercurial, yet wisely astute V.P.
Mace and V.P. are willing to be the bad guys, as long as they get to put some complexity into their roles. EKO, who thinks the crowds only want simple stories, will only write them as stereotypes and cartoons.
Within EKO's script, Vigneshwar, the Brooklynite of Indian descent, becomes the Fundamentalist in silk robe and bright blue turban, using a yoga mat for a prayer rug, while the Puerto Rican from the Bronx, Macedonio, becomes Che Chavez Castro, complete with bongo drums and poncho. Together, they will go after wrestling hero Chad Deity, the all-American success story, the golden boy with bouncing pecs who happens to be black.
It's all very ludicrous and hilarious, but also cutting, layered satire on pro wrestling, and ethnic and identity politics, but I'd also argue it's satire on the art of storytelling. Chad Deity is all bravado and non sequitur speeches, but Living makes it clear that Deity is a strategist who is finely tuning his own larger-than-life performance. Even white, millionaire, showman EKO, as portrayed by Simpson, shows glimmers of understanding that he too is a walking cliche.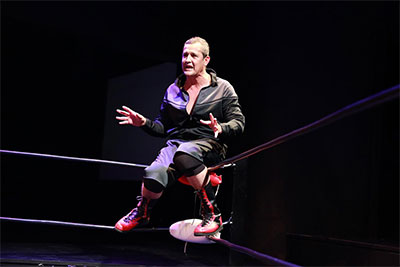 Fight choreographer Greg Vallot achieves the paradoxical task of making all those in-ring body blows look both powerfully painful and tightly choreographed, pro-wrestling style. Stages has brought in a crew from Horse Head Theatre Company, including Jacey Little and Kevin Holden as assistant director and scenic and lighting designer respectively, to help create an immersive pro-wrestling experience for the whole production, including the Stages' lobby. Putting it all together, director Josh Morrison gives this overwhelming spectacle of a show a real emotional headbutt.
In the end, Mace's story leaves me convinced that if that greatest showman Billy "The Bard" Shakes was correct and all the world's a stage, then each and every one of those men and women players deserves just once in life their own Elaborate Entrance.
—TARRA GAINES